Netflix, Marvel introduce Daredevil TV show
Among the abundance of superhero based TV series and movies, one deserves to come out of the shadows and step into the spotlight of recognition.
All 13 episodes of the Marvel series debuted on Netflix in mid-April. It's the first of a series of shows that will lead up to a mini series based on the Marvel superhero group known as the Defenders.
The main character is Matthew Murdock, played by Charlie Cox, who grew up under the sole guidance of his father.
Matt gained special powers at a young age when involved in an accident in which radioactive chemicals from a truck spilled into his eyes. This substance left him visually impaired, but his other senses became so heightened, it let him see the world in a whole new and unique way.
His vision moved from optically seeing the world around him to seeing with the use of echolocation
Murdock lives a double life like any hero character. By day he is a lawyer, but by night he is secretley a vigilante superhero named Daredevil.
The season starts off with Murdock finally opening up his own law firm with his college friend, Foggy Nelson, played by Elden Henson. Despite being located in a rundown building with little to no equipment, the two are looking forward to the future they have set up for themselves.
A young blonde named Karen Page, played by Deborah Ann Woll, becomes their first serious client after someone murdered a work friend of hers in her apartment, making her seem like the culprit.
Thanks to her lawyers, Karen is cleared of the accusation and soon becomes the receptionist for the duo.
Like Foggy, she is unaware of Murdock's alternate persona.
As the show progresses in its first season, one of Dardevil's arch enemies named Wilson Fisk, also known widely as King Pin, comes into play quickly.
Wilson Fisk claims he knows what's best for Hell's Kitchen, a neighborhood in Manhattan in which the storyline takes place. Fisk promises to rid the city of violence, despite his own violent tendencies.
Fisk is a very dark character, with a past full of verbal and physical abuse from his father, which lead to him murdering his father when he was a child.
Vincent D'Onofrio's rendition of Fisk is disturbingly excellent and accurate. Many critics agree to being big fans of D'Onofrio's acting, giving him the key the show's success and calling him "downright terrifying".
Throughout the season Murdock takes a beating
from gangsters, bouncers, and Fisk himself. After almost being beat to death, Murdock is found by Foggy and his secret is revealed, igniting feelings of betrayal and destroying the trustthat they have had for years. The tension between Murdock and Foggy create separation between all three of them, including Karen. Eventually though the two make up, and the law trio is complete again.
Season 1 ended with the death of a vital character, which surprised many avid comic book characters due to straying from the original storyline. Despite this twist away from the comics, the show received a rat- ing of 8.2/10 from Rotten Tomatoes critics,based on reviews, and 4.7/5 from the audience. Daredevil will be returning for its second season somewhere in the year 2016. Until then fans will have to wait for the masked vigilante to return to the T.V. screen.
About the Contributor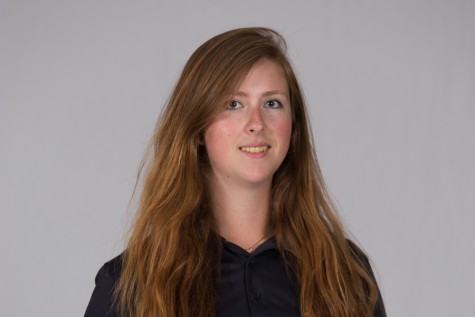 Amanda Livingston, Editor in Chief
Grade: 12th
Academy: New Tech
Year on Staff: 3 years
Why they are on staff: I joined the staff of the Eagle Eye two years ago originally because I wanted to take photos for the newspaper. However over time I wrote more than photographed and my reasons changed. I developed an interest in the journalism field after guest news anchors came and talked to our class, and now it's something I'm looking at doing as a career.
What do you do for fun: I like to watch roller derby and roller skate, and go to live concerts. Other than that I generally am I very calm person in regards to what I like to do. Just simply driving around with my friends or sitting around watching a movie and playing board games is just fine with me.
Plans for after high school: After high school I plan on attending college, hopefully at either the University of Texas or Texas State. I am planning on either majoring in photojournalism and minoring in music, or double majoring in photography and journalism separately and minoring in music. I know after college is done I want to do something involving photography because it's a passion of mine.
Twitter handle: @HeyNamesAmanda
Hidden Talent: I feel like if I have a hidden talent it's writing poetry. I don't do it often but when I do I feel like it turns out pretty well. I also love photography and music, and feel I have at least a slight talent in those areas.