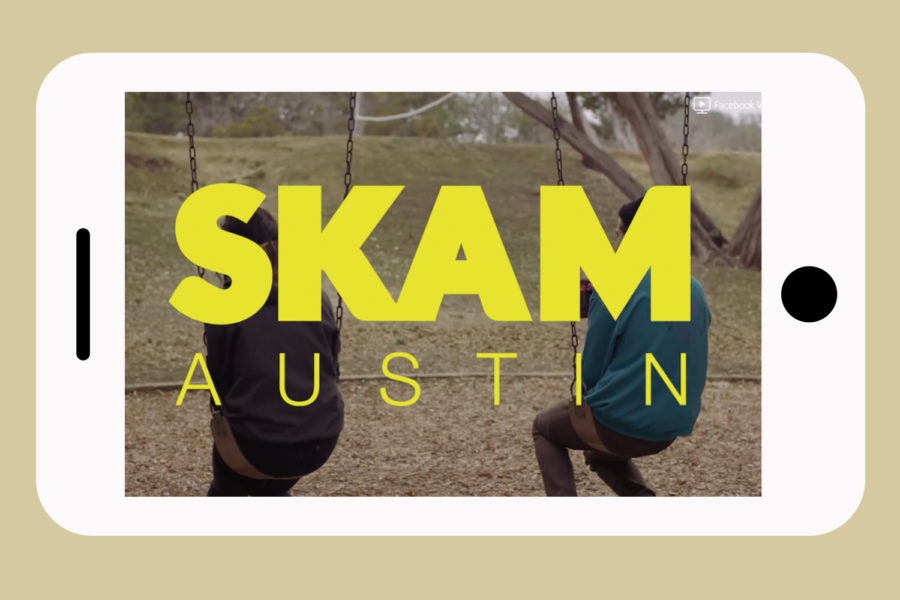 SKAM Austin, staff illustration
Storylines updated in real time. Characters that interact with viewers. Content accessed solely on social media. The phenomenon of transmedia storytelling is a growing trend that focuses on interaction and realism like no other.
In story-based entertainment, transmedia has taken the form of shows that allow the viewer to interact with the characters and choose their own path within the show.
The idea of producing television shows through transmedia storytelling is not a new concept; it's existed in different mediums in the past. Television shows such as Pokemon have had video game counterparts and films such as Buffy the Vampire Slayer have been converted into television programs.
The introduction of social media is only the latest addition to this type of crossover storytelling. Maggie Jung is the head of the Buzzfeed experimental team and produced the web series "Romeo Likes Juliet." The series took place solely on Instagram and was updated in real time.
"I just think it's a really exciting time to be creating and constantly pushing the envelope," Jung said. "I think it's something that makes the landscape of the media and entertainment industry that much more dynamic."
The rise of the Internet has created many new opportunities for storytelling through mobile entertainment. In recent years, social media platforms such as Snapchat and Facebook has launched their own professionally produced series.
Snapchat has partnered with content curators like Buzzfeed, National Geographic, Food Network, and Vox to bring viewers series similar to a television show. Users can subscribe to a series to view the content that is regularly released. Some of the series release content daily, while others release an episode each week or every couple weeks. One show that has gained a following is Snapchat's crime mystery series called Solve, which encourages viewer engagement. At the end of each episode, users can "swipe up" and vote on who they think committed the crime.
"That is really interesting especially if you trying to go into something like that, like as a career," freshman Emily Chavez said.
In 2017, Facebook launched Facebook Watch, a program that offers video content on demand to users of the app. One of the series that has gained popularity is SKAM Austin, based off the Norwegian web series SKAM. Both SKAM and SKAM Austin are high school dramas that take place solely through clips and social media posts by the characters in order to create a realistic story.
SKAM Austin came under criticism when news organization Education Week claimed that it blurred the lines between what is real and what is not. Because the series is so realistic and airs in real time, viewers may be confused about whether or not the events in the program are real. In the article, Education Week writer Benjamin Herold said that SKAM Austin could be confusing for viewers because the content appears alongside posts from a user's actual friends and family. Viewers of the show have to go down a "digital rabbit hole" to follow the storyline and keep up with the characters, he wrote in the article.
"Some experts worry the boundary-blurring new narrative format could further undermine teens' already-shaky ability to figure out what's true online," Herold said.
Jung said their show has received a completely different reaction and that while people are usually confused at first, they get help from more experienced viewers.
"During the production, we noticed that people were getting confused about whether or not it was real," Jung said. "The great thing was that the community formed around the people following the story and the people, who are following the story and know what's going on, would then inform the people who are confused."
These mixed reactions to such a new format of entertainment aren't surprising. What is interesting and new for some may be a turnoff for others. Although this is nothing new, the inclusion of social media into the mix makes it that much more complicated. Older people tend to be more hesitant to adjust to new forms of media while, as they grew up with it, younger people tend to be more open to new formats. A lot of students at Akins and in general grew up with social media as a normal occurrence in their lives, making it a natural fit for them.
Even growing up in a more and more digital world, Chavez said she finds this new genre strange and worries about the effects of too much technology on the younger generation.
"It's getting kids too much into artificial things and not what's really happening in real life," Chavez said. "They don't seem very interesting to me. I wouldn't want to watch it."
Some students at Akins find this new genre interesting like sophomore Brandon Godoy, who said he was interested in following one of these series after hearing about them. "(The show) sounds interesting and seems pretty cool. I would like to watch it," Godoy said. "I think it's very strange, but in a good way because that way you can interact with modern people. It's pretty amazing."