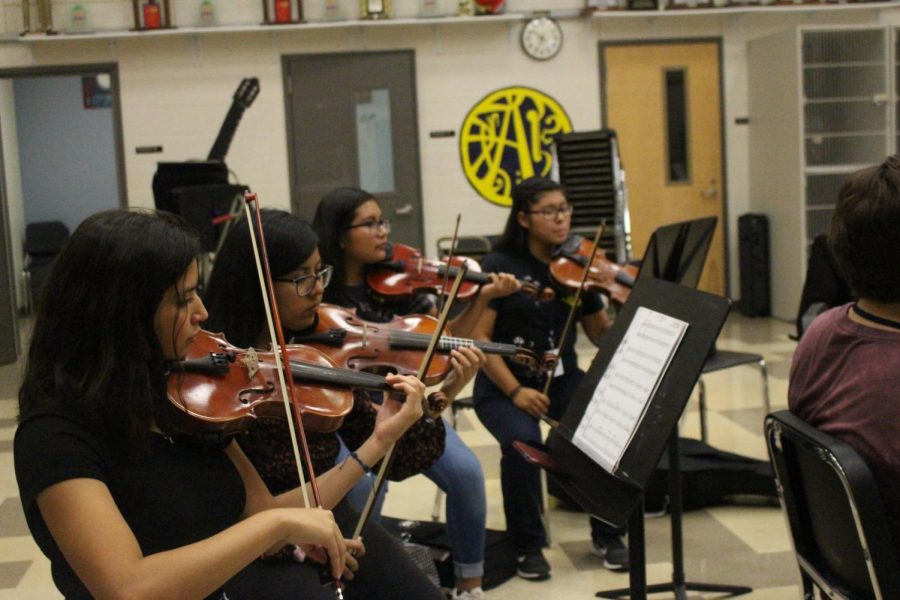 Natalia Estrada
The Akins Fine Arts department is raising the curtain on a new Mariachi performance group this year, fulfilling a popular request among students and teachers, representing a culture and helping students to improve their skills.
"I really want to make an impact culturally at the school and get everyone to know about the mariachi group, and just spread the word that's going on here at Akins. And it's a really strong program," guitar teacher Saul Hernandez said.
Orchestra teacher Tomas Mann and associate principal Manuel Garcia worked on the idea of creating the Mariachi program after seeing other successful programs at nearby high schools.
This group is completely new program to Akins and the teachers are trying to recruit more students and add more instruments for the students to play. There are 15 students in the club so far but the Mariachi Club seeks more students who may be interested to join. Mariachi is also hoping to collaborate with other clubs like Baile Folklorico, Latinos Unidos, or other schools in the district.
Members of the Mariachi Club plans to gain experience with performance opportunities at school and around town. They hope to have a lot of paid gigs which will earn money for the club and the orchestra program. This is also a great chance for the students to work as a team to collaborate with others.
Hernandez said he is glad to see the new club because it shows the growth of the school and how important is to show and share all the culture that every student share in music.
"Akins is still growing and developing, so maybe this is part of the process, just adding more music ensembles, more things to the Fine Arts department," he said.
Hernandez said he is not sure why there was not a Mariachi group before but he thinks there are going to be bigger groups in the future at Akins.
To join the Mariachi Club every student every member is required to be in one of the music ensembles at Akins, whether that guitar, orchestra, band or choir if a student wants to sing. Students who want to join Mariachi also have to know how to play an instrument, this is so everyone can be ready to make music right away. The club practices every Wednesday from 4:30 p.m. to 6 p.m. in the Fine Arts building.
Akins new Mariachi group performs for the first time for Akins teachers to roars of applause. 👏 🎶 🇲🇽 pic.twitter.com/oy8MkoEUu0
— The Eagle's Eye (@AkinsJournalism) October 3, 2019
Hernandez said he is excited that the Fine Arts department had the funding to put Mariachi into the Akins program this year and he hopes that this group keeps continuing for many years.
"This group is starting from scratch and what we, as the sponsors of this group, are looking forward to is to get more instruments, outfits, and hopefully smaller things down the road as we go," Hernandez said.