Netflix Show Hype House Met With Poor Critical Success
Netflix recently released their new show, called the Hype House. A reality TV show, about the lives of famous TikTok and Youtube personalities who all live together in a home known as the Hype House. However, the show was met with horrible critical success, receiving 14% on Rotten Tomatoes. But is the show as bad as the reviews say? Or are they wrong? Only one way to find out.
In the beginning, we see an introduction to some of the residents of the Hype House. In this bit, we see Larray Merrit, a famous YouTube Comedian, mention that his biggest fear is "not getting canceled it's getting canceled for something I didn't do."
In just the introduction, it already has the quality of a Youtube original. Despite it being a Netflix show, it's more of a youtube original reality show mixed with the usual youtube vlogging. For example, we see one of the members of the Hype House already fighting a sumo wrestler for a vlog. It feels like everything is moving too fast already, and we're just in the beginning.
The Hype House also includes another member: Chase, also known as Lil Huddy, who lives in his own house. However, unlike a lot of the members, he stuck out to me for something he said in his confessional. Chase mentioned that he didn't get fame when he was in Los Angeles, California, and instead transferred to an online school. He also adds that music is his passion in the episode.
Thomas, a famous TikTok and Youtube influencer, explains how the rent is paid in the Hype House. He explains that the rent is paid by promoting brand deals, such as Bang Energy Drinks on TikTok. Because of this, it is expected that everyone in the Hype House does a TikTok promoting Bang Energy Drinks to earn money. Thomas mentions that he still gave this offer to Chase when he moved out of the Hype House, to help him earn just enough money to pay for his house. He even had the idea of calling Chase's house the "Hype House 2". However, Chase never responded to him. "If you do content, your house will get paid for. We can do Hype House 2. It'll be great," Thomas said.
The next character in the show is Nikita Dragun. Something to keep in mind, Nikita isn't an official member of the Hype House. "I bring the flavor to the hype house, I bring the fire, the fashions.",  She said.
However, Nikita isn't the most likable character. She often disrespects others and will anger them causing her to have troubled relationships with the members of the Hype House.
It seems like Netflix's strategy to increase ratings and viewership for the Hype House was to include Nikita. Many other Youtube influencers and personalities will talk about Nikita and the show, giving them more publicity and in turn getting more people to tune in to the show, even if it's just to get furious at her.
Now we get to Larray, who we mentioned earlier in the article. When Larray joined the Hype House, his fanbase felt disappointed as they weren't exactly fond of the idea. Some fans even claimed that he was "Whitewashed" and that "His black card was revoked". This is something I don't exactly disagree with, as it does feel like the Hype House favors having white members instead of members of color.
Moving on, however, we see Nikita moving into the Hype House. She said during her confessional that she's close with Larray, claiming that they grew a connection in terms of friendship and that he was even the one who invited her to the Hype House. "We have little arguments but get over it. We kiss and make up. Literally.", Said Nikita. "Nikita is an amazing friend. She will always be there for you. She's one of those girls that I wish I was her friend in high school because she's so cool.", Larray said.
In a conversation between Nikita and Chase, she tells him that she had been there for three hours, but didn't bother to talk to Thomas. Nikita adds on near the end of confessional that Chase and Thomas need to talk.
We next see Chase and Thomas having a conversation with each other. Chase tells Thomas that he feels that he hasn't reached out enough to Thomas. Thomas however, tells Chase that it's okay. He added on by telling Chase that he's like a brother to him, and that he'll always be family to him.
"My problem with this is the unappreciativeness", Thomas said. He feels like he's put hours into the Hype House brand, helping Chase from the start, and didn't even see him for three months. We then see them talking near a campfire outside during the sunset.
We move on to Chase who states that he doesn't feel like being a public figure. Thomas told him, "at some point, I gotta help myself and build up my career and surround myself with people that wanna help me." Finally, Chase ends the conversation by saying that he's going to stay in Los Angeles for his music career and to focus on finishing his album. In the confessional, Thomas claims that Charli was part of the motivation. With Chase staying in Los Angeles for music, one outweighed the other, leaving the cameraman and audience to decide which one was the true cause.
Near the end of the first episode, we see Chase's confessional, where he states that he is spending all of his time to become a musician and that the sacrifice came with consequences. One of those consequences is that Chase is not able to see his friends as much as he used to. He doesn't know where he stands when it comes to the Hype House brand. Finally, the episode ends with a close-up of Chase, and Thomas leaving the house while viewing the scenery. And that's how the first episode ends.
My Thoughts 
Currently, the show has eight episodes in total, but I don't feel like watching more than the first episode as I didn't like the show very much. It shouldn't even be called a Netflix show. It feels more like a Youtube original. And it seems like the public agrees: Currently, it's rated 1.9 stars on Google Reviews, and 2.2 out of 10 on IMDb. I don't know what Netflix was thinking when they put TikTokers on their streaming service, but it doesn't seem at all like a good idea. I wouldn't recommend this show to anyone. So many things point to this show as a failure. The ratings, the fact that Nikita isn't very likable, the fact that it's on Netflix, the strange overwhelming amount of white people in the Hype House. Feels like the show doesn't have anything good going for it.
Leave a Comment
Donate to The Eagle's Eye
Your donation will support the student journalists of Akins High School. Your contribution will allow us to purchase equipment and cover our annual website hosting costs.
About the Contributor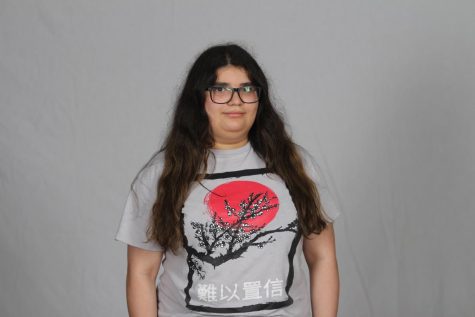 Raquel Gonzalez, Staff Writer
Grade: Senior (12th)

Academy: New Tech

Number of Years on Staff: New

Title: Staff Writer

Why do you enjoy being on staff? Because I want to help the newspaper to be interesting and all about the juicy drama appealing to our main audience to get everyone to talk about it.

What do you do for fun? Drawing

What are your hobbies? Chilling out and Playing video games

Hopes & Dreams after high school? Travel the world and maybe settle down