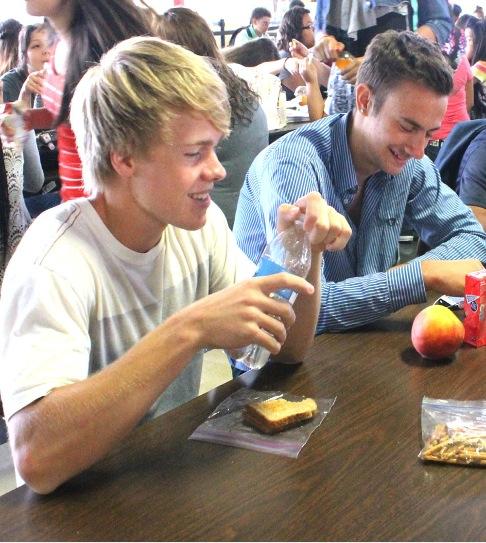 Savannah Garza
Finland, Germany, Italy, and Norway. These are the countries from which Akins has welcomed foreign exchange students this year.
Students like sophomore Julia Jakob, junior Domiziano Luisetti, and seniors Paula Vuorela and Eivind Jonesberg made the long trip from home to live the "American Dream" here in Texas.
"When I was younger my dad had a job in Atlanta so me and my family lived there for two years," Vuorela said. "Ever since we moved back to Finland, I have wanted to come back to the United States."
The students all were able to travel and live in the U.S. through various programs and organizations.
"I love living here in America. I love the culture and people because it's different than in Germany," Jakob said. "I was able to travel here through an organization called International Experience which allows me to study abroad here in Texas."
The AFS Exchange Student program, which also does charity work, provided Vuorelas the opportunity of traveling here from Finland. Explorius brought Jonesberg his opportunity to travel here from Norway.
Luisetti however was a student chosen in Italy to live here in Texas.
"I was randomly chosen to live here through the World Heritage Program," Luisetti said " I want to graduate high school in Italy but I want to come to college in the United States."
The four students are all taking a big liking to living here in the Lone Star state.
"I love to live here. The weather has been so nice so far," Vuorela said. "I love the people and the culture and the super unhealthy food which is making me fat."
Jonesberg feels the welcoming by his fellow peers and is getting adjusted to the American education system.
"People here are open and welcoming. It took time to get used to the American school system but now it is easy than in Norway," Jonesberg said.
With a new school year brings new welcoming to the students, who hope to eventually be back once they leave.
"I wish I could stop time and never have to go back to Finland. I'd rather live here than there," Vuorela said. "When I have finished high school and university back in Finland I plan on moving to the U.S. for good or even live in Hawaii."