Seniors warned funds needed to pay for prom, senior activities
Dance tickets could be as high as $90 without fundraising
The Class of 2019 got a dose of reality on Feb. 25, when they found out they are behind in fundraising to pay for all the fun senior tradition activities that many expect to enjoy.
English teacher Brian Lancaster, who serves as the senior class sponsor, notified seniors in a class assembly that they had only raised $6,000 out of $30,000 needed to put on all the senior activities, including prom, the senior breakfast, and the senior luncheon.
He explained that although the majority of the budget goes to pay for prom expenses there are still other senior events that the leftover money is used for.
This year's prom is planned to be hosted at the Hyatt Downtown (Barton Springs) and it is expected to cost roughly about $18,000 for the overall expenses. To help make up for the budget shortfall, Lancaster informed the seniors that they would need to do another fundraiser by selling gourmet popcorn and a pageant called s "Mr. Eagle" which will begin on April 11.
Seniors were told that the cost of the prom tickets would depend on how much the Class of 2019 did to raise money with the fundraiser and how many people go and buy votes for Mr. Eagle. Currently, prom tickets are expected to cost $90.
The senior class hosted a fundraiser in the spring of 2018 in which they sold cookie dough. That fundraiser helped bring in $3,200 and the gourmet foods fundraiser that was done in the fall helped raise about $2,900. Lancaster said he hopes the seniors will be able to raise as they can to help lower the cost of prom tickets.
Besides prom, the next largest senior class expense is the Senior Picnic. This event is a chance for seniors to have fun and enjoy themselves while also have the chance to win prizes to start them out for college or living on their own.
For the class of 2019, Lancaster had said he plans to spend a total of $6,600 for the luncheon which he expects will come from  Pok-e-Joe's catering. He said last year, there were also many prizes that were given out to the senior class such as Apple Watches, gift cards, and a cooler with speakers.
"I raffled things off for literally an hour because there were just so many prizes to give away and it was great," Lancaster said.
Another fun event for seniors is the Senior Breakfast, which is organized by College and Career Center adviser Sarah Simmons. This event allows college-bound students to socialize over breakfast foods and then learn about each of their plans for higher education after graduation.
Senior Maraya Delatorre, who is a member of the prom committee explained how even without the big budget there is still going to try to make prom the best event possible.
"
It will happen, (the question is) just whether or not it's going to be amazing."
— English teacher Brian Lancaster
"I think it's just I think if we put enough heart into it and enough energy into what we're trying to make then it will be fine," she said. "You know even if we don't have the money that we need to make all the stuff I think that we can create things ourselves,"  Delatorre said.
Lancaster said that the money being fundraised will go to prom first so the quality of the other events will depend on whether the Class of 2019 can raise more funds.  He encouraged all seniors to do their part to make senior year a memorable one before students say good-bye to Akins High School.
"It will happen, (the question is) just whether or not it's going to be amazing," he said.
About the Contributor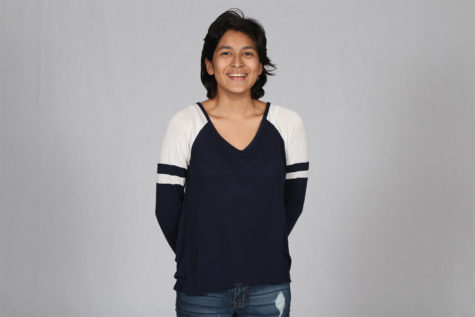 Jennifer Espinoza, Opinions Editor
Name: Jennifer Espinoza
Grade: 12th
Academy: New Tech
Year on Staff: 3rd
Title: Opinions editor
Why they are on staff?: I enjoy learning new things
What...