Paper cutback forces class changes
Due to new rule, teachers find new ways to to tach lessons
10,000,000.
That's the number of sheets of paper that were purchased last year at Akins, according to a memo by Principal Brandi Hosack sent to teachers in August before school started.
The memo says that the school spent $50,000 to buy all of that paper. And that kind of spending must stop, she said.
Hosack announced in the memo that teachers would be going on a "paper diet" and suggested that they use innovative strategies to cut back their paper usage. And to make sure teachers were remaining faithful to their diet, Hosack announced that each teacher would only be given one box of paper each semester instead of having unrestricted access to paper in the teacher workroom.
"I had to cut back on the paper because we were spending about $50,000 a year on paper, and when you don't have that regulated it could create a lot of waste," Hosack said. "If you've seen the recycle bins they were full. $50,000 is a lot of money that can be used towards other things besides paper."
Before school started, each teacher received a box with 10 reams of 500 sheets of paper. That means that all teachers will start off with 5,000 pieces of paper for the fall semester. If teachers need more than that, they can ask their department chair for more paper. However, they might not automatically receive it because the money that was previously spent on paper might now be used for other things.
Hosack said she hopes that the paper cutbacks will encourage teachers to find creative ways to use the 1,000 new laptop computers that were purchased last school year.
The transition to using less paper is going well for some teachers. English teacher Alan Brooks said he has gone almost completely paperless.
"This year I have only printed out six pages of paper and those have been sign-out papers for the computers," Brooks said. "I have not even opened the box of paper that they have given us."
Brooks said it was easier for him because he was already starting the transition to paperless classroom last year.
"I've changed some of the things we do around here, doing things online instead of by hand or writing it," he said. "I use Google Classroom and Google Forms to do quizzes. Things like that made a lot of improvements. They have made it easy to do things."
However, the transition is not as easy for other teachers. Some said they are seeking ways to adapt their curriculum to use online resources, but in some cases that is not possible. One problem is that there are still not enough laptops to go around for every classroom said social studies teacher Melinda Horowitz.
"I would like to use the computers and have the students do things electronically, but I don't have enough computers for the number of students in my class," she said.
Horowitz said there are just some things that she prefers to have students do on paper, such as annotating texts.
Beyond problems with lack of computers, students often experience technical problems with websites blocked by the district filters, complications with accessing online textbooks and loss of Wi-Fi connections.
"I find it frustrating that the Google Classroom freezes when the whole class is using it because I can't do my work" said Rodolfo Maldonado
In previous years, math teachers have used a lot of paper running of thick packets full of math problems for students to work on for homework.
Math teacher Derek Hamm said that the adjustment to using less paper has been challenging. Geometry teachers have cut out running copies of large numbers of note packets that could be up to 15 pages long. He said it has been more difficult with his pre-AP classes.
"I have done about half as much as last year, but I have not gone completely paperless," Hamm said. "Worksheets is the one thing I feel is necessary for math at all times, especially a class like geometry and in any math where pictures are so important. In algebra sometimes equations are easier with pictures and without pictures you can write those on the board. But when pictures are important then it's better to have an individual paper."
About the Writers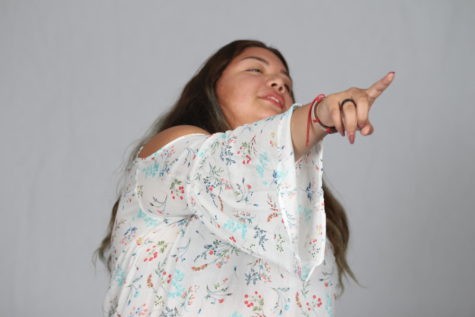 Ashley Sanchez, Life & Style Editor
Name: Ashley Sanchez
Grade:12
Academy: New tech
Year on Staff: Third year
Title: Life & Style Editor
Why they are on staff? Because I like to inform people what happens around them.
What do you do for fun? Fun things (Hitting Eliana)
Plans for after high school? Hopefully make it to any school and become something I don't know yet.
Twitter handle:@ASancezz16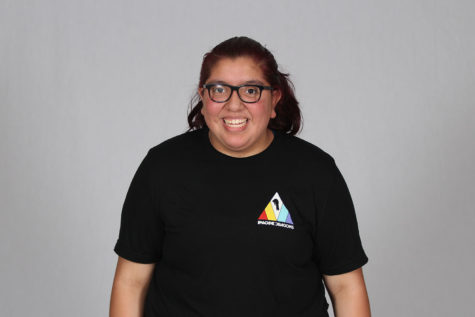 Zeta Handy, Staff Writer
Name: Z
Grade: 12
Academy: New Tech
Year on Staff: 3rd
Title: Staff Writer
Why are they on staff?: I like to write and I am very opinionated
What do you do for fun?: I like to play the violin or listen to music
Plans for after high school?: attend ACC then Texas State for engineering and technology a with minor in music