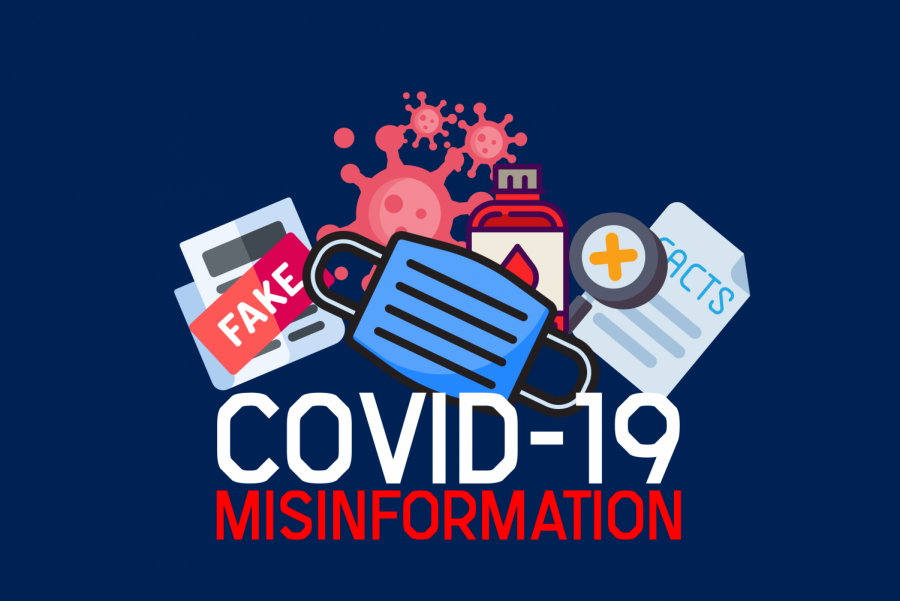 Dee Carreon
100% alive.
That is what Dr. Elisa Granato, a molecular microbiologist in the Departments of Zoology and Biochemistry at the University of Oxford, wrote on her Twitter account bio in April to counter rumors of her death.
On April 21, Granato, received the first COVID-19 trial vaccine, making her the subject of much interest and false rumors. Some on social media began claiming that she had died shortly after taking the vaccine. Granato said she felt obligated to make a public statement that she was feeling "absolutely fine" the next morning to counter the false stories.
This is how fast misinformation can spread and how quickly it can distort people's views.
With outbreaks of COVID-19 all over the world, the shutting of businesses and public places, social distancing, and quarantine. Places like Times Square in Manhattan that are normally full of people and bustling with activity are now deserted. Among all this chaos it's sure to leave some people in a lack of trust and a wanting for further understanding of the situation. This has given further rise to conspiracy theories, hoaxes, misinformation, and propaganda.
The COVID-19 "self-check test" is spreading rapidly on Facebook and Twitter. The test claims that you don't have COVID-19 if you can hold your breath without coughing or discomfort for 10 seconds. This unscientific test can mislead many individuals, causing them to believe they are not infected with the virus when they actually could be, and vice versa.
Dr. Faheem Younus discredited this test when he said "Most young patients with Coronavirus will be able to hold their breaths for much longer than 10 seconds. And many elderly without the virus won't be able to do it."
Healthcare professionals, who are putting their lives on the line to treat patients, are being targeted by the conspiracy theorists that make accusations that they're being paid by Bill Gates to be crisis actors, accusing them of spreading the virus.
Nicole Swiers, a nurse in northeast Minnesota, told Buzzfeed, "We have nothing to gain by lying to you."
Battling these conspiracy theories, healthcare workers have had to face brutal instances of discrimination and assault. Eric Sartori, a nurse in Arizona, has received several death threats and Dr. Alondra Jovanna Torres, an ear, nose and throat specialist in Guadalajara, Mexico, was doused with bleach as she was walking home.
Because of this virus, healthcare professionals, risking their lives day after day, have had to work overtime and self-isolate from loved ones, only to endure such an appalling lack of appreciation.
Oliver Véran, the French minister for solidarity and health, tweeted on March 14 that ibuprofen, an (NSAID) non-steroidal anti-inflammatory drug, could exacerbate the infection. Quickly to refute, the U.S. Food and Drug Administration (FDA) released a statement on March 16 that said it was "not aware of scientific evidence" that supports this claim.
People claimed that colloidal silver, essential oils, and even diluted bleach are cures to the coronavirus which by no means are actually approved treatments for the disease. Even President Donald Trump on live television suggested the idea of injecting disinfectants to protect people from coronavirus.
Reckitt Benckiser, the company that makes Lysol and Dettol, had to make a statement telling people that "under no circumstances should our disinfectant products be administered into the human body."
President Donald Trump also suggested that the virus will simply "go away" in April, or as temperatures rise. This had led many to incorrectly believe that exposing themselves to sunlight or high temperatures will protect them from the virus. According to the World Health Organization, exposing yourself to the sun or temperatures above 77 degrees Fahrenheit will not stop you from contracting the virus and that the virus can be transmitted anywhere, even in areas with hot and humid climates. The desert in Saudi Arabia can get hotter than 122 degrees Fahrenheit, yet more than 24,000 cases have been reported.
Dr. Leong Hoe Nam, an infectious disease specialist said that extreme heat such as 194 degrees Fahrenheit for 15 minutes will effectively eradicate the virus. However, no human could possibly survive such a harsh potency of heat either.
Even worse, conspiracy theories claiming that the radiation given off by 5G cell towers are somehow connected to the spread of coronavirus, alluding to reports of these towers being installed in Wuhan China before the outbreak. It became so bad that in places all over Europe and the United Kingdom, people have been committing arson and posting videos of cell towers burning down.
Governments have also been taking advantage of this situation and pushing out false claims. China has been pushing the idea that COVID-19 is an American disease that might have been introduced by members of the United States Army that visited Wuhan in October.
National crises like this are a breeding ground for this false sense of "secret knowledge that 'they' don't want you to know." People are drawn to these kinds of ideas because it gives them a sense of control and security that is heightened when they share it with others.
In the same way a virus spreads from person to person, wreaking havoc along the way, so too does misinformation. When people take action or ignore the recommendations of public health officials and scientifically proven preventative measures, there are consequences on our society. This damage can take the form of millions of dollars of property damage when a cell phone tower is burned down or in lost lives when people ignore warnings about how to avoid catching the coronavirus based on ideas spread in unsound social media posts.
Misinformation can greatly influence and easily manipulate the minds of many. To lessen the proliferation and spread of misinformation, Deborah Blum, director of MIT's Knight Science Journalism Program, and Siri Carpenter, editor-in-chief of the Open Notebook, a resource for science journalists, and president of the National Association of Science Writers, advise that you know who to trust and where to get your information from. They recommend limiting where you get your information from to a smaller list of trusted media outlets, experts, and government websites, such as the Centers for Disease Control and the World Health Organization.
Media literacy organizations like the News Literacy Project are making resources available to combat the spread of misinformation about COVID-19.
Peter Adams, NLP's senior vice president of education, talked with NPR's Michel Martin about misinformation surrounding the COVID-19 pandemic on the March 14 edition of All Things Considered.
He began by describing the types of misinformation being spread.
"This pandemic has brought out a really clear picture of the kinds of things that tend to circulate in the misinformation ecosystem," he said. (It's) more intensified and, obviously, with higher stakes."
As an example, he added, he has seen "everything from miracle cures and alternative medicine recommendations — some of which are dangerous, most of which are completely ineffective — to anti-vaccination activists using this to push their agenda and their falsehoods," along with "conspiracy theorists jumping in, some disinformation agents and online trolls."
It's not just bad actors, though, he said. Misinformation is often spread inadvertently by well-intentioned people trying to make sense of a scary and rapidly unfolding situation and want to protect their friends and family.
In the NPR interview, Adams offered easy-to-adopt steps to distinguish credible information from false or misleading content.
"The equivalent of taking 20 seconds and washing your hands is very much the same in the information space," he said. If everyone can "take 20 seconds, investigate the source, do a quick Google search, stay skeptical, we can eliminate a great deal of the confusion and misinformation out there."
News Literacy Project links:
Quiz: News Lit Quiz: Get smart about COVID-19
Quiz: Fighting Falsehoods on Social Media
NLP's Coronavirus Resources
Practice good information hygiene: Sanitize before you share