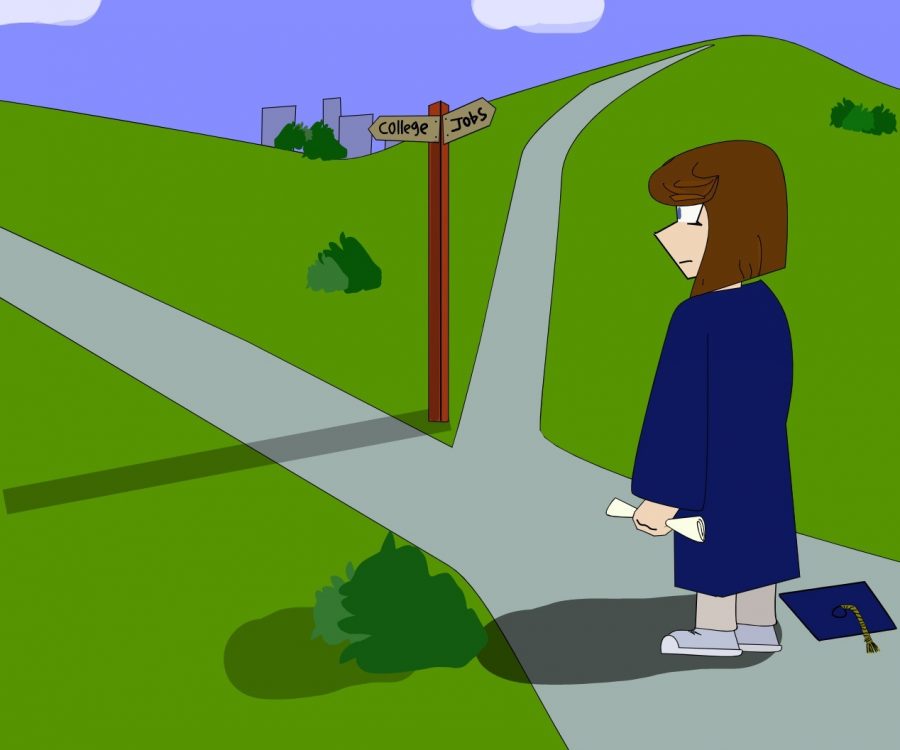 Nick Limon
When Diego Gutierrez was a senior at Akins as part of the Class of 2020, he was planning to go to Texas Tech and major in education, wanting to become a high school history or journalism teacher.
Gutierrez is one of many students who have had their post-secondary plans affected by COVID-19. Many students in the Class of 2020 and Class of 2021 are changing their minds about college, declining to apply for college financial aid, and even changing paths altogether.

Class of 2020
After the pandemic hit and last year's quarantine began, Gutierrez ended up deferring and then attended Austin Community College for a year while working different food service jobs, including Sweet Paris in the Domain.
"I worked there when they were first starting out, and they had fired both of the general managers," he said. "It was insane, I think I worked two 100-hour pay periods and got overtime from that. And then basically quit."
After bouncing around from a couple different jobs, he now works at Thundercloud Subs.
"The one in Austin is like the third busiest in the entire franchise, and it's just crazy all the time," he said.
In making the decision to defer, Gutierrez said it just didn't make sense to attend Texas Tech because the school wanted to charge the same amount for in-person classes as it would cost for online classes.
"Ultimately, it was me who had the final say, but it was definitely like 'We kind of don't have the money for this. This isn't necessarily going to be the best experience in the world. Might as well just stay in town and go to ACC online for a year,' you know. And that's fine."
Gutierrez said he did apply for federal financial aid last year. "I'm kind of in one of those weird socioeconomic brackets where they think I don't need any help. And I probably could use some help, and they gave me nothing," he said. "Unless my college was absolutely paid for, I would have such a hard time convincing myself to go to a four-year university."
Gutierrez said dealing with the pandemic motivated him to change his career plans, switching to a communications major.
"Honestly, like it threw my mental state for a loop. So I had to recapture my motivation. And the way that I'm doing that right now is choosing to do what I think I'm good at. And I think that's communications."
He said that he's faced many challenges over the past year, especially when it comes to his social life.
"The disconnect is real, in terms of I'm a very social person," he said. "Social isolation is a challenge. And because of the winter storm, the back of my house got flooded. So me and my family have been separated for the past three months."
Gutierrez said he has struggled with whether he made the right decision to not go to Texas Tech this year, but ultimately he believes he made the right choice.
"Throughout this past year, I've really flip-flopped on feeling 'man, I wish I'd gone' and 'man, (my friends at Texas Tech are) stupid for even going out.' And now I'm sitting at the realization that I didn't need to. It's sort of would I rather have $25,000 or this past year at Texas Tech, and I kind of would choose $25,000 if I'm being honest."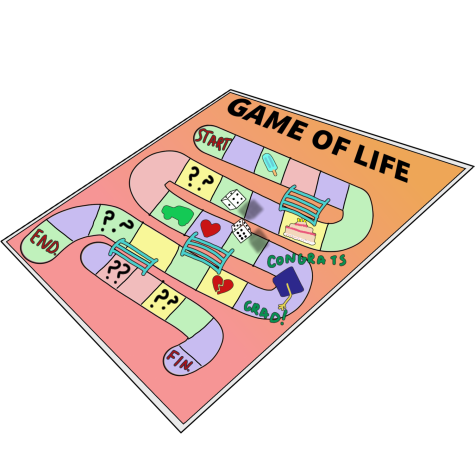 Gutierrez advised this year's Akins seniors to not be upset if their first year out of high school does not go to plan.
"It's like a choose-your-own-adventure game, basically. The world is full of opportunity and you gotta figure out what you wanna do," he said. "My plans were absolutely derailed and destroyed, like that path is gone. It's like it no longer exists, and whether that's good or bad, you know, I can't mourn it."
There are many other students of the Class of 2020, like Gutierrez, who have had their plans deferred.
During Jennifer Arriaga's senior year as a member of the Class of 2020, she wasn't really sure about college, but said she definitely knew she was interested in design.
"I was very involved in newspaper and photography, so I knew right away, like probably (user interface) design was going to be my go-to," she said.
With regards to college, Arriaga said that she had done online classes when she was in high school and her experience with them wasn't good.
"So I just decided, like, maybe I'd wait a while. And then that while turned into a couple of months. And after that, I kind of just got stuck working," she said.
She said that she felt like the decision was made for her.
"I didn't have any choice. Rules are rules. And I knew I had to follow them. My plan had kind of just been set for me," she said.
She has two jobs: one as a janitor and the other at MOD Pizza.
"It's honestly very difficult working two jobs. Because of COVID and the winter storm we had, it got hectic at both places," she said. "I live far from my jobs, so it's kind of just been back and forth, back and forth."
Arriaga said that she's also faced many challenges this year.
"I live with a single parent and two younger brothers. And I got my car recently. So it's like, I have to work to pay all this off. But I also have to save money for college. And I still have to kind of help out at home."
fter all this time, Arriaga said that she's finally decided to go to college.
"My plans completely changed. Now I want to pursue music," she said.
She now plans to start taking classes at ACC, and then transfer to Texas State University in San Marcos. She said she doesn't regret taking the year off of school to work.
"I feel like it happened for a reason, and I realized that if I had started school earlier, maybe I would have studied something that I wasn't really set on because I was never really set on what I wanted to do. But now that all this time had passed, I decided that I want to study music," she said.
She advises seniors in a similar situation to follow what they want to do.
"If you don't know what you want to do, that's OK," she said. "Definitely keep in touch with your teachers. Things are going to work out."
Class of 2021
Malachi Chambers, a senior of the Class of 2021, has decided not to go to college because of "the bigger opportunities out there that don't require a higher education."
"I was considering going to college before the pandemic. I ended up changing my mind out of personal preference rather than COVID," he said.
He said he didn't apply for FAFSA because he didn't want to go to college at the time. Instead he has decided on trade school and possibly college later in life.
"After high school, I want to work to be a general handyman and then pay my way through college so I can come out debt-free," he said. "Physical labor isn't the worst, and if I do learn handyman trades, I can handle my own appliances instead of paying nearly a full check for someone to simply find out what's wrong."
How big is the FAFSA decline?
As early as December 2020, the number of high school seniors who have applied for FAFSA – the Free Application for Federal Student Aid – has been declining. Fewer than 2 in 5 students scheduled to graduate high school this spring have so far applied for college financial aid – a more than 9 percent drop from this time last year.
A report from the National Student Clearinghouse Research Center found that for the Class of 2020, enrollment in post-high school education programs was almost 22 percent lower than for the class of 2019.
The FAFSA decline has also hit Austin ISD. All high schools in the district, including Akins, have seen a decline in FAFSA.
As of February 28, Akins has seen a decline of 79 fewer applications submitted by the same date in 2020. In comparison, Bowie has seen the least amount of decline in financial aid applications, with a difference of only 6 in the 2020-21 cycle.
What is causing the FAFSA decline?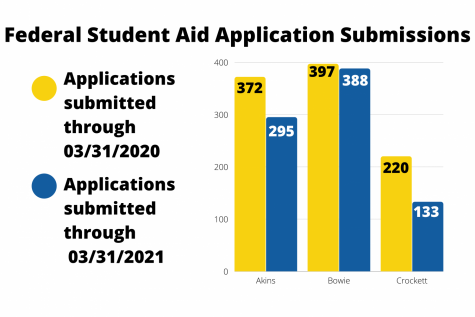 Akins College and Career Counselor Annette Gutierrez acknowledged the decline in college applications.
"Yes, there has been a decline in college applications, but not just here at Akins, across the US. In my conversations with this year's seniors, it seems to be due to concerns of paying the full cost of college tuition while only attending virtually – so not getting the full experience, due to the pandemic," Gutierrez said.
She also acknowledges the FAFSA decline.
"I typically want to understand the student's or family's hesitation in not wanting to complete either the FAFSA or TASFA and correct any misconceptions about it. There are many times that students or family members feel that school isn't possible for them due to the expense. Often, students are made aware of financial aid they will receive after completing the FAFSA or TASFA and then realize that a post-secondary education is something they can afford. But this is only after completing the application…," she said.
She said that she thinks of herself as the "Akins post-graduation plan educator" and wants to teach all students about their options after high school.
"My hope is that when you all graduate you will be aware of the options you have so that even if you choose that a post-secondary education is not right for you at this moment, you will at least know where to start should you decide later on," she said.
She notes that one way to increase the number of students who express interest in attending college is through exposure, and she hopes a college and career speaker series can provide it.
"My plan is to bring professionals to our campus to talk to you all about their career, how they got there, discuss money, and give you all advice," she said.
She said another way for students to figure out their post-high school plan is to find their passion.
"I was not a high scoring student until I found a career that interested me, after that I had a reason to push through the challenging courses and to take advanced classes," she said. "We all have something that can motivate us that will ignite a passion inside of us, we just need to find it."