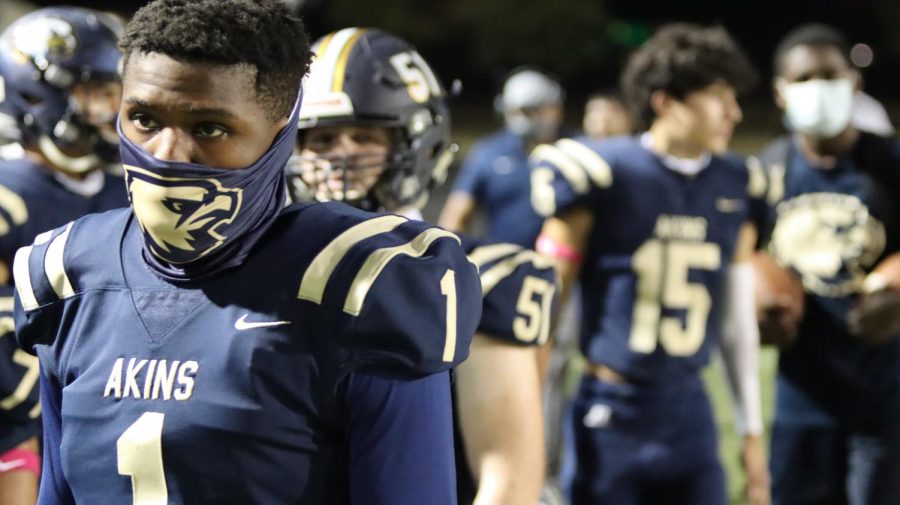 Sean Claes
The 2020 Football season has put the Eagles Football team to the test, forcing players to make hard decisions about whether to play the game they love.
Players have had tough conversations with their parents about whether they believe it was worth it for them to play football this year, knowing that by playing a sport with close physical contact, there could be a greater chance of being exposed to the deadly COVID-19 virus.
The school district and coaches have had to make big changes to keep players and their families as safe as possible. The new safety measures include daily health screenings, constant mask-wearing and staying six feet away from other players when not on the field. Players have to bring and carry their own equipment and they can't store it in the locker rooms, which they can't access and players are also advised not to shake hands or high five.
Junior Divad Azuara, who plays receiver on JV football, said the risks involved with COVID-19 were not going to stop him from playing this year.
"Football is a passion to me and I couldn't waste the opportunity to play," he said.
Senior Elijah Woods, who plays cornerback on varsity said the chance to play football during his senior was too much pass up.
"It's my last ride. I'll do whatever to play the game one last time," Woods said. "A global virus won't stop from playing."
Sophomore Peter Guerra, who plays receiver on JV, said the reason that I am continuing to play football in the condition of COVID.
"Is that I want to show my dad that I have the legacy that he created when he was in high school for Austin high, and I wanna make my dad proud and show him that I have his football pride".
Sophomore Aaron Martinez who plays receiver on JV, said that football is important to him.
"It is a stress reliever and I am passionate about it," he said.
Martinez's mother said she wasn't worried about allowing her son to play football because she trusted the safety precautions that the coaches implemented.
Guerra's father said he didn't want his son to miss out on the opportunity to play sports this year because he might have "the opportunity that he might have to play for college football and possibly get a scholarship for football."
Peter's dad said," The reason that I'm letting my son play football in COVID is because I'm letting him get the opportunity that he might have to play for college football and possibly get a scholarship for football.