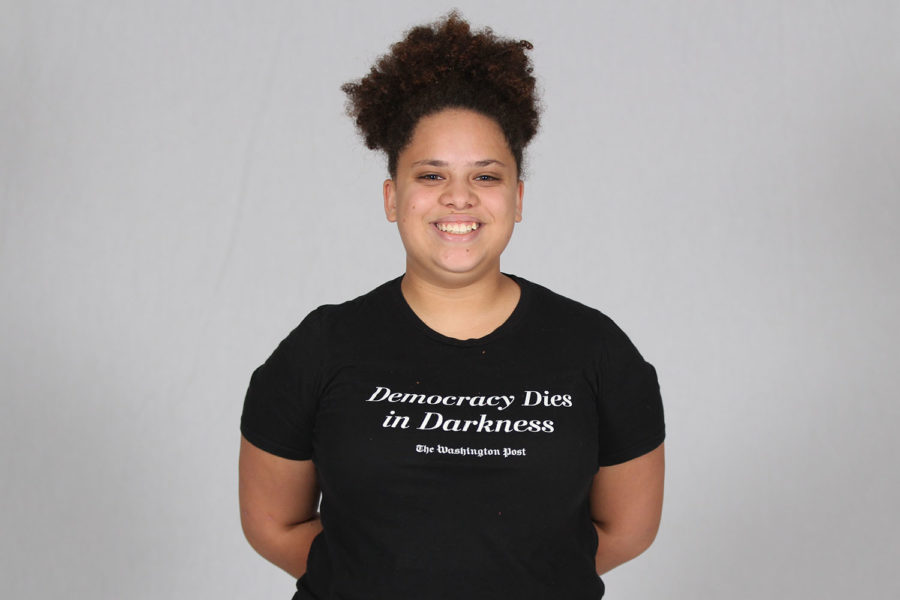 Name
: Bethany Bissell
Grade
: 12
Academy
: AHA
Year on Staff
: 3
Title
: Editor-in-Chief
Why they are on staff?
: I care about news, truth.
What do you do for fun?
: Read, watch movies, think about newspaper.
What movie do you recommend that everyone watch?
: The newspaper.
Plans for after high school?
: Study journalism
Twitter handle
: 
@BissellBethany
Hidden Talent
: Uncrustable. Omniscient.
Bethany BIssell, Editor-in-Chief
May 23, 2019

Class discussions lack diversity in student perspectives

(Story)

May 21, 2019

Art students project vandalized; no police report filed

(Story)

Apr 18, 2019

Road closure causes concern about bus routes

(Story)

Apr 01, 2019

Presidential candidate Beto O'Rourke holds rally in Austin

(Story)

Mar 12, 2019

Squawk Talk, Episode 1

(Story)

Feb 28, 2019

Companies sell 'self-care' as wellness trend

(Story)

Feb 26, 2019

Track team receives shoe donation before new season

(Story)

Feb 22, 2019

Teens learn the costs of sexting

(Story)

Feb 13, 2019

Girls wrestling team wins district championship for the 5th time

(Story)

Jan 22, 2019
Jan 15, 2019

Theatre prepares for Chicago by adding new coaches

(Story)

Oct 29, 2018

Austin ISD Board appoints Tina Salazar as Akins principal

(Story)

Oct 11, 2018

EE explains: What changes have come with the new school year?

(Story)

May 25, 2018

District initiates processes for selection of new principal

(Story)

May 25, 2018

Principal announces departure from Akins

(Story)

Apr 27, 2018

Principal Hosack announces departure from Akins following end of school year

(Story)

Apr 18, 2018

School adapts to recent security measures

(Story)

Apr 11, 2018

5K run to benefit Akins

(Story)

Mar 19, 2018

Student organization addresses discrimination problems at school

(Story)

Mar 06, 2018

Portable classrooms in need of repairs, replacement

(Story)

Jan 10, 2018

David's Law helps students report cyberbullying

(Story)

Nov 27, 2017

Students fearful following repeal of DACA

(Story)

Oct 13, 2017

Upcoming vote decides AISD funding on Nov. 7

(Story)

Aug 14, 2017

Austin ISD introduces new online classroom connection tool

(Story)

Apr 27, 2017

Ethnic studies elective classes offered next year

(Story)

Feb 28, 2017

Totally Cool Totally Art program gives teenagers opportunities to be creative

(Story)

Feb 21, 2017

Red Bull manages student who professionally DJs

(Story)

Dec 26, 2016

The Eagle's Eye selects the 10 Best Albums of 2016

(Story)

Dec 19, 2016

Bill would enact stiff penalties on cyberbullies

(Story)

Dec 02, 2016

More resources available to homeless students

(Story)

Oct 26, 2016

TSI necessary to avoid remedial classes for college

(Story)