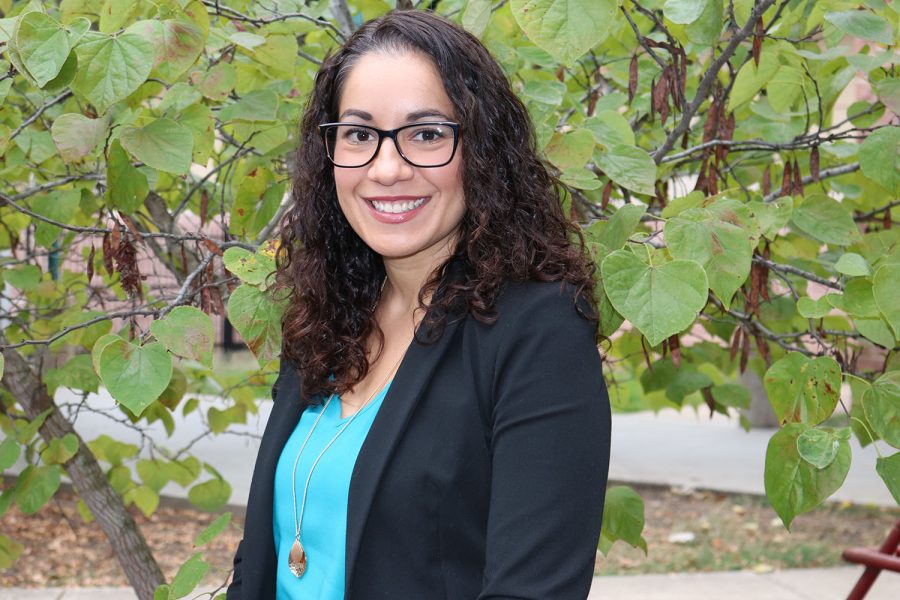 Courtesy of Annette Gutierrez
Akins' College and Career Counselor Annette Gutierrez shares with students about their options after high school. She answered our questions about the decline in FAFSA submissions and college applications.
Eagle's Eye: As a college counselor at Akins, would you say there has been a decline in students that express interest in going to college throughout Covid? If so, what would you say this has been caused by in your experience?
Annette Gutierrez: Yes there has been a decline in college applications, but not just here at Akins, across the US. In my conversations with this year's seniors it seems to be due to concerns of paying the full cost of college tuition while only attending virtually – so not getting the full experience, due to the pandemic. Another reason seems to be loss of motivation because they've been working more hours this year which has led some to question if college is necessary or if they should change post-secondary education paths which has caused them to want to take a year off to figure out their next steps.
EE: When students don't express interest in college, what is your reaction? What do students who don't go to college typically pursue?
AG: I am the Akins post-graduation plan educator, or that's what I think of myself as. I want to teach all of our students about their options after high school, whether that is a certificate, 2-year degree, 4-year degree, military, or entering the job market. My hope is that when you all graduate you will be aware of the options you have so that even if you choose that a post-secondary education is not right for you at this moment, you will at least know where to start should you decide later on.
EE: What is your reaction to the FAFSA decline?
AG: I typically want to understand the student's or family's hesitation in not wanting to complete either the FAFSA or TASFA and correct any misconceptions about it. Once I better understand their hesitation then I can better lead them. It is a state law though, starting with the 2022 graduating class, that seniors will have to complete the FAFSA or TASFA to graduate unless a counselor meets with the family to exempt them. There are many times that students or family members feel that school isn't possible for them due to the expense. Often, students are made aware of financial aid they will receive after completing the FASFA or TASFA and then realize that a post-secondary education is something they can afford. But this is only after completing the application, which is why I believe this may be a contributing reason to the state enacting this law. The FAFSA/ TASFA isn't just aid for a four year degree, it's for all post-education options, including a lot of certificate programs. It can really help save you money and stress!
EE: How do you think that we can increase the number of students that express interest in college? 
AG: One way is increasing exposure. We all have something that can motivate us that will ignite a passion inside of us, we just need to find it. One way I hope to give you all more exposure in the future is to start a college and career speaker series. My plan is to bring professionals to our campus to talk to you all about their career, how they got there, discuss money, and give you all advice. That pandemic has been horrible, but one thing it did was teach all of us to be more innovative with technology. I'm now hoping to have professionals virtually show you all their offices or work areas, like a virtual career field trip. That way you all can connect with someone locally to see what they do and what career in that particular field is really like. I was not a high scoring student until I found a career that interested me, after that I had a reason to push through the challenging courses and to take advanced classes. Maybe this is just one way? I'm interested to hear from students though, what do you all want? How can I help you find out what you're passionate about?
EE: How would you say the pandemic has affected students' college plans overall? 
AG: For some students the pandemic has been a realization that with some sort of education your life will be more stable. For others, it has been a deter, at least for the immediate year after graduation. It has definitely been a communication barrier between us and the students. When we're on campus students can come in and out of the CCC freely. Often they walk by the room and remember a question they had, or want to come talk to us. Now with distancing recommendations it's easier to get on zoom to share their screens with us and it's likely more difficult for students to remember they have a question and seek us out. We are available though, please contact us with any questions!