Student debuts talent in music video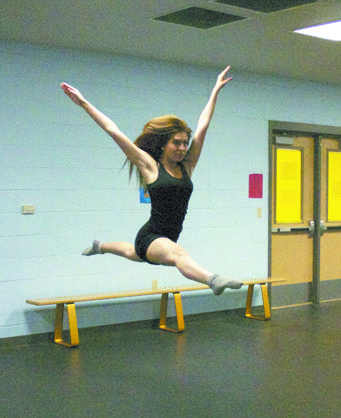 The director yells "Action," dancers get in to position, the music starts playing, and the magic starts happening.
This has become a reality for senior Val- erie Gonzales.
Dance has always been a part of her life, Gonzales, 18, said.
"I started to do ballet, jazz, and tap dance," Gonzales said. "Ever since I learned ballet I realized I could dance anything because that's one of the hardest forms of dance."
Gonzalez first became serious about dance when she enrolled in Jackie's Per- forming Arts School in eighth grade. She also danced for the Diamond Dazzlers.
For Gonzales, dance is an opportunity to express herself.
"When I dance, I feel free," she said. "I feel like I can do whatever I want, I express my movements through dance."
Recently, Gonzales had the opportunity to dance in her first music video alongside her cousin who is also a dancer.
"I helped my cousin choreograph the dance," Gonzales said. "We had to practice a lot. I also practiced outside of rehearsal. It was a lot of movements and it was really dif- ficult but I practiced a lot."
Gonzales hopes to find more music video gigs in the future.
"My cousin texts me every time someone needs a dancer," she said. "Then I just have to wait if they approve me or not."
Gonzalez's cousin Barbee Galvan has starred in a music video for rock band Third Eye Blind, danced for the Austin Toros, and more.
"I was also the main model for a video for Jonathas. He was on The Voice for season 2 for Cristina Aguilera," Galvan said. "I do a lot with widely known Latin artists too."
The cousins starred in a music video for
Atlanta-based rapper Gutta which was di- rected by Priscilla Villegas. The video is still being produced and is scheduled to come out within the next couple of months.
Gonzales first debut in a music video with Galvan has opened her eyes to a world of dance she didn't expect to be in.
"I was really thankful. I'm not used to being in that world," Gonzales said. "I feel proud, I thought that outside of Diamonds I wasn't going to be in any kind of dancing, so I'm happy."
Despite getting paid to dance in a video, Gonzales is not quick to call herself a profes- sional just yet.
"I feel like I still have a lot to learn. I'm just barely starting," she said.
Gonzales plans on dancing with Texas State University's dance team next year.
"I think it's cool for her to expand outside of the school and take her dancing farther," senior Dayana Sanchez said.
Gonzalez has many supporters who be- lieve she has potential to take her dancing to the next level.
"I'm very proud of what she has accom- plished," senior Edna Ramirez. "I want to see her live out her dancing dreams and do more music videos."
"She is young and talented. I believe she has huge potential to do a lot with dance," Galvan said. "I would like to see her try out for the Austin Toros as well and get her name out there. She is smart and full of beauty she can achieve anything she wants, not just with dance but with anything."
Dance teacher Tanya Kallfelz has taught Gonzalez for the past four years.
"She continuously practices in the studio. She is one of my students who's advanced and is going to do well," Kallfelz said. "I think she has a really good shot at becoming a Texas State Strutter. She is very talented and is going to do well if she continues to be a performer."
Leave a Comment