Disney+ Throwbacks to Watch
While people are stuck inside worrying about the dangers of the coronavirus, the nostalgia of the classic TV shows and movies that people grew up with are providing comfort to many during these trying times.
Disney's family-friendly programming made it one of the primary sources of people when they were little kids. And those Disney shows and movies are something we long for now that we're older. Luckily we now have access to watch those things whenever on the Disney+ streaming service.
I've made a list of some of my favorite classic Disney offerings available for on-demand viewing on Disney+ that will likely provide anyone who was born in the late 90s and early 2000s that are worth rewatching to give you that warm, fuzzy feeling.
First, up is Shake It Up, a classic show about two young teenagers, Cece and Rocky, wanting to accomplish their dreams of becoming dancers. And their experiences of starting that dream by becoming backup dancers on a well-known show "Shake It Up Chicago" while still going to school.
This show is three seasons long and is a good source of entertainment that will open up memories of what you may have wanted to become when you were a child growing up.
Second, there is Good Luck Charlie which is a show about a family growing and changing with a new member, Charlie Duncan coming into the picture. Her older sister Teddy Duncan records messages for Charlie so she can see them when she is older to hopefully gain some guidance and advice for certain life situations.
This show has four seasons filled with breakups, embarrassing moments, lessons learned, and rule-breaking that each member of the Duncan family goes through. It will make you laugh and cringe. And may also make you wonder if maybe you should have been paying attention to Teddy´s advice as you got older.
Everything is definitely not what it seems on Wizards Of Waverly Place. A show about a family that comes from a long line of wizards. The series focused on three kids — Alex, Justin, and Max — who all have to learn how to use their powers properly and not lose them. Meanwhile, they all still are going through typical situations that deal with friendships, relationships, and school.
This show has four seasons of magic spells and life drama. These wizards will make you remember the times as a kid when you wished you had magical powers as well. And will maybe still make you wish you had them now.
The Suite Life of Zack and Cody is another favorite show that is about the twins' Zack and Cody. Zack is known as the prankster who is obsessed with girls while Cody is known as the more mature brother. These twins are shown making memories and going on crazy adventures at the Tipton Hotel in Boston where their mom works. These boys also make friends with the other workers in the hotel and are very well known around the place.
This show is three seasons long of pranks, jokes, and brotherly love. It will make you wish you were staying at the Tipton Hotel enjoying these crazy adventures with the characters in person.
Along with The Suite Life of Zack and Cody, there is also the spinoff show, The Suite Life on Deck. Which is a continuation of the story of Zack and Cody´s life. This show shows the twins at an older age now living on S.S. Tipton. They are now facing the challenges of relationships and friendships with the new people on board. But are still the same as they were when they were kids.
This show is three seasons long and will still make you jealous of how cool it seems to be living on the sea or maybe not.
And last but not least we have the Lizzie McGuire show. A classic story of the young 13-year-old girl facing the problems any middle schooler would. And what makes it worse is her younger brother always being annoying. But luckily she faces these problems with her best friends Miranda and Gordo. While a tiny animated version of herself pops in to say what she's really thinking and how she really feels.
This show is two seasons long and will make you say "relatable" as you see that you might have gone through the same things Lizzie does.
Although your list may be different than mine, I still encourage you to go on Disney+ and watch those throwback shows. Check out the shows you used to love as a kid or branch out and watch other shows you've never seen or heard of.
Use this free time we now all have to travel back to the days you would sit in your living room with a snack and laugh at all the jokes your favorite characters would make. Enjoy it while you can. Now go! What are you waiting for?
Leave a Comment
Donate to The Eagle's Eye
Your donation will support the student journalists of Akins High School. Your contribution will allow us to purchase equipment and cover our annual website hosting costs.
About the Contributor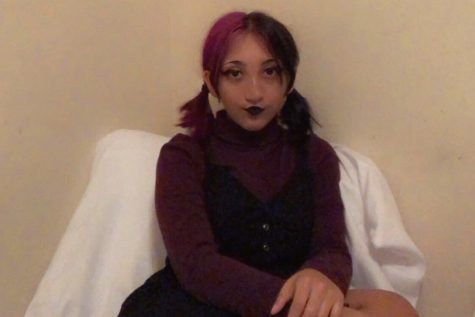 Anneliese Olivo, Entertainment Editor
Name: Anneliese Olivo (Anna)

Grade: 12th

Academy: New Tech

Number of Years on Staff: 3

Title: Entertainment Editor

Why do you enjoy being on staff? I enjoy being on staff because of the people that I am surrounded by. They make me open up more and keep me motivated to work on the school newspaper.

What do you do for fun? I watch movies, design my own clothes, and listen to music.

What new hobbies, activities do since quarantining because of COVID? I have picked up skateboarding; I mostly just cruise but am trying to learn a few tricks. I have also picked up designing my own clothes into items that fit my lifestyle and fashion taste.

Hopes & Dreams? I hope to attend college after I graduate to study journalism and become some type of journalist.