Theatre students put on virtual play streamed online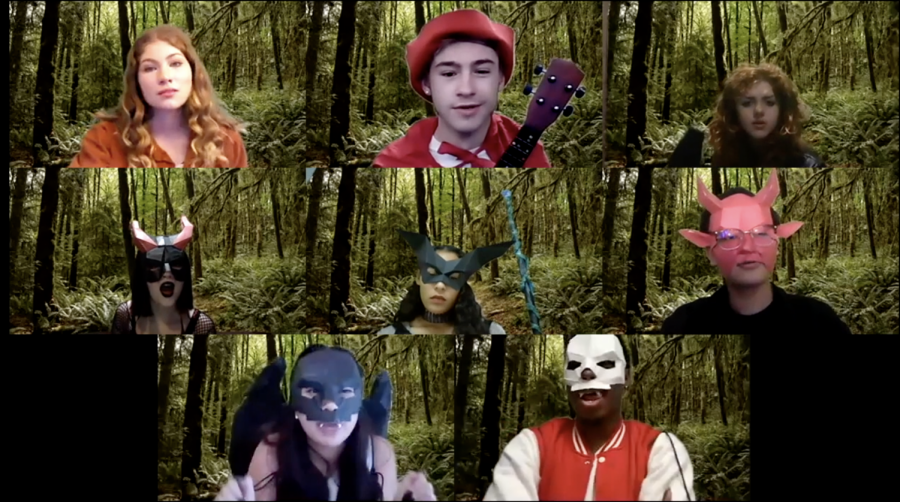 While the opening of the school year has been a rollercoaster of adventure for all students, it's been particularly dramatic for theater and fine arts students.
Without the ability to do in-person classes and rehearsals, performance-based art programs like theatre, orchestra and dance have had to resort to Zoom with all of its limitations and frustrations.
As the president of the Akins Journey Theatre, I've personally experienced these huge frustrations while the theatre department also contended with other major changes, including the addition of two new teachers that replaced those who left last year.
As a theatre student, I started off the school year with a lot of questions and anxiety about how we could do theatre at all, considering all of the health and safety precautions that we have to follow now.
Gina Hinojosa, along with the two other directors, thought it would be a great opportunity to do a virtual show during this time, and so they put on She Kills Monsters as our first show of the year, and our first online show ever. All of us were a bit skeptical during this time, but nonetheless, we began rehearsals anyway.
This was Hinojosa's first year as a teacher, and her first year as a high school director. This on top of the pandemic made her time directing very difficult. A lot of us were stressing out over the crazy amounts of schoolwork we were given. In addition to this, we had 2 hour rehearsals after school each day, which didn't leave much room for homework. It was a time where all of us were very stressed and mentally drained.
However, what Hinojosa did during our show was truly incredible. She put the mental wellbeing of the cast at the forefront of our effort — even ahead of the potential success of the show — which is something incredible that I've never before seen a director do. She didn't get upset at us for missing lines, she gave us multiple mental health days. She took the time to bring us into one-on-one breakout rooms in Zoom so we could talk about our feelings if needed, and was very kind and understanding to those of us who had decided to leave the show.
Our school schedules were constantly changing so our rehearsal times kept changing, as well. We were forced to film everything over the course of seven hours. We were exhausted and burned out by the end of it, but we did it. We were one of the five schools in Austin ISD to put up a virtual show.