Shang-Chi makes debut as latest Marvel superhero
With a record-breaking Labor Day weekend debut, raking in $94 million at the box office and $360 million worldwide, the debut of Shang-Chi and the Legend of the Ten Rings, has sparked excitement in both Marvel fanatics and casual fans alike.
The movie follows Shang-Chi (Simu Liu) as he goes on a journey back to his homeland in China after hiding from the dark events from his family's history and the highly secretive and mystical Ten Rings organization led by his father Xu Wenwu (Tony Leung), also known as the Mandarin. Although he lived on his own in the United States away from his father in China for 10 years, Shang-Chi (who has adopted the Americanized name Sean), finds himself on a search for his sister after some of his father's henchmen track him down in San Francisco and take a pendant that was given to him by his mother when he was a small child.
The search for his sister vastly expands into an exploration of Chinese mythic people, places, and creatures (yes, including dragons). This is an entirely new direction for the ongoing Marvel Cinematic Universe series and the second of its fourth phase. Katy (Awkwafina), Sean's best friend from the United States, tags along on the adventure, providing comic relief and someone with whom Sean can share his long-hidden personal childhood stories.
Along the way, audiences are introduced to his long-lost sister Xia Ling (Meng'er Zhang) who ultimately ends up teaming up to protect their mother's honor and her own mysterious homeland.
This film has received a lot of hype because it features the first Asian superhero in the Marvel Cinematic Universe. Many have been excited about the expanding diversity in the franchise, comparing the influence to the 2018 movie Black Panther, which prominently featured the first black superhero in the MCU.
Speaking of diversity and culture, this film shows the important message that your culture is a part of who you are and it is important to acknowledge it. I believe this film did a good job with its representations of Chinese culture with subtle details, like making the decision to keep Mandarin dialogue in scenes, animating Chinese mythological creatures in the fictional village of Ta Lo, and displaying different Chinese martial arts styles. It also depicts the different experiences of Asian and Asian Americans within the characters which many could relate to, ranging from Chinese-born to only of Chinese descent.
It is a refreshing change to see Marvel doing justice to characters that have been marginalized or treated as "exotic" instead of sharing prominent positions in comic books and superhero movies alongside the long list of white superheroes.
One thing the movie did well is it brought back the "fake Mandarin" character named Trevor Slattery, who is an actor hired to portray the legendary terrorist leader of the Ten Rings known as "the Mandarin" in Iron Man 3. Slattery, played by Ben Kingsley, is effectively used to bring continuity to the previous portrayal of the Mandarin and bring the story into the existing MCU.
There's nothing exactly like Shang-Chi in the MCU, but the story does share some similarities with Black Panther and Thor, who each have their own hidden and hard-to-reach homelands. The origin stories of Shang Chi, Black Panther, and Thor also share the similarity that their character's origin stories involve overcoming issues related to their parents and their childhoods.
As Shang-Chi is an introduction movie, as I would call it, many are wondering how this movie is going to fit into the MCU? The story is set post Endgame or "Post-Blip" and even though it is mostly focused on the story of the origins of Shang-Chi, many recognize cameo appearances from Wong from the Dr. Strange movies and Abomination, and a mid-credits scene shows a meeting between Shang-Chi, Katy, Wong and other heroes presenting a new issue to face.
The movie is action-packed, funny, touching, and takes you on an adventure during its two-hour run time. The relationships and interactions make it all the more personal. A prime example of this is the relationship between Shang-Chi and his mother, which shows how she has brought out the compassionate side of him that has kept him good-natured throughout his life. It's also nice to see a strictly platonic relationship between Shang Chi and Katy break the cliche stereotype of two main characters of the opposite sexes falling into a romantic relationship in the end. The action in the movie has been seen to be paying homage to Chinese martial arts classics as it has many sudden fight scenes with different styles that truly all build-up to the top climax battle scene.
Shang-Chi's debut is the beginning of a whole new era of heroes in the Marvel Universe, but I believe this film can be enjoyed by all viewers alike and is overall an adventurous and satisfying watch that I recommend buying theater tickets to. I'm not one to give many movies a perfect or almost perfect score, but I'd give this film a solid 9 Rings/Out of 10.
Did you like Shang Chi?
Sorry, there was an error loading this poll.
Leave a Comment
Donate to The Eagle's Eye
Your donation will support the student journalists of Akins High School. Your contribution will allow us to purchase equipment and cover our annual website hosting costs.
About the Contributor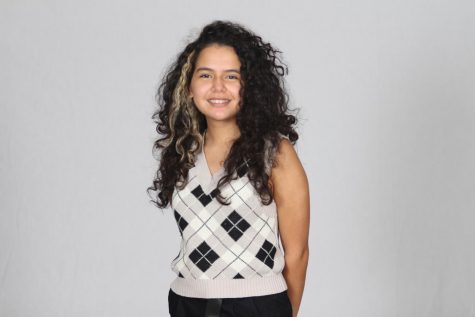 Maria Galo, Staff Writer
Grade: 12th

Academy: AHA

Number of Years on Staff: 1

Why do you enjoy being on staff? I get to share my opinion on a public platform

What do you do for fun? Go out with friends, watch my favorite shows, listen to music, create choreography

What are your hobbies? Recording vocals, making art, baking, dancing, or editing

Hopes & Dreams after high school? To achieve a career in music (performance or producing)