Jacksonville rap scene gains attention with gritty, aggressive style
The Jacksonville, Florida music scene has started to get more attention recently with a good amount of artists popping up from the city. We'll name five artists from the city that are hot right now and explain how they went viral and got the attention they have now.
The Florida rap scene has been popping for a couple of years now with rappers like Kodak Black, Rick Ross, Pitbull, l, and more. Florida has always had rappers blowing up from cities except for Jacksonville, one of the more dangerous parts of Florida. The homicide rate in Jacksonville is higher than the US average making it the 10th most dangerous city in the United States. The city's homicide rate is close to Memphis, Tennessee, and Detroit, Michigan, which are the second and first most dangerous cities in the US respectively.
According to Complex, In the late 2000s and early 2010s, the sound of Jacksonville hip-hop started to shift away from glossy party music.
Nardo Wick
Horace Bernard Walls III, also known as Nardo Wick, is an American rapper who is well known for his single "Who Wants Smoke." The song blew up after it became a TikTok trend and reached five million views on Youtube in three months. He has some co-signs right now from artists like Lil Bibby future and g herbo. One of Wick's songs, "I Declare War" was even featured in the movie "Judas and the Black Messiah." Nardo comes across in his music as a leader and a confident person, but he also comes across as a menace and someone you don't want to mess with. For example, Nardo said "Thank God he gave me this brain cus I know a lot of people don't have the mental discipline I have". Nardo has recently dropped his album "who is nardo wick?" selling 29k the first week of its release, but recently he has not dropped any new music except a song called "Krazy Krazy." He seems to be working on more music as of recently and is still working harder than ever.
Brokeasf
Brokeasf grew up on the northside of Jacksonville. He's had a buzz for a couple of years now because his song comments went viral on TikTok due to the raw energy and realness he portrays in his music, since that's how they have to live in Jacksonville.
Brokeasf is signed to a Cinematic Music Group just like yungeen ace and spinabenz. Johnny Shipes, the founder of the label, says he discovered the city's rap scene in 2008 and that Brokeasf has an aggressive style and that his music is kinda in your face. Shipes says "Brokeasf has a really aggressive style that's like a pitbull that'll bite your face off." He continues to go harder as time progresses.
Lil Poppa
Lil Bubba, better known as Lil Poppa, grew up on the Evergreen block of the eastside of Jacksonville. He graduated from the First Coast high school which had some popular rappers like Spottemgottem and Lil Duval. During high school, Poppae held his own in an adult rap group called Cutt Circle. Lil poppa went on to drop two solo tracks in 2018; "Nightmare on Elm Street" and "Purple hearts" from his album "Under Investigation". Poppa usually speaks on real-life situations he has been through, like the ongoing war against another Jacksonville rapper called Julio Foolio but he tends to stay away from the disses, focusing on himself and leaves the beef in the streets.
He also speaks about a shooting that left him grazed and his brother dead. Since his debut album, "Under Investigation," Poppa signed to Interscope records and has had some major features like Polo g, Mozzy, Lil Durk, G Herbo, and more. His album "Blessed I Guess" speaks on a lot of vulnerable feelings Poppa has gone through like depression, survivor's remorse, trust issues, and the litany. He has a problem opening up to people about it but his music makes it easy for us fans to connect to him and he is getting better as time goes on.
Julio Foolio
Julio foolio was born Charles Jones in the Hilltop Apartments in northside Jacksonville, one of the most notorious hoods in the city of Moncrief. Foolio says his inspiration for music was a rapper in the city called Lil V whose career paused after he was sentenced to 10 years in prison. Foolio got some attention after collaborating with another rapper called Soulja k on the song "Dirty Sticks" which at the time he was still a teenager so his voice had not still matured, but his vocals have gotten more aggressive as he aged.
In 2018, he put out an album called "6toven" paying homage to his block 6 block and collaborating with the well-known producer Zaytoven, In this album, he found his sounds like in the song "Crooks," he attacks Zaytoven classics with a hard edge flow and ease. But he would not get media attention until his long time rivalry and war with another rapper from the opposite gang known ass Yungeen Ace and his ATK crew which made him one of the most hated rappers when it started due to all the disrespectful tracks he has dropped disrespecting Yungeen Aces deceased friends and brothers and many more crews in his ATK gang. The two rappers have been going back and forth with diss songs for a while.
Foolios's breakout song is the remix of a fantasia song "When I see you," which he also named the same In the song's music video, he printed out the news coverage of a quadruple shooting that left Yungeen Ace in critical condition and his blood brother and two best friends dead. Moving on from the beef, Foolio also raps about all the people he has lost because of his war and how it affects him mentally, similarly to Lil Poppa.An example of this is the song "Bibby's Story," in which he raps about his 16-year-old brother Bibby Osama, or Adrien Gainer, who was killed due to the beef Foolio is in with ATK. Foolio usually freestyles his songs but he has written some songs while he was in prison. He has since been moving up the ranks.
Yungeen Ace
Kayanta Bullard AKA Yungeen Ace is a rapper who is originally from Chicago but moved to Jacksonville and was raised there on the west side in Nelvin Road. Yungeen Ace has two different styles of rap — melodic and aggressive. He started off with a music video to his song "Go to War" with a group of his friends, but he started to gain a buzz for his song "F#ck that," which he dropped the week he was ambushed and shot at with his brother and two of his best friends, of which sadly Ace was the only survivor. This attack was speculated to be the result of his ongoing war with the rival crew KTA.
Ace has stated that the way he copes with the tragedy is through his music he said "I have trust issues, I don't tell people my problems; I let the music be my therapy." After the shooting, he recorded the song "Pain," in which he speaks about the recent losses he went through and opens up a lot n the song, he quotes "I lost three brothers, how the hell I'mma tell their momma?" The song racked up many views and plays on all platforms, making it one of his best songs to date.
Ace has been tearing it up ever since the incident but at a tremendous personal cost. In his newest song, "Life of Sin," he quotes, "I made millions off my pain and they ain't noticed," implying that he got famous for his pain and that no one noticed he was struggling with seeing his two best friends and brother getting killed.
What really brought the beef and Ace to the world was Yungeen Ace'ssong "Who I smoke" in March 2021. It turned the innocent Vanessa Carlton song "1000 miles" into a demonic diss song aimed at his rival Julio Foolio. In the song, he has featured Whoppa wit da Choppa, Spinnabenz, and Fastmoney goon. In the song, they mention multiple deceased rivals that are friends of Foolio. The song racked up 20 million views on YouTube alone.
The worst part about the beef is the fans picking sides. Aside from the beef Ace says he tries not to make songs like "Who I smoke" and does not really make diss songs, but he does drop subliminals in some songs. He quotes "Who I Smoke" because I understand a lot of the real-life situations that are being discussed in that song. Ace acknowledges, "I don't always make music like 'Who I Smoke.' I try to make different music that everybody can enjoy because I understand why you can't listen to it and what's behind it."
Ace always manages to make his fans feel his pain and struggle and he always does it with passion. He has had major features in his music such as Lil Durk, Kodak Black,G Herbo, King Von, etc. Yungeen Ace continues to be the face of the Jacksonville rap scene.
Leave a Comment
Donate to The Eagle's Eye
Your donation will support the student journalists of Akins High School. Your contribution will allow us to purchase equipment and cover our annual website hosting costs.
About the Contributor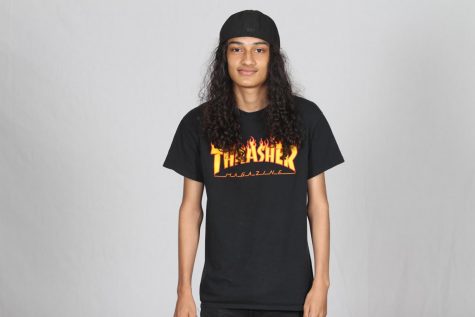 Giusseppe Giusti Williams, Staff Writer
Grade: 12th

Academy: Able

Number of Years on Staff: First year

Title: Staff Writer

What do you do for fun? I like to be outside hanging out with my friends or playing video games with them

What are your hobbies? I work or play video games 

Hopes & Dreams after high school? Just make it be financially stable