Some choir students were nervous about starting the school year after their director left Akins over the summer, which can be a chaotic challenge for a group of singers.
Choir is all about uniting different voices into one harmony, so having a strong director is a must. Choir students said they were relieved when they got to know their new director, Andre Jackson.
He has since then stepped up to direct a new generation of students into success. While some students were worried about the future of Akins' choir after the departure of the last director, Jackson has worked to make sure the choir is stronger than ever. With a new director steering the students in new directions, the long-established Akins choir seems to have found its new voice and has begun singing a new tune.
Jackson taught choir and singing for eight years before coming to Akins. Besides being a classroom teacher, he has also provided private lessons and served as a choir consultant in the Hays school district.
Senior choir student KC Perez said he appreciates the feeling of belonging when all the pieces come together.
"Choir is really rewarding when you put all the parts together and when you get to sing with everyone and I feel like I have a community in choir," Perez said. "I feel like it's something I'm also really good at and that gratification from doing something you're really passionate about is really nice."
In October, choir students were encouraged to compete in a regional competition hosted by the Texas Music Educators Association. Nine singers earned a spot in the Region Mixed Choir, eight advanced to pre-area auditions, and one was named as an alternate.
Senior choir student Cash Simmons said Jackson is helping all of the choir students improve.
"And he's not afraid to call us out when we're wrong," he said. "But he does it in a way that we can learn from it and be better in the future."
Freshman Caden Ruiz shared his thoughts about Jackson.
"I love him. He's amazing. And he supports us, no matter how hard we try and no matter how much we've been through for the past two months," he said.
KC Perez said Jackson is a very hard-working teacher.
"He cares about our emotions and our limits," he said. "He listens to our critiques and he listens to us whenever we need things."
An interview with the director
With the new school year comes a rush of new teachers. One to note is the new choir director, Mr. Jackson, who has done a plethora of things to bring attention to the choir and build a community with his students and the campus. With him in charge, he has plenty of plans to make choir more notable and build more of a community with it. The new director talks to the Eagle's Eye about his plans to improve choir.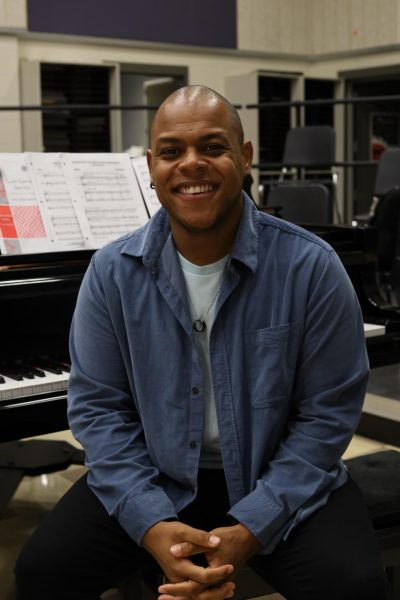 EE: Why did you want to come to Akins?
AJ:I heard that the Akins choir program was not in the best shape. I heard that I was gonna have a lot of talent and all the support in the world but the kids just needed someone who really really cared about choir. And what sold me was that they said that the choir was really small. And so I feel like that scares a lot of directors away because everyone wants to go get that choir that's already established and a choir that's already big. But I like the idea of taking a small choir and turning it into something real. And so the reason I wanted to come here was because I knew I get to build my own program with great kids.
EE: Why did you become a choir Teacher?
AJ:Because of my high school choir teacher. She made the choir room feel like a home away from home. To be honest the choir room was more of a home than my own home was. Growing up, I found that I was always in the choir room. All of my teachers knew that if I was done with my work, I was most likely going to choir, I wouldn't even have to ask, I would turn my work in and they would ask if I was going to choir and I would say "yup". And that was freshman through senior year. My choir director was like my mom. She took me in at times. She fed me, she bought me clothes. She helped me graduate from school. And so I want to be able to do what she did for me and my friends because she created a choir where the kids that were in her choir, some of them are now married. A lot of them have kids together. A lot. A lot of us are still best friends. And we all thank her for that because if it wasn't for her we wouldn't have ever met each other. So she is the reason that I wanted to be a choir director.
EE: What would the students be surprised to find out about you?
AJ:When I'm not at work, I'm always thinking about my students, and at times I have to tell myself that y'all (choir students) are okay and I can be home and just relax. They feel like y'all (choir students) would be surprised to know that I look at y'all (choir students) as more than just my choir students, I look at y'all (choir students) like my little kids. And I care way more about y'all(choir students) as human beings than I do as a singer. The fact that y'all sing for me is a blessing. But I think they'd be surprised to know that I really, I love y'all. (choir students)
EE: What are your plans for the choir?
AJ:The first and always plan is going to be to love them, so much. My second plan is to grow the choir right now we're sitting under 50 kids this year. I want 110 Kids in three years. I'm also enjoying the small moments that we have now because I'm going to remember these moments. I'm going to think back on these moments very fondly, because I'm gonna remember that we used to be a very small choir, and there where kids that really really cared and that helped take us to the next level. So my plan is to make us the voice of not only our campus but of our community.