Austin's rapid growth creates new amenities, headaches
Hang on for a minute...we're trying to find some more stories you might like.
For Austin residents who say that it feels like there are 100 people moving to Austin every day, they would be right.
Actually, according to the Austin Business Journal there are 159 people moving to Austin per day in this past year.
Students and teachers born and raised in Austin have seen dramatic changes in Austin's landscape and infrastructure.
"I think (Austin's traffic) is bad because there was already a lot of traffic so with more people coming in there's a lot more traffic," sophomore Laura Flores said.
Flores said that despite the travel strains she loves living in Austin, but would move if the opportunity presented itself. "I plan to stay in Austin because it's pretty, but if my job takes me somewhere else than I'll be happy," Flores said.
Austin's economy has benefited significantly, ranking 27th in the nation, according to The Austin Chamber. In 2016, Austin's real GDP rose to 16.6 percent, making it a major metropolitan.
Austin surpasses the average of all metros in the U.S. by industry growth rates. This city holds an industry growth rate of 5% in all categories except for a decline in natural resources and mining.
The city's job growth rate has also increased, providing over 1 million non-farm jobs in the past year.
Criminal Justice teacher Carmen Garcia moved to Austin in 2003 to pursue a job opportunity.
"I just fell in love with the atmosphere, the environment," Garcia said.
Garcia moved to Austin from Brownsville, Texas to join the police academy.
"There's more things to do in Austin," Garcia said. "Austin is very diverse… there's a lot of culture."
Garcia embraces Austin's unique attributes such as the music scene.
Austin's rapid density growth has a push-pull effect varying on a person's income and desires.
"Austin is more expensive that's for sure," Garcia said. "(Austin) provides the lifestyle that I would want."
Social studies teacher Sharon Kay Fayad grew up in Austin and attended Reagan High School.
"I moved away for college, but my family has always been here and I've always liked Austin," Fayad said.
Having grown up as the city has grown, Fayad recalls Austin's development over the years.
"I was looking at the skyline and way Austin used to look about 10 years ago, and it's totally different," she said. "The traffic used to just be '5 o'clock traffic' but now it is the way it is because Austin has grown so much. I've really seen the growth from the traffic to the buildings, I've noticed it more in the last 3 years."
Austin's growth is largely due to the influx of people everyday.
As an Austinite, Fayad said the growth is "positive except for traffic." "Overall, the infrastructure like all of the houses being built around Akins and the widening of the roads has been good," Fayad said.
Despite the complaints about traffic and the rising cost of living, growth in Austin doesn't appear to be slowing down anytime soon. According to a study by the Urban Institute, if migration and the birth rates are higher than expected, the Austin area could grow by more than 80 percent by the year 2030.

About the Contributors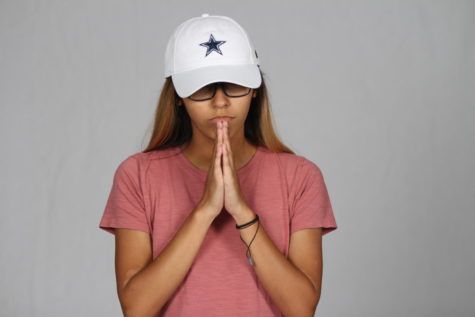 Eliana Gutierrez, In-Depth Editor
Name: Eliana Gutierrez
Grade: 12
Academy: New Tech
Year on Staff: 3
Title: InDepth
Why they are on staff? Bc why not am I right
What do you do for...