Thrift shops make their way back to students
Something that may have once been looked down upon or considered unimpressive has become a badge of honor for some students.
The scrape of metal hangers upon metal racks, the unique music flowing from the overhead speakers, and the mellow atmosphere surrounding the store is comforting to most thrifters.
"There's all kinds of things that people get rid of, like old band t-shirts, or things that just aren't considered cool anymore," junior Matthew Ramos said. "Thrift stores are actually more like an old book that you can pick your favorite parts from and give it a new story."
Thrifters tend to dress in ways that may cause others to turn heads. Following trends but in their own unique way is common but so is the aim to differentiate from others.
"I'd consider my style different," junior Alek Peschansky said. "I strive to stand out in a crowd, if everyone's wearing a black shirt I'll be wearing white."
Buying big name brand clothing for a fraction of the original price may require lots of digging but thrifters don't mind.
"I'm saving money so it makes me feel pretty good about myself," Peschansky said.
Finding old movies, records, books, and interesting trinkets is also common in the thrifting environment.
"The coolest thing I've ever gotten at a thrift store was a black Polaroid camera for about $20," junior Britney Evans said. "Not only was it a great buy, it's something I use often."
Among thrift stores students are Goodwill, Thriftown, Buffalo Exchange and Plato's Closet.
You can donate clothes to Goodwill and Thrifttown, or you have the option of selling or trading their gently used, up to date clothing items at Buffalo Exchange or Plato's Closet. Thrifters also have the opportunity of swapping at an event called "The Really Really Free Market" hosted the last Sunday every month by Treasure City Thrift.
"My favorite store to go to is Family Thrift Center. They have a huge selection and I've found so many cool and interesting things there," Ramos said. "What I like about thrift stores is the fact that, you can pick up a piece of clothing that could've once been somebody's favorite shirt and ended up in a hand-me-down store and now it's yours."
About the Contributor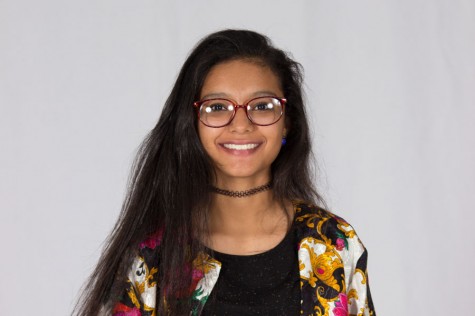 Sarah Luna, Student Life Editor
Grade:12
Academy: Social Services
Year on Staff: 2
Why they are on staff? I Luv Newspaper + All That Jazz. Plus, I Want To Have Experience For The Major...