Foreign exchange Student Domiziano Luisetti says he is lucky to go to school in Austin
With clammy hands and an excited mind Domiziano Luisetti boarded a plane to a strange land last August.
It was a land he had always heard good things about. Luisetti, who is from northern Italy, had always heard that the United States of America was the "land of opportunity."
However, it was also somewhere he knew not a single soul besides the Gilchist's, which was the family that had agreed to take care of him for the upcoming school year.
"I chose the USA because I was curious to see what it was really like, but it was especially fortunate to be chosen by a family in Austin, Texas throughout all the families in the US," Luisetti said. "I feel like Austin, which is also known as the live music capital of the world, is my kind of city."
Luisetti, an only child, was born in Turin, Italy. Luisetti has lived in the same place all his life although he has traveled to many places such as Spain, France, Ireland, Germany, and Egypt. He signed up to come to the United States to see what the phrase "Living the American Dream" was really about.
"It's amazing how many opportunities for people, especially for young people. A girl I know applied online to a McDonald's and she got the job, just by applying on the Internet," he said. "That just proves to show that America really is the land of opportunities because in Italy at the ages 17 or 18 if you're looking for a job, it's more than likely that you aren't going to find one."
The food culture is also one of the more different things that he can point out immediately. For example, there are no pizza rolls in Italy. It was something that the American culture had made up.
"Pizza is really popular here and people have told me about all the best pizza places in town but I'm not very interested in the pizza. I know how pizza tastes," Luisetti said. "Here, I have come to absolutely love burgers and my favorite place to go is I really like Mighty Fine. The only places back home where you can get a burger is at a McDonalds or a Burger King which isn't the same because it's just fast food."
Luisetti started playing guitar at the age of seven and hopes to take the talent he has developed somewhere in life.
"Next year when I'm back in Italy, I want to attend a guitar academy and hopefully in about five years I'll have a degree in guitar," Luisetti said. "I'm just going with the flow but I want to be successful in music at the very least because music is what I love."
With the month on June coming up, Luisetti is dreading the date where he has to board the plane back to his homeland.
"I'm definitely going to miss Austin," Luisetti said. "Coming here was like coming to a new life, as if I was born again at the age of 18. You can decide what you want to be, who you can be because the possibilities are endless. In my opinion, America really is what it's all cracked up to be."
About the Contributor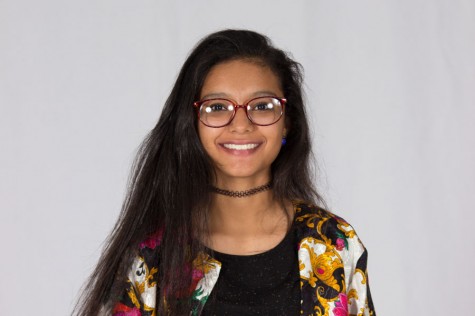 Sarah Luna, Student Life Editor
Grade:12
Academy: Social Services
Year on Staff: 2
Why they are on staff? I Luv Newspaper + All That Jazz. Plus, I Want To Have Experience For The Major...