Long-time teacher Garcia-Mata dies in hiking accident
Christina Garcia-Mata, a long-time AVID teacher at Akins and the Green Tech Academy coordinator, died yesterday in a hiking accident in El Paso.
According to the El Paso Times, she died after she fell while hiking in the Franklin Mountains, which skirt along the city's edge. The El Paso area has experienced heavy rainfall since Sunday, making the terrain wet and slippery. Officials said she was swept away by rushing water and fell down the mountain.
The El Paso Fire Department received a report of a lost hiker around 4 p.m. The El Paso Combined Search and Rescue Team responded to the scene and began searching for Garcia-Mata. She was found dead around 6 p.m. on Monday.
The ABC Channel 7 news station interviewed fire department officials about the incident.
"She was hiking and a stream of water rushed her away," said Enrique Dueñas-Aguilar, a spokesman for the fire department in the news station's interview. "She suffered some injuries and she did not survive."
The station also interviewed Garcia-Mata's husband Gabriel Mata, who previously taught Teen Leadership classes at Akins, as well.
Mata said he was worried about how Akins students would react to the news of her passing.
"They love her," Mata said. "They're going to hear this and they're going to be heartbroken."
Mata said his family lived in Austin, but were visiting family in El Paso. The two loved hiking together, he said.
Garcia-Mata, who is originally from El Paso, had taught at Akins since 2006. In 2018, she was voted the 2017-2018 Akins Teacher of the Year. She has served in various roles at Akins, including the campus AVID coordinator and the Green Tech Academy coordinator. She has taught various classes at Akins, including Teen Leadership, SEL, U.S. History and AVID.
She graduated from the University of Texas at El Paso with a bachelor's degree in History and a minor in Chicano Studies.
Akins Principal Tina Salazar sent an email to the campus staff to notify the community about Garcia-Mata's passing.
"I know this is stunning and devastating news. I also know the loving and caring arms of the Akins ECHS Family will extend to all who are impacted by this difficult loss," she wrote.
"Garcia-Mata, as many of us called her, was an integral part of the Akins ECHS community because she was an inspiring teacher, dedicated mentor, superb supporter to all as an Academy Coordinator, and an amazing friend to many of us, if not all."
"Our school is a tight knit family, and I am asking that we embrace and support each other during this very difficult time. I love you all immensely and I am here for anything you need," Salazar wrote.
Counselors will be available in the Akins library on Wednesday as early as 9 a.m. to assist students and community members who are grieving Garcia-Mata's death.
The Eagle's Eye has created a special webpage for the campus community to share memories, write tributes and share photos of Garcia-Mata. Readers are invited to visit this page and share it with others who knew her.
The Akins ECHS community can also share their memories with Garcia-Mata in the Padlet below.
There is also a GoFundMe campaign that was organized by Nicholas Fernandez for Garcia-Mata's loved ones.
About the Writer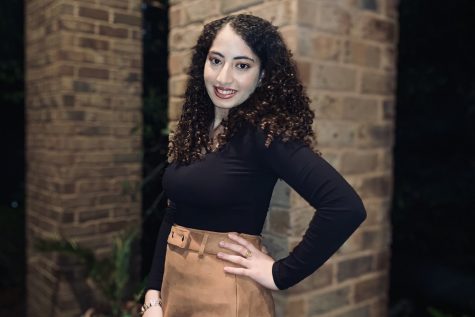 Heba Dalu, In-Depth Editor
Name: Heba Dalu

Grade: 11

Academy: STEM

Number of Years on Staff: 1

Title: In-Depth Editor

Why do you enjoy being on staff? I enjoy being on staff because I get to learn about new things and develop my graphic design skills.

What do you do for fun? I love to read, hike, and hang out with my friends. I'm also a curly hair enthusiast and social activist.

What new hobbies, activities do since quarantining because of COVID? I learned how to bake and diffuse curly hair.

Hopes & Dreams? I hope to travel the world and become trilingual.