Crews to replace faulty air conditioning this summer
Students and teachers who experienced unbearably hot temperatures in classrooms at the beginning of the school year should get some relief in August after construction to replace and repair air conditioning systems is completed over the summer break.
Some of the air conditioning equipment has not been replaced since the school first opened in 2000, leading to reliability problems in which certain units don't function properly anymore. This caused about 10 classrooms to be shut down until October when temporary repairs allowed the rooms to be cooled.
Associate Principal Manuel Garcia sent out a campus email to teachers in April informing them that the main building of the campus will be shut down and off-limits for use by teachers and students because of the construction. He said new HVAC systems, including some ductwork, will be installed above the library and STEM offices, bank/Green Tech Office, Main Office, and on top of the Green Hall. The large chilling towers behind the cafeteria will also be replaced.
"It's very old and rusted, and it's leaking. So that's what they're going to be replacing that whole system," he said.
Garcia said the courtyard will also be off-limits because of resurfacing work for the sidewalks and to help level some of the uneven areas that have formed because of recent construction.
He said summer activities like Summer School and the Delta credit recovery program will be held in the STEM & New Tech Buildings. And the summer administrative staff like registrars and bookkeepers and campus administrators will be operating from the STEM building. Garcia said he expects that students and staff will still have access to the Fine Arts and Gym buildings.
Construction is expected to start on June 1 and end sometime in August.
Garcia said the school district is paying for the improvements because it is aware of the many problems Akins experiences with keeping its classrooms at comfortable temperatures.
"The HVAC on this campus was something that was breaking constantly in comparison to a lot of the other campuses in the district. And so that's why they prioritized our system," he said.
Social studies teacher Henry Perez said that class can be a struggle to teach when the class is hot, especially earlier in the year.
"I couldn't even hold my classes in my class," he said. "I do my direct instruction then I let kids come out in the hall where they can take a breather, but now I'm trying to watch kids in the hall, watch kids in the class, yeah it's not a good situation. I mean, it's literally so bad that I had some Jolly Rancher candies and my room gets so hot that they're all stuck to the plastic because they just melt."
Perez has also noticed students losing focus and not paying attention in class.
"If kids are uncomfortable, and they don't really want to be in there, I don't want to be there either honestly," he said. "You know, just nobody can concentrate, and then we resort to letting kids out in the hall. I mean, they're more comfortable when it's not humid and hot but now I'm trying to watch kids in the hall and watch kids in the class, yeah it's not a good situation."
Senior Ryder Edwards said the extreme heat has been harmful to keeping students engaged.
"It's super hot and you can't even think," he said.
Senior Andrew Garza said he had noticed that students don't pay attention to teachers when it is hot in a classroom.
"Students just kind of go on the phone and not really do anything productive because it's just like too hot," he said.
Leave a Comment
Donate to The Eagle's Eye
Your donation will support the student journalists of Akins High School. Your contribution will allow us to purchase equipment and cover our annual website hosting costs.
About the Contributor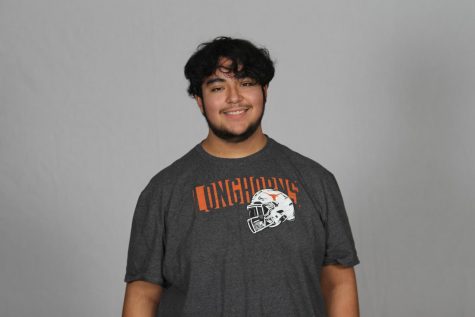 Mario Sanchez
Grade: 12th

Academy: STEM

Number of Years on Staff: 1st year

Title: Staff Writer

Why do you enjoy being on staff? I enjoy being on the staff because I get the chance to show out my writing creativity.

What do you do for fun? I work in my free time, I work at Walmart and I play video games

What are your hobbies? I work, I read. I play video games

Hopes & Dreams after high school? one of my hopes is to become an Ordnance officer and to compete for my certifications in welding, and Fabrication