Getting to know Akins new principal
Michael Herbin took over as the new principal of Akins this summer after Tina Salazar left at the end of last year.
The Eagle's Eye sat down with him to ask a few of the questions that students have about the new top administrator on campus.
EE: What attracted you to come to apply for the principal position at Akins?
Mr. Herbin: So Akins has always been a campus that I really admired. It has some of the most unique programming in the district. We've been a leader in innovative curriculum, all of our CTE programming, all of our pathways, and Early College High School. We've really been a leader in all of those pieces. Standard-based grading is a grading system that I'm familiar with, it's based on a growth mindset, which I'm a big believer in. And then I just heard amazing things about the staff and the kids in the community. Just a great campus and I'm really excited to be here.
EE: What do you see as Akins's strengths as a school? 
Mr. Herbin: I think one of the big strengths of the campus is diversity. I think that it's a very diverse campus. It brings a lot of different people together and it really supports them in a really caring and nurturing environment. I think, again, a big strength of the campus goes back to the strength of the staff like we have an incredible staff here. I love the academy structure that we have on campus so that the kids can come in right away and buy into a program and to an academy and envision themselves and their future. If I stopped any kid in the hallway and I asked him what Academy they're in, every kid knows what Academy they're in. It's that sense of belonging that I think is a huge strength for the campus as well.
EE: What do you see as some of Akins's challenges and struggles as a school?
Mr. Herbin: I think one of them is just the sheer size. There's a lot of strength in having a big campus because we're able to have a lot of resources and have a lot of diverse programming and things like that. But it's always just a big campus. So it's a lot to keep track of for all of us. We also have a huge footprint but I'm not sure exactly how big it is. I think it's got to be at least 30 acres. With that, it always comes with some unique challenges.
EE: What are some short-term changes you intend to make as a principal that will affect the school this school year?
Mr. Herbin: I don't really operate like that. So, for me, it's kind of coming in. When I come into a new school I really want to take it all in first. So I'm not coming in with a plan to change a bunch of things or anything like that. It's really kind of just watching and seeing what systems we have in place and what structures we have in place, and then circling up with the campus leadership team. Along with the administrators, the student leaders, all the teacher leaders, and really kind of seeing what direction we want to go together. It doesn't always work like that, but this is not a system that's broken. So we have a lot of strengths and it's really important that as a new leader to the campus, that I pay attention to it and that I really watch for it and I see what our strengths are.
EE: How would you like to see Akins in like five years?
Mr. Herbin: I think a lot of it is just making sure that we really build on our strengths and continue the things that got us to where we're at. We have so many great accomplishments over so many years. That becomes a really strong campus culture. So it's important that we look ahead five years from now, that it's not lost, but that's strengthened. So we ask ourselves what things have we done to take the strengths that we have and then really build on the strengths that we have?
EE: What were you like as a high school student?
Mr. Herbin: I was a pretty involved kid. I was in sports, so I was captain of my high school football team and captain of the track team. I enjoyed publication, I was an editor of our high school yearbook. I was one of the officers for the senior class as vice president. So I tried to get involved in a lot of things I liked. I liked being involved in stuff, but I also went to a really small high school, I think my graduating class was 75 Kids total. So you could do all those things. You could be involved in all these different areas in a really small school. I enjoyed it. It was a small high school in Montana. Believe it or not.EE: What inspired you to pursue education and become a principal?
EE:What inspired you to pursue education become a principal?
Mr. Herbin: I've always liked and wanted to empower people. So for me that's something that I've always really enjoyed. I like to help. I like to help people gain access to power and change their lives. And when I say when I say power, what I mean is just like really, really helping others understand what they can become and reach their full potential. So for me, that was always something that I really liked to do. I kind of always knew I wanted to be in education and be a teacher. I've always believed that every kid can learn. I've always believed the any growth mindset; that all you have to do is put your mind to it, that we don't all do the same. We don't all accomplish the same thing in the same amount of time but we're all capable of getting there. So for me, it's kind of like those values that I think would push me to be an educator.
EE: How would you describe yourself to students rather than staff?
Mr. Herbin: I'm not all bad. I don't know how to describe myself to students, and not staff. I think I would describe myself really probably about the same way to students and the staff, honestly, you know, I like to have fun. I like to travel. I'm an avid fly fisherman. I try to fish, like every weekend. You know,  I like to take care of business. And, you know, I like to try to make sure that you know, I'm doing the right thing and that I'm modeling doing the right thing and that you know, and to help others. Also, think about making sure they're doing the right thing. I mean, I do a lot of hiking. I also kayak. I hunt a little bit but just like birds and stuff like pheasant hunting.
EE: You know, describe your understanding of education with your years of experience in the education field. What did you learn through all of it?
Mr. Herbin: I've learned that there's a lot to learn. There's always more to learn and that there's an unlimited number of challenges out there in education. Once you kind of feel like you've gotten to a certain point, you can always look another direction and find a new challenge to pursue. Education has come a really long way, but we still have a lot that we have to try to tackle in the future in terms of the changing world and what we're dealing with. When I started teaching, we were on overhead projectors with transparencies, and now we're in blend. Kids are in blend and doing all my curriculum, and it's like state testing just went completely online. And so, you know, it just changes rapidly, man, like it all changes really, really rapidly. So, you know, we got to try to stay on top of it.
EE: With what you've learned throughout your whole entire years of education, how could you use that to your advantage to you know, help us push us forward?
Mr. Herbin: Experience always pays off. So you know, whether you won or lost, it doesn't really matter. All experience is good experience. If you view succeed at something the first time, then you can learn from that. You know what you did right, you know how things work. But if you fail at something the first time, then you also learn from that. You learn a lot more even typically from the failures. Typically nobody really does anything right the first time they try it, you have to fall down a few times and learn from your mistakes. It's really about having experience and being through different situations, but not being afraid to tackle the new ones and not being afraid to fail. Because at the end of the day, you're going to learn how to do it better.
Leave a Comment
Donate to The Eagle's Eye
Your donation will support the student journalists of Akins High School. Your contribution will allow us to purchase equipment and cover our annual website hosting costs.
About the Contributor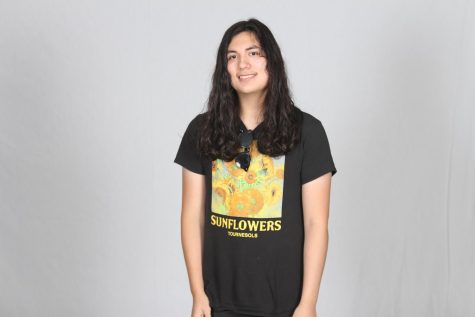 Roberto Ramirez, Co-Editor-In-Chief
Grade: 12

Academy: ECHS

Number of Years on Staff: 2

Title: Co Editor-In-Chief

Why do you enjoy being on staff? I enjoy being on staff because I always felt like the torch of journalism needs to be passed down for generations to come, including me.

What do you do for fun? Playing video games, reading.

What are your hobbies? Photography and playing chess.

Hopes & Dreams after high school? I hope to be a journalist a while after high school and make music just for fun.