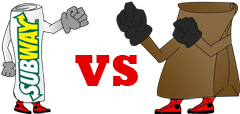 Battle between fast food over traditional lunches (Cont.)
April 22, 2014
Wendy's, McDonald's, Panda Express, Sonic, and Double Dave's. These are only a few of the many options seniors have for lunch.
And how could seniors turn down half priced pizza rolls or food at the very low, low price of $1 from the value menus? Many seniors say it's cheaper or better than school lunch food.
One pepperoni roll from Double Dave's is 370 calories, one Big Mac from McDonald's is 550 calories, and one Baconator from Wendy's is 830 calories. Students also usually buy a drink with their meal, which adds almost 200 calories more to your meal, not to mention at least an extra $1.25, too.
It is no coincidence that students are commonly seen hanging over their desks, not wanting to do work, or feeling exhausted or sleepy. This could be related to fast food intake, which causes fatigue because of its lack of protein.
Fast food releases endorphins that make people feel satisfied, but not for long. These endorphins the food releases makes people crave it more and want to eat more. When you don't get more, you start to feel sluggish.
Some people will try to make the argument that there are healthy options at fast food restaurants. At McDonald's, a salad is no better than buying a burger. A standard burger from McDonald's is 253 calories, while the caesar salad is 425 calories. The BLT Cobb Salad from Wendy's, which has 740 calories, is worse than the infamous Burger King Whopper that has 670 calories.
I'm not saying it's bad to eat fast food every once in a while. I go off campus occasionally.For the most part, I bring leftovers from home to lunch everyday, which tastes much better than cafeteria food and fast food.
Fast food may seem cheaper and better to eat during lunch, but eventually both the expenses and empty calories are going to come back to haunt you in the long run.