Juul's marketing campaign attracts teens to vape
E-cig manufacturer Juul Labs allegedly marketing to teens & young adults
October 15, 2018
   With a sleek design, attractive marketing and a variety of fruit flavors to choose from, Juul has proven to be the vape of choice among teenagers.
The device, which resembles an elongated USB flash drive, has exploded in popularity over the last school year, and now Juul Labs controls about 70 percent of the e-cigarette market, according to Nielsen data compiled in a Juul investor presentation and reported by Bloomberg.
Juul's rapid rise in popularity has contributed to what the Food and Drug Administration says is a 75 percent increase in e-cigarette use among high school students this year, compared with rates from 2017, according to reporting by the Washington Post.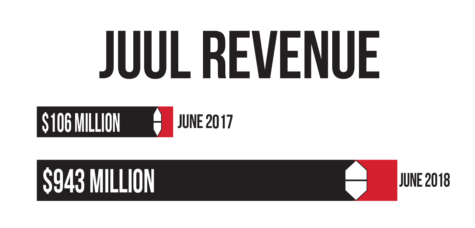 Vapes are the rival e-cigarette companies to the Juul. They're nearly identical in the way you use them. They both have a mouthpiece where you inhale, and they hold a cartridge with the e-liquids.
The one difference between the two is that a vape holds vapor, and the Juul holds oils that create vapor that dissolves as soon as it leaves your mouth.
The rapid increase in e-cigarette use led FDA Commissioner Scott Gottlieb in September to warn retailers to stop selling the devices to minors, calling teenage vaping an epidemic.
Some e-cigarette users at Akins said they first started vaping out of being bored and wanted to experiment with something new. Some said their friends were using them because of their modern design.
"I like using it because of the flavors they have, like vanilla and mint," said a senior at Akins who spoke to the Eagle's Eye, but did not want to be named because of their involvement in school activities.
Another senior said that they liked "the nicotine rush."
The sudden rapid rise in popularity of vaping among teens requires an exploration of the history of the traditional combustible cigarette industry and the rise of the e-cigarette.
After being a common activity throughout most of the 1900s smoking became less popular because of a gradual increase in knowledge of the health effects of smoking.
States were also successful in suing tobacco companies over smoking-related illnesses. These lawsuits also led to new regulations and programs aimed at limiting cigarette use among teenagers.
The limits on traditional cigarettes and the development of new technology led to the production of e-cigarettes, which were marketed as a healthier alternative for adult smokers who are addicted to nicotine and struggle with quitting.
According to a recent report in the New York Times, PAX Labs, the company that originally developed the Juul, created a marketing campaign that contained "clips of hip, young people posed flirtatiously holding Juuls."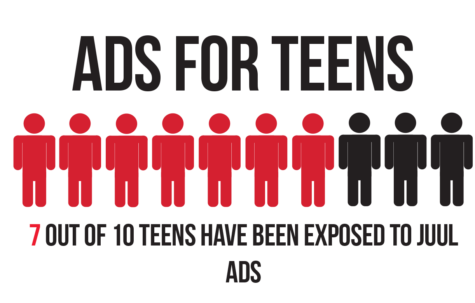 PAX Labs said it has always targeted recovering smokers, but a former senior manager told the New York Times that he and others knew that the marketing could appeal to teenagers.
Soon after releasing the Juul to the public in 2015, the company realized kids started to use them because they posted videos and images of themselves juuling and vaping on their social media.
Eventually, the company changed the models in their marketing to be 35 years old or older to be better aligned with their first target, adult smokers. is action wasn't finalized until June of 2017, but critics say that, by then, teenagers were enticed to try Juul, hooking a new generation of e-cigarette users at a young age.
Experts are being very skeptical about how 'safe' the e-cigs are. Vapes and Juuls both contain high amounts of nicotine, in order to recreate an amount as high as a regular cigarette. Some of the Juul flavors contain particles that vary in the number of toxic chemicals which have a connection to cancer and heart problems.
Public health officials are worried about having another generation addicted to the use of nicotine, and the possibility that it could lead to the use of combustible cigarettes and other drugs in the future.
While the company claims that they were trying to stop teens from using their products, their actions do not appear to back this up.
Juul's business practices are coming under the scrutiny of officials like Massachusetts attorney general Maura Healey, who has announced that it is conducting an investigation.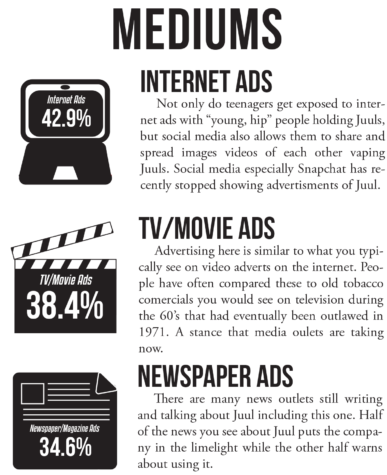 "From our perspective, this is not about getting adults to stop smoking," Healey said in a New York Times article. "This is about getting kids to start vaping, and make money and have them as customers for life."
This is alarming for anyone concerned or worried about the youth of our nation. Getting addicted to the harmful effects of these products, or worse.
"A survey of adolescent drug use last year found that 11 percent of 12th graders, 8.2 per- cent of 10th graders and 3.5 percent of eighth graders had vaped nicotine in the previous 30 days." according to the "Monitoring the Future 2017" report by The National Institute on Drug Abuse at the National Institutes of Health.
Healey has stated that the models and products they use in their ads were to appeal to younger people, for looking cute, or hip in a way to get to tens of millions of smokers addicted while they are young.
In response to the investigation, Matt David, Juul Labs' chief communication officer, told The New York Times that the company never marketed towards minors, but instead that the adults were to blame because they've talked about how popular their company was getting.
At Akins, senior Ben Young said he surprised himself when he recently started vaping. He has seen his dad vaping for the last ve years and thought it was something that he would never do himself. Young said he does not consider vaping harmful except for the ones mixed with toxic artificial flavors.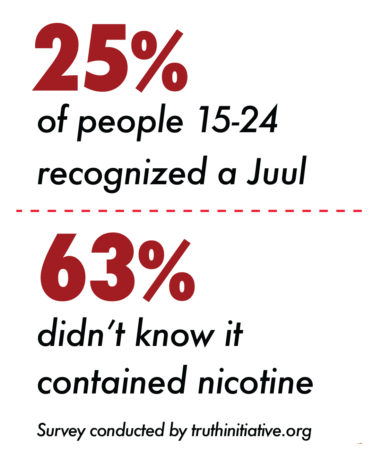 "I've done some research and I've learned that there aren't that many harmful effects that are in natural vapes, because the ingredients they use are the ingredients they use in your cereal," Young said.
Sometimes vaping among teens takes on a social aspect. Senior Lewis Aguayo said he doesn't own a Juul himself, but will use a friend's when they are hanging out.
He said he personally thinks that "they're really bad" for nicotine addiction, but are not a big danger for all teens.
"I don't think it'll make you do harder drugs… I just believe that you'll get addicted to the nicotine," he said.