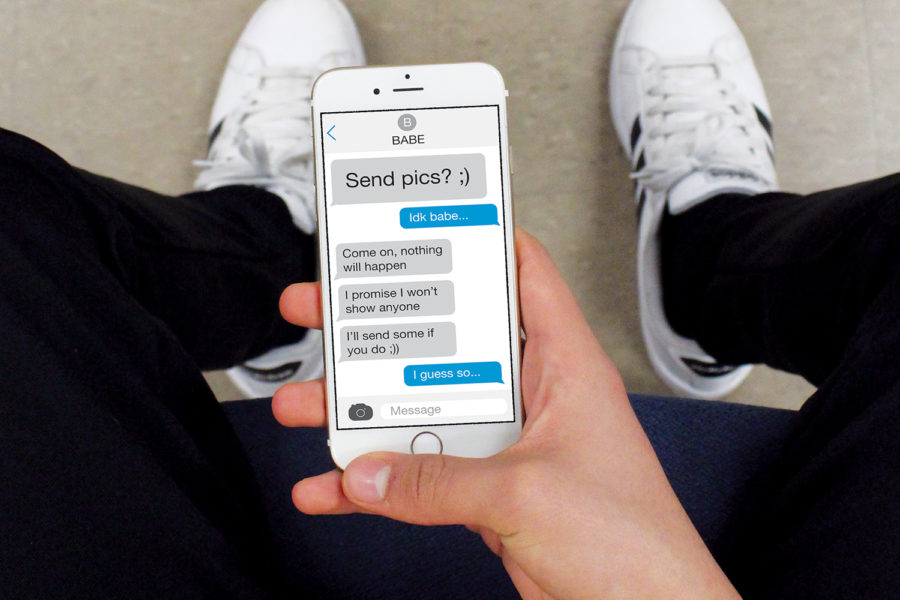 Michael Garcia
Teens learn the costs of sexting
Sexually explicit messaging among teenagers has legal, emotional long-term consequences
February 22, 2019
When sophomore Hannah Johnson saw Snapchat's screenshot notification on her phone, fear struck her heart.
Johnson (name changed for privacy) had sent sexually explicit images — or sexts — to her partner when they had requested. She said that she obliged when asked because she wanted to make them happy, but she felt taken advantage of afterward.
"Now that I think about it, I'm like, 'Why are you so stupid?'" Johnson said. "My mom would kill me, and most of my friends would lose respect for me."
"
I feel like a lot of people want to impress others and take nudes because of that."
— Quote generated from an online survey by The Eagle's Eye
Johnson was participating in an activity that has become consistently more popular among teenagers in an increasingly digital society. Johnson said that she felt pressure to send images when her partner asked, and thinks that that is the case for many young people.
"The person that asked me to send them knew that I liked them and they used that to their advantage," Johnson said. "[When they asked] I said, 'Absolutely I will," because they kept asking."
On the week of Jan. 7, Principal Tina Salazar held meetings with the student body to talk about issues on campus, one of which was sexting. Salazar said that she wanted to speak to students about sending explicit images so that they understood the legal consequences for minors.
"These things are getting people thrown in jail," Salazar said. " These things are getting people classified as sex offenders. It's serious business; you can't get away from being a sex offender, that will follow you forever."
Salazar said that she feels that the meetings were effective, to a degree. She understands that students will not stop sending these images altogether, but hopes that they know that after they're sent, they can't be taken back.
"You need to know what's going to come next," Salazar said. "Don't be surprised and don't beg me for help when you know I can't do anything about it."
In the state of Texas, knowingly possessing or viewing sexually explicit content of anyone under the age of 18 is considered child pornography and is a felony. Sending these images is considered a distribution of child pornography. Junior Emily Castro (name changed for privacy) said she receives unsolicited photos sometimes, and they make her nervous.
"I don't ask for them," Castro said. "People just send them whenever they want. I don't want to see that because I don't want to get in trouble for it."
Johnson said that she has also gotten and seen other people receive unsolicited nudes and sexts before. She said that she has usually seen it from guys sending them to girls on campus, hoping for an exchange.
"Most of the time, it's guys saying, 'I'll send a [picture] if you send one,'" Johnson said. "I don't want that."
Castro said that she is concerned with the emotional consequences of sexting as well. Revenge porn is when an individual redistributes someone else's nudes without their permission with the intention of embarrassing them. This often happens after a rejection or breakup. Castro said that she almost had this happen to her, with someone else's images. She said someone she was interested in asked her for nudes, and when she declined, he threatened her.
"He was leaving for the military and I (said), 'No I'm not sending you nudes,'" Castro said. "He was like, 'Fine, then I'll just use some other girls nudes and expose you and pretend it's you.'"
Salazar said that she has seen this happen on campus often. She said that when students approach her or a Student Resource Officer (SRO) about this, it's incredibly hard to handle any damage that may have already been done.
"We've had instances where a student has sent a picture of themselves to someone who they thought cared about them genuinely and then two months down the road, the relationship didn't go well," Salazar said. "They get mad at each other and he or she sends that picture up. It happens all the time."
SRO Paul Palomo said students need to be aware of what they are getting themselves into before they send a nude image.
"Once that happens there's no way we can get it back right?" he said. "It can hit the Internet. It could be anywhere at that point."
Johnson said that she felt regret after sending nudes, and was worried about what others would think. She said that there is a stigma around talking about that topic because of the possible social and legal consequences.
"
If you send something to (another teenager), they're probably going to show their friends and then they'll all see it."
— Quote generated from an online survey by The Eagle's Eye
"That's just a thing that's frowned on in the community," Johnson said. "If you send someone nudes, [people think] you're a bad person." Salazar said that while she knows that not all students will listen to her advice, she thinks that it is important to speak to students about these things so they can make good decisions. She said that she wants to discuss this with students maturely.
"You have to make informed decisions about adult things, but sometimes you're still young people," Salazar said. "I want to speak to you because it's important that you know that while you're young, you're getting yourself involved in very adult things."