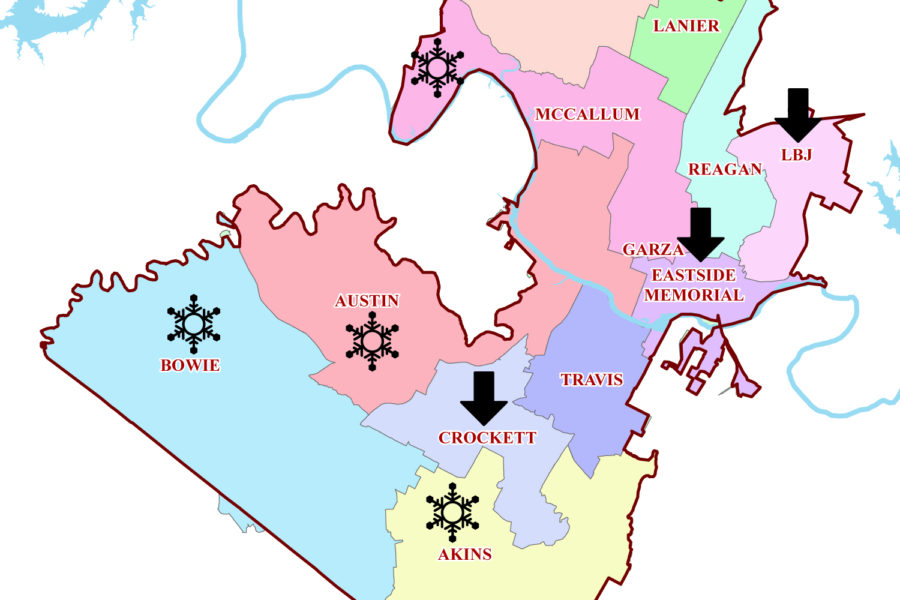 Illustration by Ash Catalan based on an Austin ISD map
Frozen to Transfers
Students denied transfer to Akins because of overcrowding, attendance boundaries
May 23, 2019
Last summer, senior Jennifer Espinoza's family made the mistake of being honest.
Espinoza's family moved a few miles north, placing her home in the Crockett High School attendance zone. Her parents reported their new address when they had to submit some official paperwork to the school district.
Because of this change of address, Espinoza was dropped from the Akins roster of enrolled students. It wasn't until a teacher notified her that she wasn't on his rosters over the summer that she found out that she wasn't enrolled at Akins anymore.
Prior to this, she had been at Akins since her freshman year. Espinoza said her parents did not feel right about lying about their address, which they have heard other parents do to ensure their children can attend Akins.
"During the middle of (my junior) year, my parents went to the (school district) and told them about my situation," she said. "The administration told them that they weren't going to pull me out in the middle of the year because I was already in the system and that it wasn't fair for me to move half-way."
What she thought would happen was that they would let her end her final year at Akins. Instead, she was transferred to Crockett High School over the summer. Espinoza had to write letters to plead her case touting her grades, regular attendance, involvement in extracurricular activities and other advanced classes at Akins.
"They had told me that the chances of me going to Akins was very small because Akins is frozen (to transfers)," she said. " They're overpopulated and not to mention the new school year is about to come up and there's going to be even more kids trying to come in."
For more than 10 years, Akins has been officially frozen to transfer students because it is overcapacity. The campus' official capacity is 2,394, according to the district records. However, Akins regularly has enrollments of more than 2,700, which is accommodated with portable classrooms that have become permanent fixtures on campus.
Espinoza said the worst part of her experience process was enduring the uncertainty of not knowing if she would be able to return to Akins to finish out her senior year. Espinoza said her requests to return were initially denied by district officials. She said she had to meet with Principal Tina Salazar to enlist her help to stay at Akins.
"School was also about to start (it was August) and I was still (psychologically and emotionally) struggling only to find out that I had been denied," she said.
Espinoza's story is a good example of how students are caught in the middle of changing demographic patterns in Austin that has left some campuses chronically under-enrolled and others overcapacity for more than a decade.
AISD Takes Action
Now that the district is in the middle of the school funding crises it is being forced to make some difficult decisions about potentially closing and consolidating campuses. District officials are have recently hosted a series of community meetings to gather input on its reinvention planning process.
The process entails reimagining how Austin schools could be used to "benefit students and communities, reinvesting resources to bring the visions into reality and reinventing how students are educated in Austin ISD," according to the district's website.
At the same time, Akins is dealing with overcrowding, the district as a whole is rapidly losing student enrollment dropping from 86,000 to 80,000 in the last five years.
To counter the loss of enrollment district officials are hoping that an e ort to revamp and reorganize the district's campuses will attract families to stay in Austin ISD.
"Decades-old campuses are no longer the optimal learning environment for tomorrow's leaders and the AISD community must come together to support the growth of a new generation," according to a statement on the district website. "These school changes will include a variety of updates to accommodate more equitable programming and learning environments that will support students across the district to be successful in college, career, and life."
The school board plans to vote tonight on a set of "guiding principles" it will use going forward as it considers various scenarios on how to close campuses, redraw attendance boundaries, balance diversity and move desired academic programs to where it is needed. District staff plan to give a short list of options for the school board to consider in October.
How Will Changes Affect Akins?
It is still unclear how these proposed changes will affect Akins, which is still a popular choice for parents and students. District officials are also unsure how the proposed changes will affect crowding and the transfer freeze at Akins.
Beth Wilson stated that several options are available to address overcrowding at campuses, including freezing transfers and additional portable classrooms; however, these are all things that have already been put into effect.
Wilson further stated that it is possible that boundary changes could be proposed for Akins to relieve overcrowding, but that it is not currently being discussed. In this context, overcrowding is defined as a school that is more than 110 percent overcapacity. Akins is currently 117 percent overcapacity.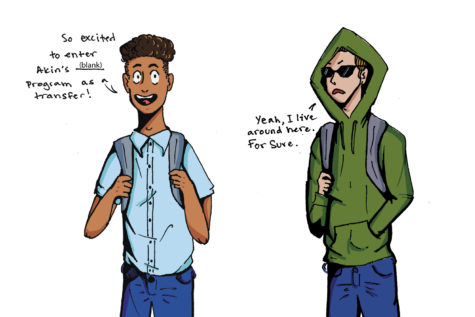 The current demographic projections show that the enrollment at Akins is slowly going down but it is also projected that it will take at least five years for the enrollment to decrease back to 110 percent. The redrawing of the attendance boundaries may help to accelerate the process and bring Akins back to a manageable enrollment level.
It is also convenient that Akins' borders Crockett High School which has an enrollment 70 percent below its campus' capacity. Potentially, the district could move some desired academic programs to Crockett that would encourage students to transfer to that campus.
However, it would likely take several years to change perceptions about Crockett to make them want to voluntarily transfer their students to Crockett. To quickly address overcrowding at Akins, it would likely require the redrawing of attendance boundaries. Even so, parents are known to use false addresses when enrolling their children at Akins to send them to their desired campus.
What Attracts Students to Akins?
On a survey done by The Eagle's Eye, 48% of the students that answered agreed that the academy system was the main attraction with advanced academic courses and career training programs tieing in second place both at 33 percent.
Senior Ariana Farner said she thinks Akins also has a better campus climate for students compared to some other nearby schools.
"Our academy system makes it so that there's no chance for cliques or some sort of social hierarchy in the school to be dominant," she said.
In other schools, students are lumped together and put into classes wherever it is necessary.
"Here in Akins, somebody could be really well known in the STEM academy and not even be known to anyone in the ABLLE academy," she said.
Farner said that the academy system gives students an opportunity to get prepared for a job and get a taste for what kind of job they want.
"You either realize that you really like (that job) and be prepared to spend thousands and thousands of dollars in college to take those classes or, like me, they could realize that it's not their thing and they spend thousands and thousands of dollars for nothing," she said. "I think that sort of opportunity is really appealing." Akins o ers programs and internships within the academies that other high schools in the district may not offer. Because of this, students who are suddenly transferred may face uncertainty concerning whether or not their credits will transfer or be applicable on a new campus.
Espinoza said she would have missed the academy system and the elective programs that Akins offers if she would have been forced to transfer to Crockett this year.
"It was a bad feeling for me because in the letter I wrote that it was my senior year and I wanted to finish it in Akins," Espinoza said. She said she was also fearful of losing credits and worried that Crockett wouldn't provide her with the classes she needed to finish her endorsement. She said she felt betrayed by the system.
"It just blew me away how they don't really regard the students and what they've done (academically) and how that affects them in the future," Espinoza said. "Instead, they look at the numbers and statics and try and equalize them. They said that even if you've been (in Akins) for three years, even though you've had your entire experience there, your address tells us that you have to go to Crockett."