On October 7th, 2023, Hamas, an organization deemed a terrorist group by the U.S., surprised the world when it launched a surprise attack, killing an estimated 1,400 Israelis in their homes and neighborhoods.
The day had started like every other day. Many were attending a Peace and Love festival only three miles from the boundary between Gaza and Israel. When dawn arose, many Israelis looked at the skies to see what they thought were fireworks. Those at the festival would be the first ones to witness the massacre. A bartender there described the situation to The New York Times,
"
"There were these crazy maniacs with guns and people falling one by one, it was like a shooting range."
— Israeli bartender at a peace and love festival
1,200 lives were lost and 250 were taken captive before the Israeli Defense Forces stepped in.
The October 7th invasion's goal, according to Hamas leadership, was to change the status quo of Palestine. One of the top members of Hamas said in a recent interview with The New York Times, "This battle was not because we wanted fuel or laborers," he said. "It did not seek to improve the situation in Gaza. This battle is to completely overthrow the situation."
Another member of Hamas's leadership body said, "We succeeded in putting the Palestinian issue back on the table, and now no one in the region is experiencing calm."
Since that invasion, Israeli officials estimate that 1,400 people have been killed in Israel, and over 5,400 people have been injured. The Hamas-run Ministry of Health has said that in Gaza at least 10,000 people have been killed, and over 32,000 have been injured. Among those who have been killed include at least 32 U.S. citizens. Since then, Israel has put Gaza under siege, cutting off Internet access, water, food, and supplies.
In retaliation, Hamas has been sending rockets over into Israel. Israel has defended itself with the help of its "Iron Dome," which fires interceptor rockets that destroy any missiles that are entering Israel. This has led to less damage in Israel compared to Gaza, which has had many of its communities destroyed due to the constant bombardment they have received in retaliation for Hamas's invasion.
The history behind the conflict
To understand what is happening between Israel and Gaza/Palestine, it's important to understand the history behind the conflict. Many people have the misconception that this conflict has been going on for centuries, however, the story begins much more recently, as early as the 1800s.
During the 1840s, the British Empire was attempting to grow its sphere of influence in world affairs. Its leaders decided that Palestine would be the best place to do that in the Middle East. However, Israel/Palestine was still ruled by the Ottoman Empire. It would take the conclusion of World War I and the end of the Ottoman Empire to set the stage for the beginnings of a Jewish State and the Britian's dreams to come true.
In 1917, after the fall of the Ottoman Empire, the Balfour Declaration was written, creating a national home for the Jewish people. Over the next couple of years, thousands of Jews would move to this new state. However, the Balfour Declaration didn't exactly outline how the land would be divided, what rights they would have, or how their rights would be protected. The allied powers agreed to the declaration, with many Palestinians disagreeing with the loss of control over their lands.
During World War II, Zionists, who wanted to create a home for the Jewish people, urged Jews to move to Palestine for safety. This was because Jews were often persecuted in other countries due to their beliefs. Many countries proclaimed their sympathy but they wouldn't take them. That's when the Zionists told Jews to go to Israel
After World War II, the United Nations split Palestine into two states — one for the Jewish population and one for the Arab population. However, the Arabs opposed this plan. Shortly afterward on May 14, 1948, the first Arab-Israeli war happened when British troops pulled out of the region, and Israel declared independence. Subsequently, Egypt, Iraq, Jordan, Lebanon, and Syria invaded Israel because they didn't support their independence. Israel expelled over 700,000 Palestinians, won the war, and gained more historically Palestinian territory.
Since then, the Palestinians have gradually lost control over their designated territory in what is known as the Gaza Strip, which today is a 25-mile-long strip of land along the Mediterranean Sea that is the densely populated home of about 2 million people. After several uprisings and military conflicts in the 1980s, 1990s, and 2000s, Israel exercises control over Gaza with walls, border crossing checkpoints, and a blockade that controls access to food, fuel, and other resources.
These conflicts led to the rise of Hamas as the governmental group that provides basic services to Palestinians who live in Gaza. This militant group has gained popularity by opposing Israel, which it has declared an "illegitimate state."
Since Israel's independence, there have been many battles fought between Arabs and the Israelis. The effect of these wars was that Israel continued to take land away from the Palestinians.
Current Timeline of Events
In retaliation for the Oct. 7 attack, Israel has slowly prepared for a ground invasion to destroy Hamas. Since the Oct. 7 attack things have escalated rapidly in the war. On Oct. 8, 30 Israeli police were killed when Hamas took over a police station. On Oct. 10, the U.S. confirmed that Americans were taken in the Hamas invasion. On Oct. 13, the Israel Defense Force warned Gaza residents to leave Gaza immediately or be caught in the middle of their military campaign. One day later, many Palestinians and foreigners tried to escape Gaza through Egypt but were halted when the border crossing was not opened.
On Oct. 15, the U.S. citizen death toll rose to 31. On Oct. 17., the U.S. announced that Biden would visit Israel. While there Biden empathized with the Israeli people. "You can't look at what has happened here … and not scream out for justice."
However, he warned the Israeli government from going to far in a quest for vengeance. "But I caution this: While you feel that rage, don't be consumed by it," he said. "After 9/11, we were enraged in the United States. And while we sought justice and got justice, we also made mistakes."
Since Oct. 7, 1,000 U.S. soldiers were put on heightened alert and U.S. Secretary of State Anthony Blinken visited Israel to help the humanitarian efforts. Shortly afterward, on Nov. 5, 2023, Israel declared that they had cut Gaza into two halves.
An effect that this war has had on the Palestinians is that those stuck in Gaza have had to deal with harsh living conditions. On Nov. 3, a United Nations official said that the average Palestinian lives on two pieces of bread daily. Another U.N. official said "Many people are relying on brackish or saline groundwater, if at all."
Many backup generators are failing as fuel runs out in Gaza. Sewage is being pumped into the sea, but when the fuel runs out, sewage will start flowing into the streets. Hospitals in Gaza have reportedly had to choose who lives and who dies due to the lack of resources.
Since the war began, governments around the world have repeatedly called for a humanitarian pause or a cease-fire in Gaza. However, Isralie Prime Minister Benjamin Netanyahu declined a pause stating that humanitarian aid would fall into the hands of Hamas and would help them.
On Monday, Nov. 6, Jordan airdropped medical aid to a field hospital that is run by Jordan in Gaza. A U.S. special convoy led by David Satterfield has denied claims stating that Hamas got its hands on humanitarian aid. Satterfield was a former U.S. ambassador to Turkey and is now tasked with leading U.S. diplomatic efforts in the region.
Calls for peace grow
Despite all the efforts of world governments and their calls for peace, some Akins students and staff have been affected by the war. Heba Dalu, valedictorian for the 2022 senior class and is Palestinian, said that the war has taken a really emotionally draining toll on her.
"It feels incredibly overwhelming to see everything happening through a screen and know that there's not much I can do to help", she said
From a poll taken from Akins students and staff, the majority of students and staff are very concerned about humanitarian conditions in Gaza. Substitute teacher Stuart Berkowitz said his heart goes out to the Israelis and the Palestinians.
Since the Oct. 7 attack, the United States, a large military and financial supporter of Israel, has supported Israel's efforts to defend itself from attacks by going after Hamas. According to an NPR survey of about 1,313 adults, 65% of Americans believe that the U.S. should openly support Israel while 23% said they believe that it should say or do nothing.
Those who support the U.S.'s decision to support Israel said they believe it is the only way to bring peace to the region. Only, 8% of those surveyed did not support Israel. Meanwhile, 79% of those surveyed said they are worried that the war will spread to other nearby regions.

"
"It's very sad that many thousands of innocent people are maybe having their lives destroyed or family members or themselves are dying or getting wounded, They're losing everything. They've worked their whole lives for and the unfortunate thing with the Gazans that are just trying to live their life is they're not going to get compensated by the Hamas government."
— Stuart Berkowitz
Ceasefire and Privacy Concerns
Calls for a ceasefire keep growing. Shortly after attacks on a refugee camp in northern Gaza, protests all around the world erupted calling for a ceasefire in Gaza. In the West Bank, Palestinians have been heavily surveilled by the Israeli government. In an interview with Wired, a West Bank Palestinian said that living there was like being rats in a cage. He went on to say that he "want[s] to go to the beach, I want to see the sea, I want to taste the water. Here, we don't have this freedom."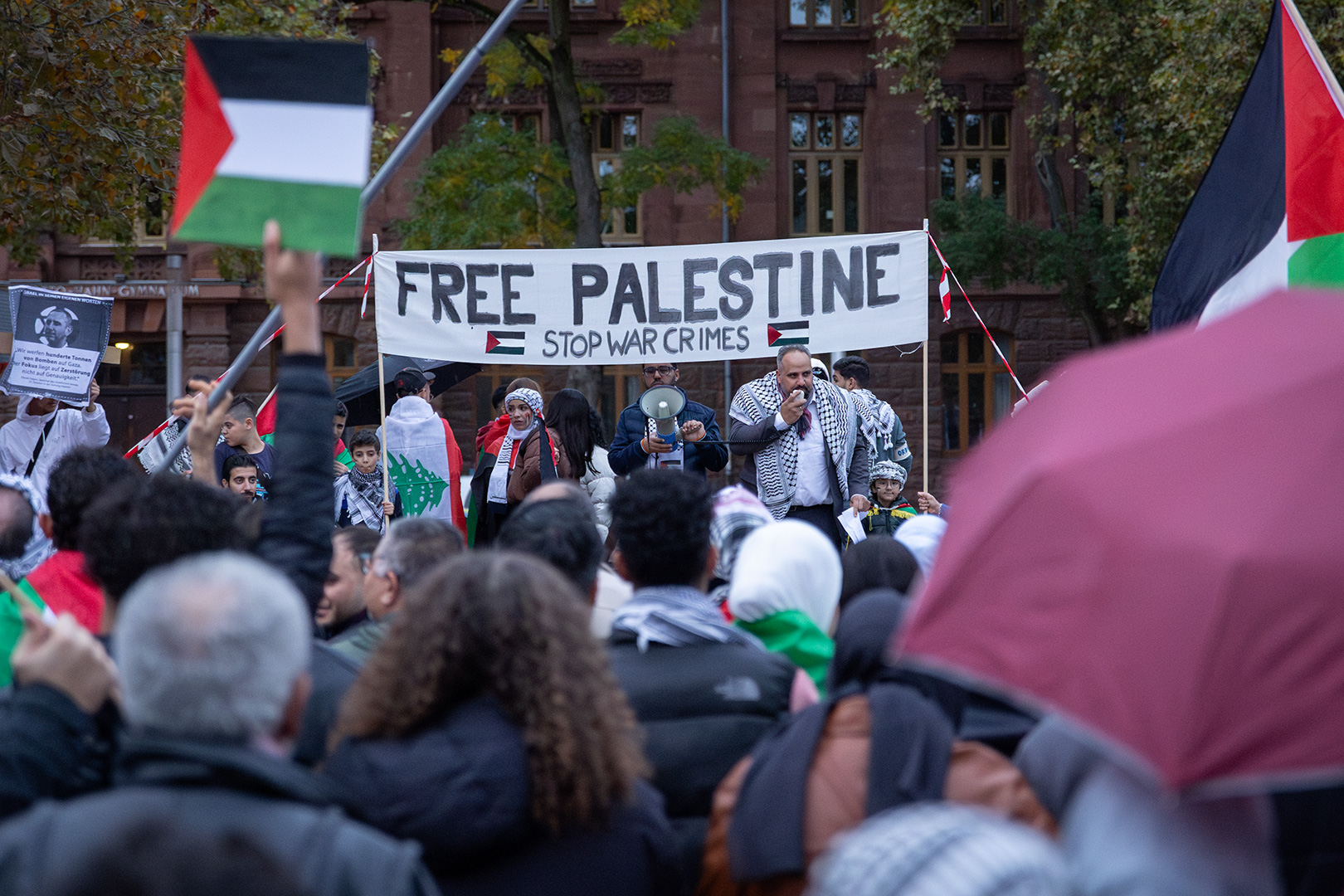 The Israeli Government has been dependent on security infrastructure code-named "Wolf Pack," which creates a database of every Palestinian living in the West Bank. One strand of the software is called "Red Wolf," which uses facial recognition cameras at checkpoints to either detain, arrest, or allow an individual through. Another one called "Blue Wolf," which uses a smartphone app. It has Israeli soldiers photograph every one of the Palestinians living there so that they can be put in the database.
Disinformation misleads many
Since the Oct. 7 invasion, disinformation has spread rapidly on social media sites like X (formerly known as Twitter), Instagram, and Facebook. It's also important to know the difference between disinformation and misinformation. Disinformation is when people purposefully spread wrong information and misinformation is when people accidentally share inaccurate information.
An example of disinformation, videos were of Putin saying that he would help Palestine. This was in fact an altered video. The original video was from 2021's Victory Day parade, Putin was talking about defeating Nazism in World War II at the parade.
Another example was when a video supposedly showed an Israeli soldier being thrown to the ground as an airstrike hit an Israeli tank. This was a clip from the trailer for a first-person shooter game called Squad. The same thing happened with the war in Ukraine. A clip was being used from a military simulation game called Arma. This led many to believe that the clip was from Ukraine when it was from something completely different.
This war has rapidly escalated. It's entirely possible that by the time this story is finally published, the war will be over. It remains to be seen if this will change the status quo.