Saxe takes the lead of Eagles Varsity Football program
The Eagles Varsity Football team is under new management as it started its season in August.
Last spring, former Eagles offensive coordinator Joey Saxe was named the head coach after Humberto Garza announced that he would be leaving Akins after leading the team for 10 years.
Garza's departure was not expected and left some players in shock. However, Saxe rallied the team with a series of changes that he said hopes will help put the Akins football program on the map.
Saxe said he is willing to change this program and this is his dream.
"As a new head coach I'm trying to build our brand and change how our athletics are off and on the field," he said. "I'm also trying to put Akins on the map and let people know that Akins is a good place to come to school."
The captains of the varsity football team said they are happy that Coach Saxe has taken up the head coach position.
Senior captain Zach Cagle said he is really happy for Saxe.
"Coach Saxe changed the mentality and changed our mindsets as football players a lot," Cagle said. "He talks about 'be the change' and 'be the change' means to me is changing everything since we didn't have a good season last year. We change our mindset and have a brand new mindset."
Senior captain Micheal Ybarra said Coach Saxe changed the team a lot.
"Coach Saxe talked about making changes and when he got the head job of head coach the very next day there were changes in the locker room," Ybarra said. "'Be the change,' means to me making a difference when no one is looking."
Senior captain Kimani Smith said Coach Saxe is doing a good job at being the head coach.
"He is talking about 'be the change' quote really seriously. He implies it in our practice, outside of practice, and in games. He brings more energy and I can feel the difference from years past as a team. I feel more connected, we take more things seriously because he enforced that," Smith said. Coach Saxe has worked hard at getting us all of the gear we have now and more he works hard at making sure we have the best high school football experience."
Senior captain Nik Hall said Saxe is holding players to a higher standard.
"Coach Saxe makes us feel like we are more appreciated by implementing that family asset," Hall said. "Be the change," means to me is changing everything, changing the program and how people look at us."
When asked about the win over Hays, Saxe commented that "The Hays win was very special because that was the first time we beat Hays in school history over 21 years. Just to show people and our athletics that they can beat anybody doesn't matter what happens in years past because every year is a brand new one. Winning that game 44-27 made a statement, compared to years past we were on the opposite end of that score," Saxe said.
And when asked about the win over Austin High, Saxe replied with "The Austin High game really showed how our athletics respond under pressure. We had a comfortable lead by halftime, and they kinda made a run at the end of the game. But we had several key playmakers to make plays and help out. It has been a good four to five years since we beat them and that win gave us a good chance to make the playoffs," Saxe said.
Leave a Comment
Donate to The Eagle's Eye
Your donation will support the student journalists of Akins High School. Your contribution will allow us to purchase equipment and cover our annual website hosting costs.
About the Contributor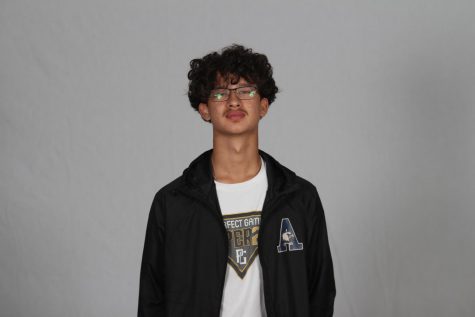 Jake Copeland
Grade: 11th
Academy: New tech 
Number of Years on Staff: 2 years 
Title: Sports editor
Why do you enjoy being on staff? Because it's fun to make stories.
What do you do for fun? Play video games.
What are your hobbies? Football and basketball.
Hopes & Dreams after high school? To make it to the NFL and if that don't happen i want to be a computer programmer.