Akins wrestler finishes strong with 4th trip to state
Deonne Topete, a senior on the Akins wrestling team, has competed in top-level state competitions since she was a freshman.
Now that she is in her senior year at Akins, she is trying to finish off strong. She has made state again for the fourth time after she came in first at the regional wrestling tournament in February. She remained undefeated until she competed at the state meet, where she came in 5th Place.
In previous years, Topete has traveled out of state to compete at the National Championships for USA Wrestling. Last year, she placed 6th at the national meet, giving her "All-American" status. She hopes to compete, again, at the national meet this summer.
The Eagle's Eye interviewed Topete about her accomplishments and how she has been keeping up with her success.
EE: What attracted you to wrestling as a sport?
Deone Topete: "What attracted me to the sport I guess was cause it was different from anything that I have done. The main reason I enjoy this sport is that it's kind of an individual sport that is special once I go to regional or state."
EE: What is your most significant accomplishment as a wrestler?
DT: "My most significant accomplishment would be when I became an All- American."
EE: What do you attribute your success as a wrestler to?
DT: "I think I attribute my success as a wrestler to my coach and my wrestling partners who pushed me hard during practice even when I was feeling lazy."
EE: How many hours a week do you spend wrestling?
DT: "In practice, I spend about 10 hours a week and the tournaments are about 12 to 18 hours, it depends on what kind of tournament it is caused at State it was about 12 hours for 2 days."
EE: What do you find challenging about wrestling?
DT: "What I found challenging in wrestling is the conditioning and the mindset due to it being a tough sport."
EE: What are some of the misconceptions about wrestling that you think are important for people to understand? OR What do you want people to know about wrestling?
DT: "I feel a lot of girls think that wrestling is a male sport and that it's not made for girls but I think that's wrong because there are a lot of girls in other schools doing wrestling and it just keeps growing."
EE: How have people like Coach Tambunga, Coach Galvan and your teammates helped you to become successful?
DT: "I feel the coaches and teammates have helped me be successful due that they pushed me to do my best and my hardest and to leave everything on the match."
EE: What are your plans regarding wrestling after high school?
DT: "My plan after high school is to go wrestle for a university."
EE: What is your overall record as a wrestler at Akins?
DT: "My overall record is 90-25."
EE: Are you considering competing as an All-American wrestler this year?
DT: "I am considering competing as an All- American wrestler."
Leave a Comment
Donate to The Eagle's Eye
Your donation will support the student journalists of Akins High School. Your contribution will allow us to purchase equipment and cover our annual website hosting costs.
About the Contributor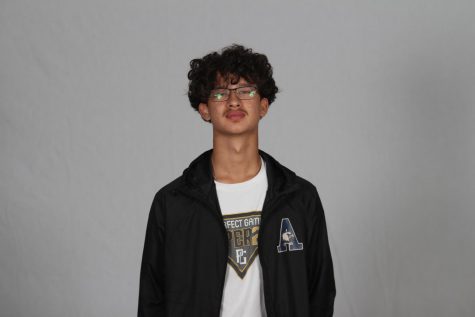 Jake Copeland
Grade: 11th
Academy: New tech 
Number of Years on Staff: 2 years 
Title: Sports editor
Why do you enjoy being on staff? Because it's fun to make stories.
What do you do for fun? Play video games.
What are your hobbies? Football and basketball.
Hopes & Dreams after high school? To make it to the NFL and if that don't happen i want to be a computer programmer.