Nik Hall is Akins' First D1 Football commit to Kentucky
In the 20-some-odd year history of the Akins Varsity Football Team, the Eagles has not been known as a producer of Division 1 university program recruits. Nik Hall, senior and left tackle for the Eagles offensive line, is changing all of that this year.
This summer, the University of Kentucky's Wildcats football program sent Hall a letter to offer him a position on their team, and he signed a commitment letter accepting this historic offer for the Akins football program.
Hall had many offers from schools, including ones from Texas A&M, Oklahoma State University and Arizona State University, but he chose Kentucky over all of them.
Hall said he chose Kentucky because it "just felt like home."
"Both my parents went there. My dad was a football star and my mom was a track star. I felt close to the coaches and the players and the place felt good."
Hall's teammates said they are happy for him and think his recruitment could help bring the Akins football team to the attention of more Division 1 schools, which are the highest level of intercollegiate athletics programs sanctioned by the National Collegiate Athletic Association in the United States.
"We've had multiple news interviews and we've had a lot of people take interest in our school which has helped to boost our ego into giving us a more successful season," said former Eagle right guard Corban Melder.
Head Coach Joey Saxe said Hall's D1 commitment has had a positive impact on the Akins Football organization. as well as
"My younger guys, as well as a lot of my seniors, really look up to him," he said. "They've got a great person to look at as far as work ethic goes. Outside the offensive line he's shined a positive light on the organization with multiple media outlets wanting to come and see what the Akins Football program is about."
Hall's teammate Kimani Smith,starting slot receiver, said the commitment is making a difference among the players. "In the past years, we haven't really had that many D1 commits and it helps out with our team now because it gives the younger guys and a lot of our senior class looks, in that D1 area."
Starting quarterback Micheal Ybarra, starting Quarterback, said the commitment gives Hall a lot of respect on the team.
"He's definitely our biggest player, so he definitely makes the biggest impact, he's just always there for us in the biggest way,"Ybarra said.
Starting running back Zachary Cagle said the commitment is "amazing."
"He's putting Akins on the map so he's finally helping get us exposure," he said. "Akins hasn't been known for that and I'm glad he's committed to Kentucky and I'm happy for him."
Leave a Comment
About the Contributor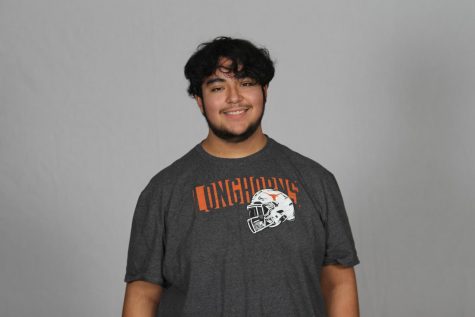 Mario Sanchez
Grade: 12th

Academy: STEM

Number of Years on Staff: 1st year

Title: Staff Writer

Why do you enjoy being on staff? I enjoy being on the staff because I get the chance to show out my writing creativity.

What do you do for fun? I work in my free time, I work at Walmart and I play video games

What are your hobbies? I work, I read. I play video games

Hopes & Dreams after high school? one of my hopes is to become an Ordnance officer and to compete for my certifications in welding, and Fabrication