Senior posts original music to streaming services
Richard Torres performs, produces music distributed on Spotify
Hang on for a minute...we're trying to find some more stories you might like.
From humble beginnings from making background music for youtube videos to a verified Spotify artist, Richard Torres, an Akins senior, is a self-made musician known as Lolo Douceatre. Torres, who post his music to streaming services such as Spotify, Apple music, Tidal, Amazon, Shazam, and SoundCloud, said that he categorizes his music as "a mixture of Jazz, Indie, Alternative, Dream Pop." is being a new wave of Taboo music.
Unlike most young musicians, Torres doesn't just put out his music for free; he gets paid.
Torres gets paid per-stream on services such as Apple Music, Tidal and Spotify. He said that this doesn't mean that he sacrifices quality to make money. Richard Torres makes about 30 songs, and then chooses one of them to be an actual song for his album.
"I try not to saturate with a bunch of mediocre songs and ideas that people are familiar with," said Torres.
Torres said that perfection is important to him. He spends hours mixing and mastering music and making sure every chord is just right. He said that he uses his flaws to expand his music and improve future songs. It takes him weeks or months to get one song right.
Just like many musicians, Torres' growth as a person and influences has changed how he thinks about and makes music. Torres said that he wants to change his style of music to move away from simple lyrics and towards stronger songwriting. He said that he wants to be more like his inspirations, who take him to a "place" with their music.
"I find that especially true with Frank Ocean, I feel like he's the greatest songwriters of our generation." said Richard Torres, "Listening to "Blonde" was a special experience for me."
Many Akins students listen to his music. Senior Daniel Dominguez has been listening to his music since his junior year.
"It's not like other music I've listened to," Daniel said. "It's kinda like alternative pop."
His music isn't for everyone, however. Students that don't regularly listen to his music, like senior Jimin Chon liked a handful of his songs but said that she won't continue to listen to his music.
"It's not really my type of music," Chon said.
gTorres doesn't know if he's going to continue making music after high school, he fears that if he continues it may take the magic away from the art.
"Making music is a love-hate relationship," Torres said. "I find myself obsessing over perfection and end up not releasing anything. I'm learning to love the mistakes."

About the Writer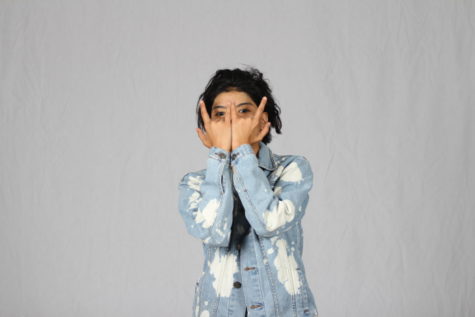 Sheyenne Riojas, Online Entertainment Editor
Name: Sheyenne Riojas
Grade: 12th
Academy: New Tech
Year on Staff: 2nd
Title: (like section editor or staff writer) Staff Writer
Why they are on staff?...