Theatre prepares for Chicago by adding new coaches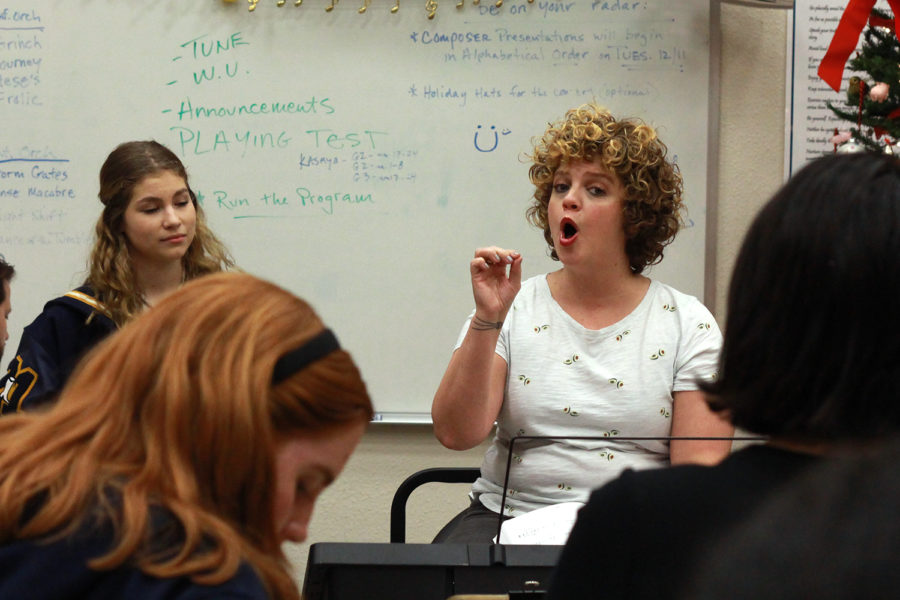 Last year, the theatre put on a production of Hairspray that was a major hit. It was nominated for seven Austin area awards and won an award for best lighting.
Following the success of last year's performances of Hairspray, the theater department had to work hard to live up to expectations going into their upcoming musical Chicago.
"There's pressure that we want to compete in the Greater Austin High School Musical Theater Awards and put our best product forward," said theater director Brad Distelhorst. "There's always pressure that we want it. We want to do the best that we can."
In order to meet this goal, the theater department hired specialized coaches to help prepare for the performance. They brought on vocal coach Tara Gillespie and choreographer Sara Burke. Gillespie said that she was nervous about the outcome of her efforts when she began to work on Chicago, but has gotten more confident as time has gone on.
"I'm just really proud that they've kind of like pulled it together and they're all really committed to making a great show," Gillespie said. "I'm super proud of them."
While the students have worked hard with coaches to perfect their performances, they were faced with a quickly approaching deadline that made it difficult to make props and prepare costumes. Some students were also busy helping with the theater department's fall semester show for Alice in Wonderland.
Freshman and crew member Edith Tinney said that she had to spend lots of time after school creating props for Alice in Wonderland.
"A lot of people had to stay after school because we were cramming trying to build all the boxes in one week and painting them and doing costumes," Tinney said. "There was a big time crunch."
Sophomore Kacey Wasson is playing lead role Roxy Hart in Chicago. She said that the time made it difficult to juggle responsibilities. Because some students were also in the production of Alice in Wonderland, coordinating rehearsals was difficult.
"There were a lot of people that were in it," Wasson said. "I'm choreographing the show, so its kind of hard to teach the people that were never at rehearsals because they were at rehearsals for Alice in Wonderland."
Although she has seen these difficulties, Wasson said she has seen much improvement in the rehearsals from last year. She said that she thinks working with the specialists has helped the actors this year.
"Last year was rough," Wasson said. "And this year like we have a vocal coach and someone teaching us how to dance. We're working with the choir director on harmonies, we're really improving."
Although there was a quick turnover from Alice in Wonderland to Chicago, Distelhorst said that he is not concerned about time going into the musical. He said that there is always a feeling of not being able to complete everything they want to and that he is confident in the upcoming performances.
"I'm very excited and happy to see how far Chicago is along and shows you from years past," Distelhorst said. "We all see the same vision and we all want the same product to come forth."
Chicago opens this Thursday at 7 p.m. in the Akins Theatre. Tickets are available for sale online for $7 – $10.