Star Wars: Visions pays tribute to Japanese Culture
Star Wars: Visions made its debut on Disney+ on September 22, with nine short episodes by seven anime studios, paying tribute to the major Japanese influence on Star Wars and vice versa
Each episode has a vastly different theme and animation style. The anime studios are Kamikaze Douga, Geno Studio (Twin Engine), Studio Colorido (Twin Engine), TRIGGER, Kinema Citrus, Science Saru, and Production I.G. Each studio used their signature animation and storytelling to bring their visions of the "galaxy far, far away" into a collaborative anthology series that I believe is better than anything Star Wars has put out recently.
"Japanese animation inspired a lot of the people at Lucasfilm over the years," said executive producer James Waugh in an interview published on Kotaku. "We loved the idea of seeing Star Wars expressed in that way."
Because so many different people collaborated to make this happen, each episode has a unique take on the regular Star Wars that fans know and love. Each episode can range from two evil twins, a force-sensitive elder, a robot boy who dreams of becoming a Jedi, a family struggle, a stranger defending a village, to even a rock opera in the desert.
Star Wars has always had a huge impact on Japanese culture. Ever since Star Wars: A New Hope was released, it was a major inspiration for many Japanese animators. Movies like Cowboy Bebop, Mobile Suit Gundam, and many more were all inspired by Star Wars.
While this technically is the first time anime and Star Wars have collided, George Lucas acknowledges having been inspired by Japanese storytellers like director Akira Kurosawa. Japanese period films, jidaigeki, were a huge influence on Star Wars, with The Hidden Fortress and Seven Samurai probably being the biggest single inspiration, influencing characters, relationships, and even the story. The Imperial and Rebel crests were also influenced by mon, or emblems, traditionally used by Japanese families
The episodes are short with some as short as 13 minutes and at most 22 minutes. The range of storytelling is huge with some like The Duel and The Elder are very serious and intense, featuring spectacular fights with lightsabers that resemble traditional samurai swords. And others like Tatooine Rhapsody are just plain silly feeling more like a kid show similar to a Lego Star Wars animated show. The wide range of themes is what gives Star Wars: Visions its uniqueness to stand out amongst the entire Star Wars franchise.
Some episodes like the Twins episode evoke the feeling of a typical Star Wars, prominently featuring the battle between the Light and the Dark. And others seem to take characters similar to those in the original saga in an entirely new direction.
With nine episodes so far (and possibly more in the future) Star Wars: Visions has plenty of uniqueness to please everyone, whether you be an anime fan or a Star Wars fan.
Some episodes feel like they could be a starting point for future episodes, making them feel like pilot shows for what could become their series. However, it's unclear what Disney plans to do with Star Wars: Visions down the road.
"I think the essence of Star Wars is not that far off from the essence of an anime story," said Jacqui Lopez, vice president of franchise production at Lucasfilm in an article published in The New York Times. "Anime lets you go further out there, but the reason you care about it is that you care about that character in their journey."
Leave a Comment
Donate to The Eagle's Eye
Your donation will support the student journalists of Akins High School. Your contribution will allow us to purchase equipment and cover our annual website hosting costs.
About the Contributor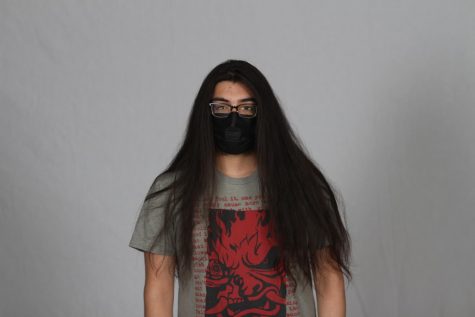 Jason Ponti
Name: Jason Ponti

Grade: 10th

Academy: AHA

Number of Years on Staff: First Year

Title: Staff Writer

Why do you enjoy being on staff? I get to work with the newspaper

What do you do for fun? Video games

What are your hobbies? Playing guitar

Hopes & Dreams after high school? College and start a band