Squid Game fans attracted to compelling storytelling
The South Korean sensation Squid Game has become the longest-running show ranked No. 1 in viewership in Netflix history.
Squid Game hit the summit after staying atop the chart for 46 days in a row from Sept. 23 to Nov. 7. The enormously popular show about survival, poverty, and power has racked up more than 3.2 billion minutes in viewership in October, according to Nielsen's latest report It marked only the sixth time that a title had surpassed 3 billion minutes viewed in a week, according to Deadline, a publication that covers the media industry. The Korean-language drama series, which centers on deeply indebted individuals who participate in a twisted game show for the chance to win millions.
Out of all the strengths of the show, the best one is its cast of characters. Each of them are just realistic enough to be relatable and human while being just wacky and out-there to be fun. From sweet and innocent characters like Ali to horrible and ruthless characters like Deuk-Su, Squid Game has a wide range of characters that shows off how each type of person would react to the crazy situations they go through.
If you know what the premise of Squid Game is, it's pretty obvious what it's about: Capitalism. It seems like we're getting more and more pieces of media that criticize modern capitalism. Just a year ago, a South Korean film about capitalism, Parasite, won Best Picture at the Oscars. So it is not surprising that something like Squid Game would at least gain traction.
One of the plot points that is surprising for some viewers is why players who originally voted to leave the games knowing they might die, actually decided to return to compete in hopes of winning prizes.
At this point in the show, it's easy to lose sympathy for the characters because the audience knows that they have agreed to participate knowing there is a good chance they could be killed. It's easy to think "They returned knowing what the consequences of losing were. If they die, it's partially their fault." But the audience is still left grappling with the morality of how capitalist countries can leave people destitute and willing to participate in deadly games of skill and luck.
This is one of the questions Squid Game gives the audience: Who's to blame for the deaths? The players for returning? The people who run the game for even having it in the first place? Or the system that made the players fall into the holes they're in?
The violence and gore inside Squid Game can be disturbing at times, but why does a show with so much violence and terrifying scenes gain so much traction and popularity? In the first game "Green light, red light," nearly 200 contestants are brutally shot within minutes because they panicked after realizing this is a life or death situation. Blood gets all over the floor, wall, and even on players.
In the game "Dalgona Candy/Honeycomb," people who fail at cutting out the shape they're given on a thin paper sheet of sugar are executed, getting shot in the head. Even some deaths are shown on screen. Some may ask, how do people continue to watch the show after this? Does unexpected gore really attract people that much?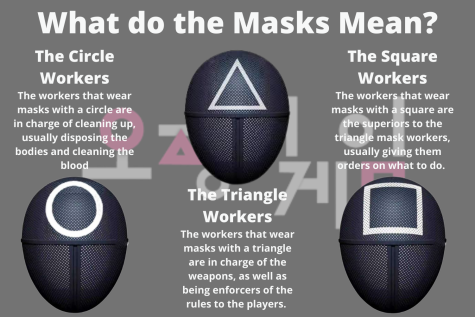 Clearly, audiences seem to be willing to endure these gruesome scenes, knowing that it's a fantasy show that depicts in gory detail what this would look like if it was real.
Most popular shows are usually very easy to follow. They usually have a simple premise that keeps the audience from getting lost. Squid Game succeeds in this. I mean, how simpler can the premise be? People go to compete in death games, and if they win they get a large monetary grand prize. The idea of making each game an easy-to-understand "kids games" helps keep the plot simple and easy to understand. It has a simple foundation, which gives it a lot more room to explore other aspects of the show, such as the aforementioned characters.
The whole idea of people competing in challenges and dying if they lose is such a popular idea in the media, it's practically its own genre. With movies like the Saw franchise, Escape Room, Cube, and even Battle Royale, which the creator of Squid Game said inspired him with the idea for the show. However, you have to do something unique to stand out from the crowd.
Squid Game has a lot of style and flair that helps with this. Of course, the major one is the setting. In most of the movies mentioned before, the settings are usually really dark and disturbing places. However, in Squid Game, it's the complete opposite. It's a happy, colorful, cheery setting, which does a great job of contrasting the dark nature and atmosphere of the show.
Something else that stuck with me was the second episode. In most of these death-game movies, the character's goals are to win and escape the challenges. However, Squid Game does a bold move of letting the characters go back into their normal lives after the first game. This was a great decision, as it puts the viewer in the shoes of the characters. Sure they're happy to be free, just like you would be, but now they're stuck in a world where they're constantly hunted down all because they are hoping that by winning the game, they can escape their real-life debts. Now they really have no choice but to return to the Squid Games and win.
The way Squid Game ends is a doozy. In one of the final scenes before the show ends, Seong reunites with Oh after finding out he survived the games. Oh was close to death when Seong went inside of his room, and Oh decided he wanted to play a game. Oh betted on the fate of a homeless man down on the streets below them as he was close to dying. Oh bet that no one would help the man before midnight, and Seong had to choose that someone would help him before the deadline. Oh ended up losing the bet, and as he asks Seong if he saw that he was wrong, Oh is killed.
Many fans were upset with what followed because it never really explains what happens. Seong dyes his hair red. He meets the man who asked him to play the game in the first place, asking others if they want the same fate, and the show ends with him walking off finding revenge against the people and stopping the game. This appears to set up the series for another season.
To be fair, it's hard to say the exact reason why Squid Game got so popular. Whether it be the characters, violence, premise, uniqueness, or a combination of all of these, one thing's for certain: Squid Game has captured audiences in a way almost no other show has.