Meteorologists have used many data points and terms to describe the weather this summer, but it boils down to two words: hot and dry.
When temperatures rise to 100 degrees or higher, it is a hot day in Texas. From the beginning of the year to Sept. 12, Austin experienced 78 days with such hot temperatures, according to a KVUE article.
More than half of 100-degree days this year have been classified as "extreme heat days" by meteorologists, according to an article by David Yoemans, Chief Meteorologist at Austin's KXAN news TV station. This year, Austin has tallied 40 days with temperatures that were 105° or hotter. By comparison, 2011, another year remembered for being extremely hot, only had 26 such days.
At Akins, marching band and football students felt the brunt of these extreme temperatures when they began training and practicing in August for their performances on the football field this Fall. Band members and football players practiced early in the morning and in the evenings to try to avoid the worst temperatures of the day, but they still had to be careful to hydrate and take breaks to cool down.
The sports trainers have been working hard to make sure that no one is affected by the heat. Varsity football player, Matthew Ybarra, said that he was "​​lucky to have [the trainers] out there because [he didn't] even know how [they'd] be able to survive without them."
Yoemans reported that although temperature records extend back to 1897, all of Austin's 10-hottest summers on record have come since 1998.
Looking back at the past couple of months, it's painfully obvious that we're going to get hotter summers for much longer than usual.
What caused this heat wave that had 100+ weather for 40 days straight?
One reason is that Austin had a heat dome over it for most of the summer. Forecasters predicted that the heat wouldn't stay hot for too long. When making their predictions, they didn't expect the heat dome to evaporate all the water in the ground. This caused the temperatures to stay high for the 40-plus straight days.
Many scientists and government officials also believe that humans may be one of the reasons that the weather is getting more extreme. This has led to adverse effects on the environment and even Akins athletes and band members.
Multiple Akins athletes had cramps because of the heat, many dealt with heat exhaustion and one band member had to get medical attention.
Coaches have had to put special attention on preventing athletes from suffering heat-related illnesses like exhaustion or even heat strokes.
Head Football Coach Joey Saxe said Akins coaches follow Austin ISD's protocol for keeping athletes safe when experiencing excessive heat.
"Once the temperatures get to 95, or a heat index of 105, you have to provide at least three separate rests, which include five minutes for water," he said. "And so what you will see a lot during our practices is students pretty much after every 15 to 20 minutes, there is a true five-minute water break and (where they) take helmets off to make sure you are drinking. And we do have a shaded area where they sometimes will gather and then go from there."
"
"Once the temperatures get to 95, or a heat index of 105, you have to provide at least three separate rests, which include five minutes for water,"
— Head Coach Joey Saxe
Football coaches have an immersion tank they can use to help cool down players. On a day with a heat index at or above 105, practices are shortened to two hours. If there is a heat index of 115, practice cannot be longer than one hour. If it gets any hotter, the team does practice inside, which did not happen this season.
Saxe also said that since the football season began, the school has spent over $1,000 on Gatorade and other ways to help athletes boost their electrolytes when they get tired.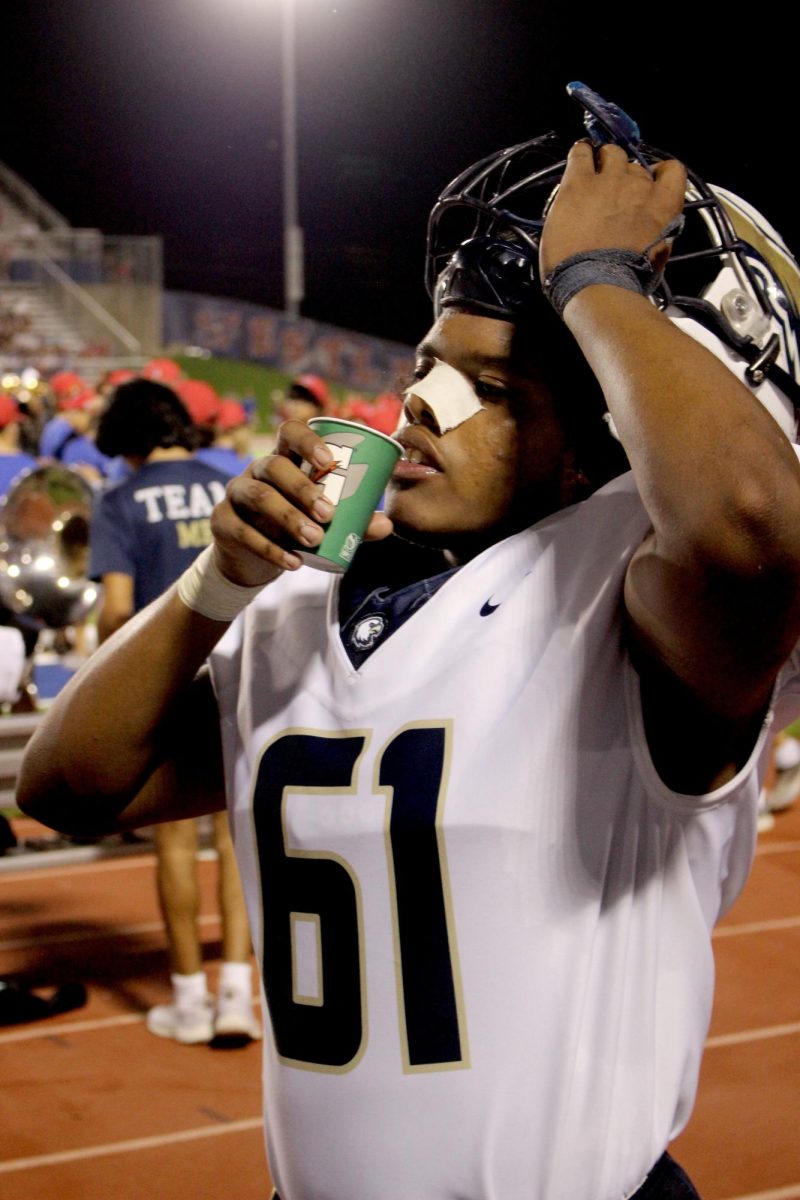 For tennis players, it has been tough, too. The concrete courts have made the heat feel about 10-15 degrees warmer than the surrounding area. Tennis Coach Christina Jenschke has proactively protected her athletes on the courts by bringing out jugs of water for the athletes. She also has tennis players check in with her after every game to check on their condition.
The band has also had to adapt to the heat. Band Director Jose Flores said that they have five-minute breaks every 30 minutes. Compared to last year, the band has taken steps to allow more time for rest and protection from the sun.
If a member of the band suffers from heat exhaustion, Flores said they can sit inside in the Band Hall room, drink some water, intake some sodium, or eat something.
"If it were more severe, like life-threatening, then obviously we would call for emergency help, but we haven't had that," he said.
The band has also decided to stop wearing their heavy dress uniforms during halftime performances since the first football game against Hays High School.
"We stopped wearing the full uniform because it can be heavy and hot," he said "So we spent $2,000 on black shorts so we could all match and another $2,000 on identical shirts. So that they could be cool while performing at football games while we're waiting for the weather to cool down."
Scientists and officials believe that there is still time to reverse climate change.  To understand Climate Change, it's important to know how it works. Climate change is affected by Greenhouse gases. Greenhouse gases are likened to a blanket that is wrapped around the earth. So, the more gasses that get emitted, the thicker the blanket is, the hotter the planet gets. However, just because the planet gets hotter, doesn't mean that some places will not get cooler weather. What it means is that, there will be more extreme weather, including more extreme winters and summers.
Studies have shown that there are roughly 10 years left before climate change is irreversible. Progress is being made with the rapid adoption of renewable energy and electric vehicles. Many experts agree that change is too slow. In late March, the U.N. Intergovernmental Panel on Climate Change (IPCC) found that it is likely that we'll pass the target warming temperature of 1.5 degrees Celsius by the early 2030s. Where did the 1.5 degrees Celsius target come from? In 2015, almost all nations agreed to keep warming to 1.5 degrees Celsius. That came to be known as the Paris Climate Agreement.
According to scientists, going past 1.5 degrees will be catastrophic. Climate disasters will become so devastating that people will not be able to adapt to them. Heat waves, diseases, and famines could take millions of lives by the time the century ends. U.N. Secretary-General António Guterres has publicly stated that the U.S. and other developed countries should eliminate carbon emissions by 2040 and that developed countries should be doing it faster than developing countries.
Many people believe that if carbon emissions were to decrease, then the heat would keep rising. According to the National Oceanic and Atmospheric Administration (NOAA), the ocean waves would release all CO2 that was stuck. This would make temperatures rise for another .9 degrees Fahrenheit (.5 degrees Celsius), then the Earth would radiate all the excess heat into space. After radiating all the excess heat, temperatures would then begin to drop, cooling the earth.
The IPCC report requires that developed nations cut greenhouse emissions in half by 2030, and stop emitting Carbon Dioxide by 2050. Only then will there be a 50% chance that the world can reach its goal of 1.5 degrees Celsius. Guterres called on countries to shut down future fossil fuel plants. In response to the 2022 IPCC report, Guterres said "Unchecked carbon pollution is forcing the world's most vulnerable on a frog march to destruction – now.  The facts are undeniable. This abdication of leadership is criminal. The world's biggest polluters are guilty of arson of our only home."
"
Unchecked carbon pollution is forcing the world's most vulnerable on a frog march to destruction – now.  The facts are undeniable. This abdication of leadership is criminal. The world's biggest polluters are guilty of arson of our only home."
— António Guterres
Climate change means that regulations for Akins athletes and coaches are going to need to adapt even further if the weather is getting more extreme. Increasing awareness about the signs of heat stroke and heat exhaustion. If you're interested as to what the symptoms are, refer to the infographic. According to the Ascension healthcare website, your body can overheat so quickly that it could go straight to heat stroke and bypass heat exhaustion. If left untreated, heat stroke could lead to irreversible damage or death.
While many people worry about how others will react to the heat, we also have to take into account how the power grid is also being pushed to the limit. This summer was an example of how the heat can negatively affect the power grid. The Energy Reliability Council of Texas (ERCOT) asked consumers to conserve energy at least 10 times during the summer. Texas heat also almost forced the power grid into rolling outages multiple times. The power reserves got so low multiple times that many warnings were issued to prevent outages.
A professor in UT's Austin Department of Mechanical Engineering posted a message on X, formerly known as Twitter, about the situation.
"This is what happens when it is 97 degrees outside at ~8 pm. Demand at 8 pm this year is as high as our 5 pm peaks last year," he wrote.
This past summer was an example of how unprepared the human race is for climate change. It wasn't just Texas where heat was an issue. In other states, people received third-degree burns just from falling on the ground. Many places in the U.S. had record-breaking heat waves. However, cities and states are adapting to the heat. If climate change gets worse, humans won't be able to adapt to the weather because it will be too severe. According to scientists and U.N. officials, if we want our earth to be habitable for future generations, then we have to take action now.