Designers explore creative side in costume design course
Garment makers fabricate unique outfits for various purposes, special events.
Visitors who step into Melissa Royer's Costume Design class can expect to see busy students cutting fabric, sewing shirts or dreaming up their next creation.
The new elective class in the Arts and Humanities Academy offers students a chance to design and make costumes for theatrical productions, special events and even clothing that students could wear themselves. Royer and assistant principal Shawn Mena came up with the concept for the course after journalism and digital media classes moved to the New Tech Academy last year.
"(Mena) mentioned that she thought it sounded like a class Akins should have and she was surprised that we didn't have it already," Royer said.
Senior Tyler Gregory said the class is a stress reliever for him.
"I'm able to meet a lot of the other people because by sitting there and sewing, it's easy to spark conversation and that is how I got to know them and how I gained more friends," he said.
Senior Ana Macedo said she is impressed with the variety of the projects she has done in the class.
"We did homecoming sashes, we went and participated in the renaissance festival near Houston and we also made gift bags for people and staff who have supported us since the beginning of the year," she said.
The class participated in the festival wearing costumes they made themselves. Being a very imaginative class, students were assigned a character from the Shakespeare play Midsummer Nights Dream. They made costumes based the characters' personalities.
"Before the festival, we read a part of Midsummer Nights Dream by Shakespeare and we then used that as inspiration to make our costumes which definitely was a success," Macedo said. "I was chosen to be Hermia and after analyzing her character I decide to wear a white dress to represent her purity and how religious she was."
The class then drew their designs and researched the materials needed in order to put their costumes together.
"My favorite part about the (Renaissance Festival) was seeing the creativity of other people and their costumes," junior Hortencia Herrera said. "Despite the rainy and cold weather we still wore our costumes and it was a lot of fun."
Not only have they gone on odd field trips, Costume Design has held fundraisers since the beginning of the year in order to raise money to buy material.
"We have fundraised by having bake sells and decorating doors," Royer said.
Although the club is small for now, Royer and the class have big plans for the future of Costume Design.
Royer also hopes to be able to offer Costume 2 for the designers next year who really understand what to do and can go ahead and start making costumes at a more experienced level.
"Ms. Royer is like the best person in the world," Gregory said. "She cares so much about each of her students and without her most of these clubs wouldn't be functioning and alive without her being here for it."
About the Contributor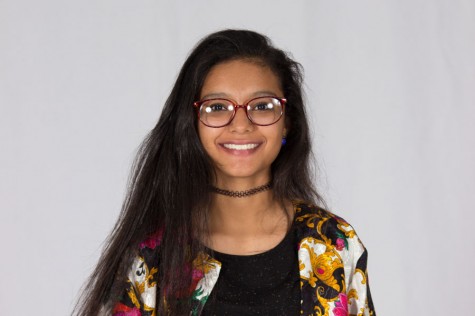 Sarah Luna, Student Life Editor
Grade:12
Academy: Social Services
Year on Staff: 2
Why they are on staff? I Luv Newspaper + All That Jazz. Plus, I Want To Have Experience For The Major Newspaper World If That Ever Happens
What do you do for fun? I Like Making Music, Making Peanut Butter Cookies + Watching Daria
Plans for after high school? Who Knows
Hidden Talent: I'm Not Good At Anything