Paula Palacios shares her ongoing journey from battle with cancer
Student postpones expensive surgery after GoFundMe campaign doesn't meet goal of $7,000
Hang on for a minute...we're trying to find some more stories you might like.
Freshman Paula loves to play soccer, spend time with her family and friends, and run track just like her fellow classmates and soccer team members.
If you didn't know her story, you would never guess that she recently has undergone two surgeries to combat a life threatening thyroid condition.
Palacios, who started at Akins last year after moving from Columbia and joined the girls soccer team last year.
Palacios has had hypothyroidism since she was 6 years old, and in 2016 doctors noticed a nodule in her thyroid. In September, they noticed the nodule had grown and were concerned about cancer.
She had her first surgery in December. She needs to have the second follow-up surgery but had to postpone it due to lack of funds. The medical bills for the surgeries have cost more than $7,000 and her family is struggling to pay for it.
To help her family pay the bills she created a GoFundMe page, which has raised about $1,800 in pledges so far.
It's not uncommon in sports for people to experience physical challenges, but typically they are things like broken bones, pulled muscles and concussions. Teammates are used to rallying behind hurt or sick players.
Teammate Cynthia Zuniga said Paula is so full of life that it's hard to tell that she is sick.
"Paula is a really nice person, and I hope everything goes well," she said.
Teammate Summer Shield said she hates to see Palacios experiencing this condition.
"She is very sweet, first off, and her personality is very welcoming," Shield said. "When you speak to Paula and interact with her, most people wouldn't be able to tell that she is going through something like this," she said.
But despite her condition, Palacios is still very active with many dreams and plans for the future. She continues to participate in girls soccer and also has plans to become an architect.
"I'm typically the person on the team who encourages my teammates, because I know they would do the same for me," she said.
Paula also goes on to say, "and I have dreams of becoming an architect in the future."
And with being a member of a team, you build relationships with your teammates and coaches.
Her friends and coaches believe Palacios is strong mentally and physical because she balances soccer, school, while going through two surgeries.

About the Writer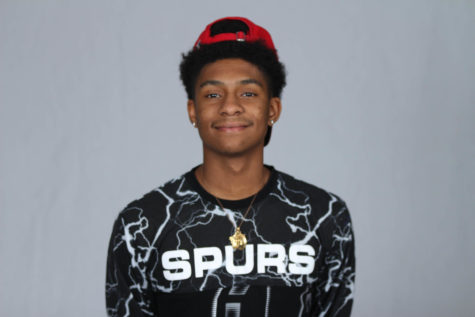 Larry Durden, Staff Writer
Name: Larry Durden(Miami)
Grade: 12
Academy: New Tech
Year on Staff: 2
Title: Staff Writer
Why they are on staff? Because I have always had a passion...