Students seek help during college application season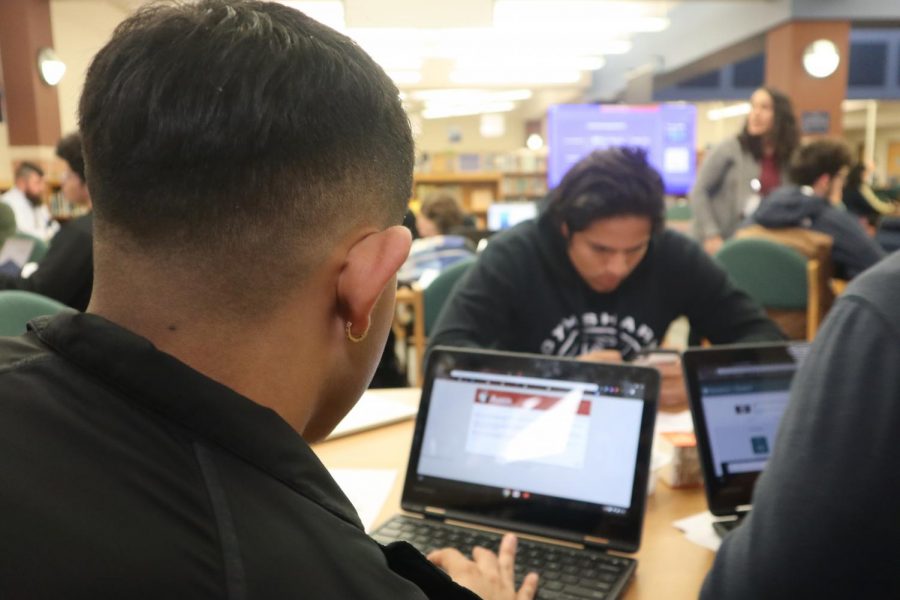 Barmey Chum, Staff Writer
March 4, 2020
Winter break reached its conclusion and the new semester followed its course. Annette Gutierrez, the new college and career adviser, looked to work with students to plan out the course for their upcoming future. Information sessions paired with counselor meetings throughout January helped students consider different possibilities in their futures and plan the steps necessary to take in order to meet their goals.
Bethany Bissell, 2019 Akins graduate, reflected on her process of applying for colleges.
Q: Where do you think students struggle with the most
The essay is the hardest part of the applications for students because they get so tripped off on what they should put. Not sharing enough or sharing too much. It's kind of this trick, tricky line of really sharing who you are and what your struggles are and what you've learned from it. And, sharing a part of yourself, but making sure that it's not like a diary entry where you're sharing a little too much where you kind of scare the admissions personnel.
Q: What are the top five priorities a junior or an early
Make sure that you have your test whether that's a TSI, the SAT or ACT, making sure that you are preparing for it and taking it seriously. The next thing is making a list of your schools and not just focusing on the schools that are nearby or that suit what mom and dad want, but what you want. And application dates, because a lot of students don't realize that application date deadlines come early. If you wait until the latest deadline, you're going to be competing for a smaller number of seats and scholarships scholars.
Q: What is a trade that colleges are looking for?
Well rounded, but not to the extent that you're in 10 different clubs and taking AP everything. They want to see that maybe you're in two or three different clubs, but in one of those clubs or sports like you've been doing it for a long time, and you've been investing in it and you've got a leadership role. And somehow it ties back to the career that you want to do. Whether that's gaining that leadership experience from being captain of your varsity team, or it's being president of the debate team, because you want to go and be a lawyer, like it's just connecting. Finding a way to connect everything that you're into what you want to do. Being passionate about it. So not just doing things to check off boxes, but actually being interested in it. Maybe you tried something, but you decided from that trial, you did not like it, but you gave it a try. And even just writing about that experience about how crazier tougher out of your realm of comfort that you were, but that you tried it is awesome. So just being well rounded, willing to try leadership experience.
Advice from a recent graduate
"
Class of 2019, Freshman at Louisiana State University"
— Bethany Bissell
Applying
The application process was the most hectic part of my senior year. I spent the first semester working on essays and setting submission schedules, and winter break and the first half of the spring semester waiting on acceptances and financial aid. I set high expectations for my application process, and I learned a valuable lesson from trying hard to be proud of myself when I didn't meet all of them.
Class
Classes in college aren't always more demanding than high school courses, but they're always less structured. Because of that, it's important to find a few people in the class that you can rely on for help, notes or clarification when you need it. When registering for a course, always consult the Internet. It's a good idea to check out websites like RateMyProfessor to see if the instructor will be a good match for you, and there are online exchanges for textbooks and resources for most universities.
Adjustments
The biggest adjustment that I had to make when I moved in at LSU was how I spent my time. In college, all of your time is your own. Because you don't spend all day in a school building, it can be easy to lose sight of your assignments or what you should be doing. Initially, developing effective study and work habits is difficult, but it teaches an incoming student a lot about discipline. I've found that a "self-bargaining" technique is really effective for managing my time; I try to reward myself at checkpoints when I'm doing homework and studying.
Advice
College is full of new people and opportunities, which can be both exciting and daunt- ing. e most valuable advice I could give for a smooth transition is to embrace those changes. It's difficult, but it's essential to pushing through nerves to form connections and a home in the community you're spending the next few years of your life in. It's a fun and enriching experience, but only when one allows it to be.