Faculty, staff plot new courses for their futures
Teachers, counselors adjust to life changes with moves, retirement, new positions
Just as seniors graduate and leave Akins every school year, the school also loses teachers, assistants, administrators, and leaders that impact students in unique and different ways.
At least six teachers will retire by the end of the school year, including some who have been at Akins since it's doors opened in 2000. Very few teachers at Akins have been here since the beginning.
English teacher Janet Larkin is one of those few who have been at Akins since the beginning. She's been known as one of the toughest teachers on campus and has taught thousands of students.
Something that kept Larkin at Akins despite seeing many col- leagues leave, was its unyielding focus on students.
"I hope the students will want to learn more than what they're settling for. I truly believe that education is the way to improve your life, to make your life better," Larkin said.
Deborah Black, a previous head counselor and current counselor for the STEM Academy will also be retiring after her nine years of teaching at Akins and 35 years in education.
Black said she will miss having the opportunity to work with the students at Akins.
"It's gonna be a bittersweet retirement because I love what I do. I love working with the students and seeing them grow," Black said.
Debra Johnson, who has supervised and lead the Certified Nursing Assistant program in the Social Services Academy for the last 11 years, will also be retiring this year. Although she is leaving, Johnson still wants to con- tinue educating people in health.
"I will volunteer at the nursing home probably … I think they sometimes let seniors audit classes at universities, so I may do that," Johnson said.
Juanita Soto will be taking over as the lead Health Science Technology teacher.
Among the retirements, Akins will also be saying goodbye to orchestra director and guitar teacher, Cathy Bennett. Bennett has worked at Akins for nine years and as a teacher for 23. She has lead the orchestra to win various sweepstakes awards at UIL and assisted students in achieving high scores in individual contests.
"I am leaving because I have an opportunity to be an active, present mother," Bennett said.
Paul Crockett, previously an assistant band director, will be taking over Bennett's position as orchestra director and guitar instructor, but it has yet to be determined who will be taking the role as the Fine Arts department chair.
Bianca Clark, Sara Simmons' assistant, will also be leaving. Previous assistant band director, Donald McClain will also be leaving to pursue his master's degree in education.
Administration is also mourning the loss of two teacher assistants, Jim Meschwitz and Livia Tonan. Both assisted Shawn Paladino, a Life Skills class instructor.
Meschwitz had been working at Akins since it opened and had been struggling with cancer for some time. Meschwitz passed away November 25, 2015.
Tonan worked at Akins for a few years. "We lost them, and it was a really bad loss for Akins, espe- cially for that class room in Ms. Paladino's," Associate Principal Manuel Garcia said.
Despite the losses, the Akins family will continue on, in good hands, Larkin said. She was glad to see Brandi Hosack take over as the principal last year.
"I am so glad that Ms. Ho- sack in our principal and that she uniquely knows the insides and outs of this school," Larkin said. "I have been absolutely delighted in watching her take the reigns and moving us towards her vi- sion. Absolutely, I believe we're in good hands."
About the Contributor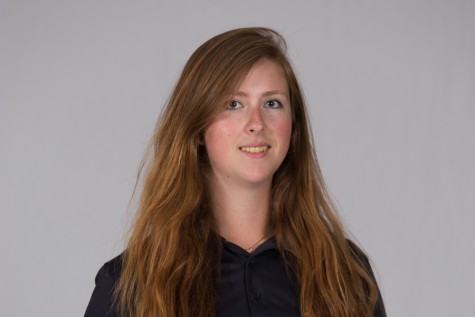 Amanda Livingston, Editor in Chief
Grade: 12th
Academy: New Tech
Year on Staff: 3 years
Why they are on staff: I joined the staff of the Eagle Eye two years ago originally because I wanted to take photos for the newspaper. However over time I wrote more than photographed and my reasons changed. I developed an interest in the journalism field after guest news anchors came and talked to our class, and now it's something I'm looking at doing as a career.
What do you do for fun: I like to watch roller derby and roller skate, and go to live concerts. Other than that I generally am I very calm person in regards to what I like to do. Just simply driving around with my friends or sitting around watching a movie and playing board games is just fine with me.
Plans for after high school: After high school I plan on attending college, hopefully at either the University of Texas or Texas State. I am planning on either majoring in photojournalism and minoring in music, or double majoring in photography and journalism separately and minoring in music. I know after college is done I want to do something involving photography because it's a passion of mine.
Twitter handle: @HeyNamesAmanda
Hidden Talent: I feel like if I have a hidden talent it's writing poetry. I don't do it often but when I do I feel like it turns out pretty well. I also love photography and music, and feel I have at least a slight talent in those areas.