TSI necessary to avoid remedial classes for college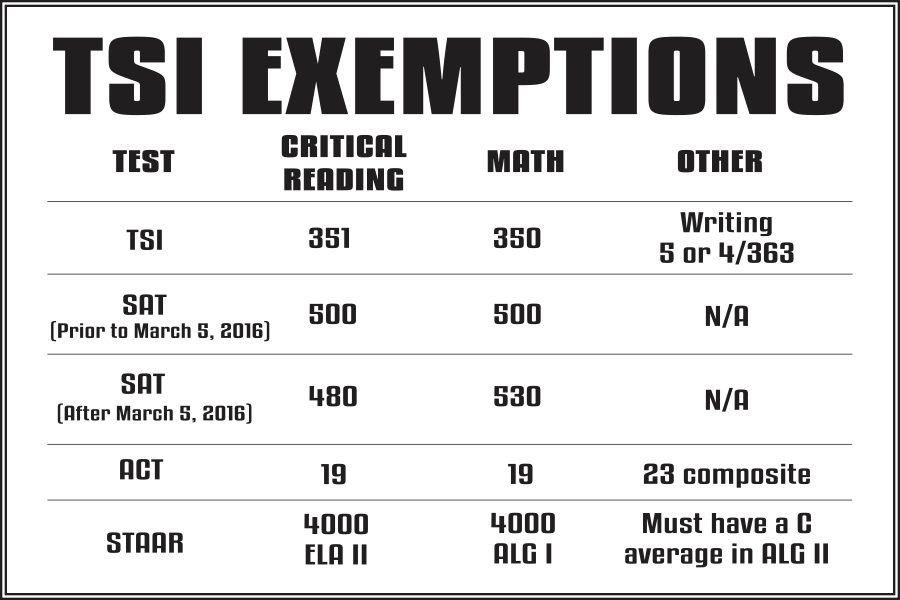 Move over STAAR test; there's a new standardized test in town that has serious consequences for prospective college students.
Although the Texas Success Initiative exam is not as well known as the State of Texas Assessments of Academic Readiness test, its impact is just as important, if not more so, for college-bound students. It determines whether or not they need to take remedial courses at the college level.
Edgenuity is an online test prep program that has been credited with reducing dropout rates and creating significant increases in standardized test grades. AISD has partnered with the program to supply students with it for free in preparation for the Texas Success Initiative (TSI) Assessment.
"The whole idea behind it was to increase the student's productivity because I don't want you to go take the TSI test, fail it, and then be frustrated," Principal Brandi Hosack said. "I'm trying to get you prepped before then so you can knock it out the first time."
The TSI is a test used within the state to determine whether or not an individual going into college or looking to take dual credit courses is "college ready." It is divided into three parts: reading, writing, and math. According to Davelyn Forrest from the Austin Community College Dual Credit office, the eligibility score will go up in fall of 2017.
"Math will go to 356," she said.
If a student does not meet the required score they then take remedial, or developmental, courses before they can take a course that counts as a credit.
"Those are not transferable and you have to pay for them," Forrest said. "A lot of kids will see it as a waste of time and money, but they can't take regular classes if their TSI scores are not high enough."
If a student does not pass the TSI test, has a certain score, and does not go into developmental courses, they have a few different options. They can go into classes and do Edgenuity work before taking the test again.
"We have created Akins TSI support classes with math teacher, Kenyatta Williams and Lisa Johnson, English teacher." Simmons said. "We also have a college readiness class with Austin partners In Education that the College Readiness Counselor Christine Kesling works with students to get into."
To prevent students from failing or having to take developmental courses, College and Career adviser Sarah Simmons suggests that students begin using Edgenuity as soon as possible. It can be accessed through the Austin ISD Cloud at my.austinisd.org. From there, search "Edgenuity" and click the tile that comes up.
"If they have questions about how to navigate the program, they can come by the (College and Career Center) and we'll help them," Simmons said. "Also, if a student is having issues logging in, they should let their teacher or counselor know."
Once inside Edgenuity, a student can find the TSI-specific test prep in the lobby on the sidebar. They are labeled VT-TX-TSI followed by one of the TEKS for the subject it's under. When it is opened, clicking "Next Activity" will take the user to a diagnostic pretest to take before beginning the coursework. These pretests are more than 20 questions long and create a "learning path" for the student based on their understanding of the topic. Sophomore Zachary Arriaga said he uses it for science and math classes.
"I like it," he said. "It's really easy to use. It's helpful."
In order to help students, teachers attended a training about the program to learn how it works. In the training, they set up their courses and put their students in it. Hosack said she knows that teachers may still have questions about it.
"We're trying to provide follow-up support and hopefully get a couple of experts on campus to help teachers help each other," Hosack said. "But it is a new program, it's coming right out of the district. The district is all on top of it. We want to be the campus that really takes it to the next level and utilizes every function that we can."
In addition to using Edgenuity, Simmons said that students should finish geometry and English II before taking the assessment. She advises upperclassmen to not wait to take the test. She says that they will forget the math by the end of senior year.
"Students need to realize that this test is the most important standardized test they'll take," Simmons said. "They should take it as seriously as such."