New team of directors bring change in band program
At the end of the school year, the Akins Eagle Band was caught off guard when all of their current band directors announced their departure from Akins after a successful year for the program.
The first director to announce their departure was Associate Band Director Nick Doshier. He told students that he would be going to Louisiana State University on a full ride to pursue a master's degree in wind ensemble conducting. Soon after associate Band Director Buck Palmer announced his departure from Akins as well.
"After some long conversations with my family and (head band director Tate Fincher), we have decided to move to San Antonio," Palmer said in a message to students.
When the band's June camp came to an end, students were shocked to find out that Tate Fincher, who had led the band program for five years would not be returning as well.
"This is one of the more difficult letters I've ever had to write, but life is about to change and my experience has taught me that nothing happens the way you plan," Fincher said in an email saying goodbye to the Akins Eagle Band family.
"I found out about it before he sent out the email because he talked to all of the captains and drum majors and letting us know that we had to be prepared for everything to go downhill. People started to quit and people started to hate band," drum major Bobby Sepulveda said.
"
I just felt like a ton of responsibility just fell on my shoulders"
— Bobby Sepulveda
New Director of Bands Babatunde Onibudo was originally hired to be an assistant band director, but he was soon named to the top position shortly after Fincher announced his departure. Jason Martinez, associate director of bands came on board shortly after and had to adjust to their new roles.
"I think that coming into this everyone was pretty shocked," senior Elizabeth Rocha said. "It kind of happened really fast. But you really just take a step back and look at it. It's been a positive change on everyone between all the members of the band and the color guard."
The new directors have high hopes for the band program and want to continue to grow the program. They have goals of being more musically advanced and increasing membership in the band.
"We're trying to get to point where if you hear the name 'Akins' you know that that is a good band program," associate director of bands, Jason Martinez said.
"I think it's more of a continuation of growth and then just achieving high excellence," Onibudo said. "Just keep adding to the success (the past directors) already had and creating new success where not only are students able to be happier and play more advanced music, but be able to have a fun musical experience."
Although many students have welcomed and even liked the change in directors, some are more hesitant to accept the change. With such a large change in staff, students sometimes struggle with adjusting to new personalities and how the program is run. Some students left the band program altogether.
"A lot of kids quit after Fincher left. More of the harder workers have stayed in. The ones that still want to do (work) even though the directors are all different," junior Logan Austin said.
This year, 12 students made the Region 18 All-Region band, and 7 of those students advanced to area. The band as a whole received a first division ranking at their region competition for marching and advanced to the area competition. It was also ranked seventh overall at the USBands Remo series finale.
Leave a Comment
Donate to The Eagle's Eye
Your donation will support the student journalists of Akins High School. Your contribution will allow us to purchase equipment and cover our annual website hosting costs.
About the Writers
Javier Arellano, Section Editor
Name:
Javier Arellano
Grade:
12
Academy:
New Tech
Year on Staff:
3rd year
Title:
Section Editor
Why they are on staff?:
I like writing articles and being able to put my opinions out there.
What do you do for fun?:
Listen to music, go to concerts, and skate/ride my bike
What movie do you recommend that everyone watch?:
I recommend the movie, Meet the Robinsons, aka the most slept on Disney movie of all time.
Plans for after high school?:
Go to ACC to get my associates degree and either transfer to Texas State to get my bachelor's in music education, or pick up a trade
Twitter handle (optional):
@ Javier_A20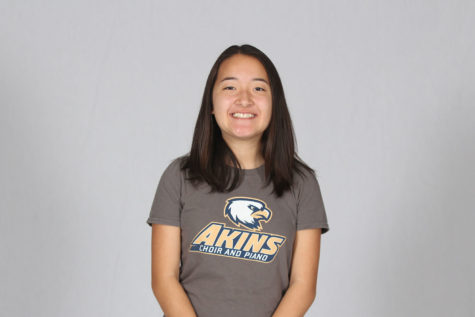 Arianna Farner, Social Media Manager/Staff Writer
Name
: Arianna Farner
Grade: 12
Academy
: ABLLE
Year on Staff
: 1
Title
: Social Media Manager, staff writer
Why they are on staff?
: Developing my professional writing skills and being an active member of the Akins community.
What do you do for fun?
: Play games, binge watching Netflix, calligraphy.
What movie do you recommend that everyone watch?
: The Princess Bride.
Plans for after high school?
: Studying architecture and (hopefully) becoming a residential architect.
Twitter handle
:
@AkinsJournalism
Hidden Talent
: "I'm soooo good at balancing chemical equations."