Grading policy questions and answers
In the midst of the COVID-19 pandemic, Austin ISD has decided to indefinitely close all schools. This created the transition into a drastically different method of learning, known by many as "Continuous Learning" or "Distance Learning."
A new way of learning calls for a new way of grading, which has been anticipated by many students and teachers. On Wednesday, Austin ISD superintendent Dr. Paul Cruz sent out a message to teachers around 7 p.m. regarding these new grading policies.
Dr. Cruz's letter and his answers to frequently asked questions follow:
Dear Austin ISD Family,
As Continuous Learning has begun this week, I am encouraged by the resilience our community has shown as we transition into this new way of learning. I know there have been many questions about what Continuous Learning means for our 81,000 students and I am happy to provide this update as details have become more clear.
Our Board of Trustees approved a resolution Monday evening that temporarily updated our policy regarding grading and graduation in response to the ongoing campus closures due to COVID-19 precautions.
Under the new policy, all students will receive either a grade of Pass or Incomplete. Teachers will provide feedback on student performance and monitor progress. A record of incomplete will not affect a student's ability to advance to the next grade or graduate, but rather will identify students who need extra support in the summer or next year. Teachers can monitor progress via phone conversation if the family doesn't have reliable access to computers or the internet.
Austin ISD is first focused on the whole child's physical and mental health amidst the separation from campus communities. AISD staff will continue to work with students and families to support needs as the district transitions into continuous learning.
Below you will find the full text of the resolution and a set of frequently asked questions that will provide more information and detailed implications for student GPAs, graduating seniors, elective classes, advanced coursework and elementary school students.
While the FAQ includes many questions we have been asked in the past weeks, I understand there may be more questions that pertain to your family. Please don't hesitate the reach out to your campus administration who can best support your student's individual needs. Thank you for your patience as we continue to navigate this new situation together as an AISD Family.
Respectfully,
Paul Cruz, Ph.D.
Superintendent
Frequently Asked Questions
How will class rank and GPA work?
According to the resolution of The Board of Trustees of the Austin Independent School District, class rank for high school seniors will not be calculated at the end of the sixth-six weeks. Instead, class rank will be calculated based on the semester averages of the third-six weeks of the 2019-2020 school year, which has already been calculated.
One of the biggest changes regarding grading is that number grades will no longer be given. Rather, all grades will now be recorded and reported as pass or incomplete. Transcripts will denote these course credits as either pass or incomplete.
From now on, GPA calculations for all High School Freshmen, Sophomores, and Juniors currently enrolled in the 2019-2020 school year will exclude the Spring 2020 Semester. To further elucidate, a current freshman that completes high school within 4 years will have a GPA calculated on 7 semesters rather than the normal 8 semesters.
What does this mean for grades in secondary (middle and high) school?
The fourth and fifth-six week grading periods will be combined into one 10-week grading period. All final grades for the spring semester will be entered as either "Pass" or "Incomplete."
Year-long averages will be calculated by averaging the fall semester (50%) and the average of the grades earned during the 10-week spring 2020 grading period (50%). This will allow students who failed the fall 2019 semester of a year-long course repair failing grades or make-up missing assignments in order to earn the course credit.
How will seniors meet graduation requirements?
All records of senior students will be reviewed to ensure students are on track to satisfy all requirements in their personal graduation plan. Seniors will be able to continue working to meet graduation requirements.
The student, caregivers, and guidance counselors will create a plan of action for any student-at-risk of not completing all requirements for graduation.
Students who have not passed one or more STAAR examinations are eligible for the Individual Graduation Committee (IGC) process. To meet state testing requirements, seniors will need to complete assigned IGC courses via Garza online.
All graduation plans will target a May 26, 2020 completion. Parents of students who are not successful in meeting requirements for graduation shall be informed of any available options, such as an extended year program or summer school.
How does this impact students' rank GPA?
Rank GPA is used to calculate the top 10% of the class and the valedictorian and salutatorian for the class of 2020. Final rank GPA for seniors will be calculated according to AISD's policy using grades transcripted through the Fall 2019 Semester.
For all grade levels, final rank GPA for the 2020 school year will be calculated according to AISD's policy using grades transcripted as of 12/20/2019.
Cumulative GPA calculations will not include grades transcripted from the Spring 2020 Semester.
How can students earn a P or I for the second semester?
All assignments and assessments considered in the spring of 2020 must have been due prior to March 13, 2020. Grades after March 13 will be used to determine if students are progressing to or attaining proficiency, incomplete to their process of proficiency, or simply incomplete because the district and students were not able to navigate this new learning space in these uncertain times.
Students will be able to repair any prior assignments assigned during the spring 2020 semester (10-week spring semester grades).
What about AP, IB, Dual-Credit, CTE exams and certifications?
Advanced Placement, International Baccalaureate, Dual-Credit, OnRamps, and specific Career and Technical Education (CTE) courses will follow the curriculum and regulations of the respective external governing agencies beyond AISD's local control. Teachers will continue in the prescribed curriculum including feedback to students, review activities, and preparation for their end of year assessments or certifications.
Students enrolled in Dual-Credit courses will earn a P for pass, an I for incomplete, or a D for drop.
How will students keep up in fine arts or athletics?
Students in performance-based classes will continue working on their proficiency using individual videos, performance and technique challenges, and continuous skill development to keep students actively engaged.
What will happen if a student receives an incomplete?
Incompletes will not be used for promotion or retention, but will be used to identify students who will need extra help and support next school year through small group instruction and/or tutorials.
How will middle school students enrolled in high school courses receive credit?
The same high school guidelines apply for middle school students; however, middle school guardians/students will also have the opportunity to drop any high school credit courses taken during the 19-20 school year during the fall semester of the 20-21 school year.
How will elementary school students keep up with their learning?
Teachers will work closely with their students all year either through online learning, emails with pictures of students' completed work, or even joint phone calls with caregivers and students.
Teachers will monitor student progress on the most important skills, content and standards that will prepare our young people for success next year, as well as communicate with parents and caregivers regarding their students' progress. Students will be identified who may be in need of extra support in the summer or the following school year.
Our Social-Emotional Learning (SEL) Department will design community outreach through creative activities that encourage social emotional wellness while respecting social distancing. Examples include Zoom meetings where students can bring and introduce their pets or a carnival designed to be driven through without attendees leaving their vehicle.
What if a student doesn't have access to a computer or the internet?
Although not every family will have access to a computer and the internet, the school district has placed the following initiatives in place to help:
Chromebooks and WiFi hotspots are being distributed for grades 3-7
Buses with WiFi are being retrofitted to park in high-needs areas
Paper packets and school supplies are being distributed at certain sites
Teachers will then monitor progress through over-the-phone conversations with parents and students.
Many screen-free lessons on the AISD Learning-At-Home website, which has been designed to be easily viewable on any device.
About the Contributor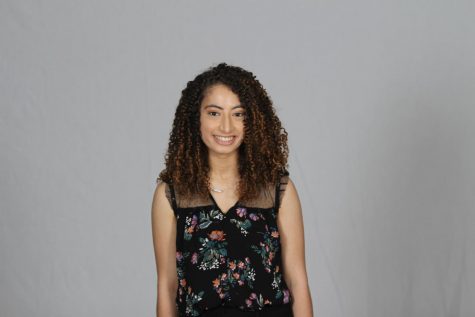 Heba Dalu, Editor-in-Chief
Grade: 12th

Academy: STEM

Number of Years on Staff: 2

Why do you enjoy being on staff? I love being able to give other people a voice and building my graphic design/journalism skills.

What do you do for fun? I enjoy hanging out with my friends, working out, reading, and hiking. 

What are your hobbies? In my free time, I like to paint, sleep in, and explore new places around Austin. 

Hopes & Dreams after high school? After high school, I hope to change our nation's healthcare system.