District schedules outdoor Akins graduation ceremony for June 23
As the novel coronavirus continues to spread, it has caused many events to become canceled or postponed, one of which being the Class of 2020 graduation ceremony.
Initially, the in-person graduation ceremony was scheduled for August. In addition to the virtual graduation on June 15 at 9 a.m. on the AISD Channel, Austin ISD has created a new outdoor event set for June 23.
This new outdoor event will take place at the Burger Annex Soccer Stadium, split into two different portions. The first portion will happen in the morning, from 8 a.m. to 11 a.m., consisting of students whose last names start with A-L. The second portion will happen in the evening, from 5 p.m. to 8 p.m., consisting of students whose last names start with M-Z.
To comply with social distancing rules, graduates will be limited to bring only 4 guests per household into the stadium. Additional guests will not be allowed and no one will be allowed in the stands. Restroom access will be extremely limited. Everyone above the age of 6 must bring and wear their masks. Additionally, students and families from different households will not be allowed to congregate and/or go to the stands.
Parking will be available at Jones Road next to the school bus barn and COVID-19 testing tents. Once families begin to arrive, they will be asked to remain in their vehicle where they will receive the Akins Class of 2020 Graduation Program, receive a Flash Photography card to fill out, get a health screening for COVID-19, and receive a ticket to enter the soccer stadium.
When families exit their vehicles, they should follow the red dots which are 10 feet apart. There will be staff who will guide them along the way of the three stations of the walkthrough ceremony.
In the first station, families will enter and walk into the annex field. The graduate will give his/her ticket and pick up his/her name card.
The second station will be on the soccer field, where families will once again follow the red dots. Both the graduate and their family members will walk on side of the field from one end to the other end to the 30th-yard line, where staff will meet and guide them through the rest of the process. At the 30th-yard line, family separates and the student is allowed to walk to the stage to receive the diploma cover, and then photos will be taken. Once the graduate gets off the stage, then the family re-joins the student to walk across to the other side of the field.
In the final station, families will exit the field where the graduate and family will have a chance to take photos with their own phones and cameras. Staff will also be available to take photos using the family's phone or camera as no videos will be taken by AISD.
The district will be sending the actual diplomas to all graduating seniors, who have been cleared from the obligation list. In order to be cleared, seniors must return their Chromebooks to Akins on June 18 from 9 a.m. – noon or 5 p.m. – 8 p.m. at a drop off station near the flag poles at the front entrance.
Some seniors said they were saddened by the fact that they won't get a traditional graduation, but are greatly appreciative of everyone who's working to put this ceremony together, especially during these trying times.
"I think it's sweet of the school to try to give us a normal graduation given the circumstances the world is facing," said senior Nekki Guardolia. "As much as many of us seniors dreamed of walking down a real stage with all of our families and friends watching, it's for our safety and the school is only able to do so much."
"
I believe it'll make my memory of high school more vivid because we were the first class to graduate during a pandemic."
— Nekki Guardolia
Senior Yasmin Mancera-Tello said she would love it if Akins could have the ceremony at the Frank Erwin Center because it's a tradition. However, she said she realizes that people "are trying their best for us and I really appreciate that."
Senior Yaretzi Salgado is worried about a few matters concerning this new walkthrough graduation.
"With the new graduation split into two, we have yet to find out if I'm going to graduate alongside my friends, and adding on to that worry, we are only allowed to take four members of our family to accompany us at graduation," she said. "My whole family was also so excited to see me go graduate and telling them they can't go was very hard."
She also recognizes the effort that the district has put into making this event.
"But on the other hand, nobody was expecting a global pandemic to break out, and everyone is just trying to make it work without completely stripping us from a graduation. I am very grateful for that," she said.
Guardolia said there is a chance that the walkthrough graduation could be even more memorable than a traditional graduation ceremony.
"I 100% think it'll impact the way I look back on high school but if anything, I believe it'll make my memory of high school more vivid because we were the first class to graduate during a pandemic."
Leave a Comment
Donate to The Eagle's Eye
Your donation will support the student journalists of Akins High School. Your contribution will allow us to purchase equipment and cover our annual website hosting costs.
About the Contributor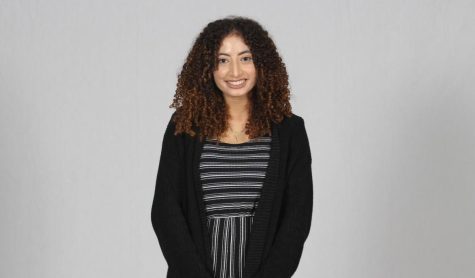 Heba Dalu, Editor-in-Chief
Grade: 12th

Academy: STEM

Number of Years on Staff: 2

Why do you enjoy being on staff? I love being able to give other people a voice and building my graphic design/journalism skills.

What do you do for fun? I enjoy hanging out with my friends, working out, reading, and hiking. 

What are your hobbies? In my free time, I like to paint, sleep in, and explore new places around Austin. 

Hopes & Dreams after high school? After high school, I hope to change our nation's healthcare system.