When the bell rings at 4:35 p.m. each school day, chaos breaks out on a regular basis in the school parking lots and the streets around Akins.
For the next 30 minutes after dismissal, students, parents, and teachers are all simultaneously struggling to leave campus through just a few exits and make it onto the busy streets surrounding the school.
According to an online survey conducted by The Eagle's Eye, 53% of students said that they had experienced a dangerous situation in the parking lot.
"I got a concussion from someone hitting my friend's car last year. So many kids come that don't have insurance or a license and it is so unsafe," senior Grace Montgomery said.
The school's location at the very southern end of S. First Street has left it without infrastructure improvements until recently, and even those are producing mixed reactions about whether they will alleviate traffic and safety concerns.
Over the summer, crews installed a new traffic light at the intersection of an extension of Wayne Riddle Loop and S. First Street, which is located at one of the campus entrances near the Green Hall building. For years, students, teachers, and parents have wanted to see a traffic light installed at the campus entrances along S. First Street because of how dangerous it can be just turning onto the street with two lanes in both directions.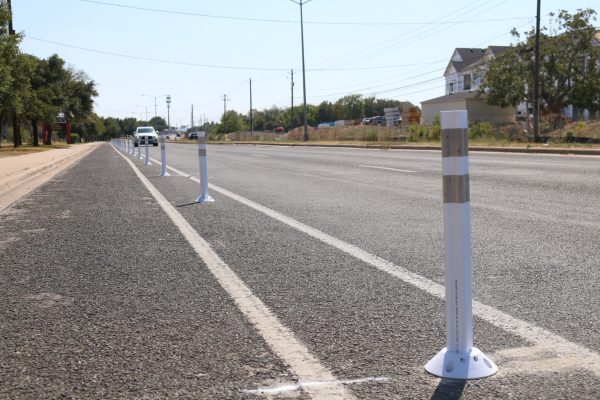 There is some doubt about whether the traffic light will be enough to solve all of the traffic congestion, but some said they are hopeful that it could be a starting point.
Another recent change along S. First Street is the installation of a long row of parking barriers meant to protect a bike lane that has existed in front of the school for years. However, these barriers are also now blocking the many parents who used to park along S. First Street to pick up their children without entering the campus parking lot.
"The poles protecting the bike lane on South First Street have caused the parents picking up their children to all flood into the parking lot," an Akins senior said.
While some students/parents are upset about the bike lane barrier, others said that it is a good thing to ensure that students can safely ride their bikes there at all times without them being blocked by parents parking in the bike lane.
"Cars that were parking along South First during pick-up were creating an unsafe situation for bike riders, so I'm glad that the barriers were put up so that these lanes are usable at all times," PTSA secretary Trudy Richards said.
Some said they are happy that the bike lane has reduced the number of cars parked along S. First Street, which created a visibility problem where drivers could not see past the line of cars parked along the street.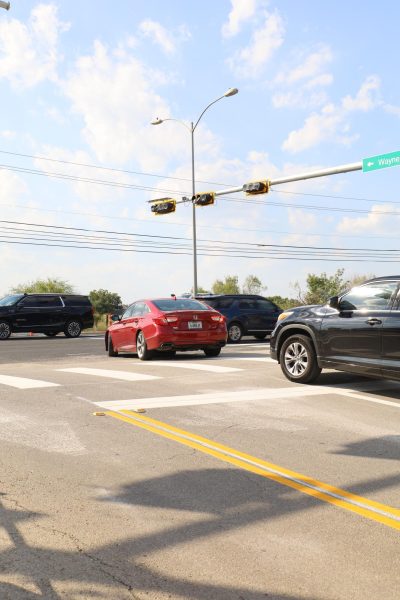 "I believe that if parents wouldn't park along the road (South 1st) it would be safer to get out. I have almost been hit or almost hit another vehicle so many times because I can't see past the LINE of cars parked waiting for their kids," senior Deziray Sepeda wrote in a survey response.
Another concern Old San Antonio Road, which runs between the back of the school and the football practice field. There are new apartment complexes being built along that side of the campus, increasing the number of students who walk along the narrow two-lane road to get home.
Because Old San Antonio Road has no sidewalks along it, some students walk near the road at times, making it dangerous for pedestrians and drivers alike.
Richards, who serves on the Akins PTSA, said solving traffic problems around the school involves a collaborative process between the city and school district officials, as well as the local developers building properties around Akins.
"I think that the district, city, and local developers need to work together to strategically plan for safe and efficient walkways and roadways in and around campus," Richards said.
Eric Alvarado contributed to this story.