Red cups are not anti-religious
Another "War on Christmas" Controversy has ridden in on Santa's sleigh this Holiday season, and it's tag is addressed to Starbucks.
This isn't the first time Starbucks has been the subject of controversy, with the last one taking place earlier in 2015 with their "Race Together" campaign. The company meant to encourage conversations about racial tensions coming from events like that of Ferguson.
Despite the good intentions, criticism erupted with claims that Starbucks had no right to comment on the situation, due their lack in diversity in their staff.
Now, Starbucks is embroiled in the latest "War on Christmas" complaints with critics arguing it took Christ out of Christmas with its latest coffee cup design.
Every year Starbucks switches up their classic white cup with a red one featuring holiday designs. In past years the red cup has pictured snowmen, tree ornaments, reindeer, and various other symbols of the holiday season.
This year however, Starbucks decided to take a minimal approach and release their red cup as is, without any decorative designs.
This has brewed up a heated discussion between conservative Christians like Joshua Feuerstein, who started the conversation with his Facebook video, claiming Starbucks "removed Christmas from their cups because they hate Jesus."
Then he claimed they actually cared that he "pranked" them because he told them his name was "Merry Christmas" to force them to acknowledge the Christian holiday. But the fact of the matter is: Starbucks doesn't care.
Starbucks has never had any religious affiliation on their cups. To say that they're attacking Christmas is ridiculous. Starbucks is a company than spans over 67 countries around the world with over 22,000 locations. They serve people of many different religions. The employees can't wish every customer a Merry Christmas, because not everyone follows the Christian religion, especially in the boiling pot that is the United States.
Wake up and smell the pine trees people! Nobody is trying to take the Christ out of Christmas. Nobody is attacking Christianity. It's a coffee cup that is eventually going to end up in the trash.
Those who are obsessed with calling out businesses and individuals for not recognizing Christianity as the most important religion during the winter holidays neglect to remember that this country was founded off the principle of freedom of and from religion.
Ruling Christianity as the default of the country defeats that founding idea.
If you're going to let a silly cup determine whether you have a good day because it doesn't wish you Merry Christmas, then maybe you need to reevaluate what the holiday spirit is all about.
About the Writer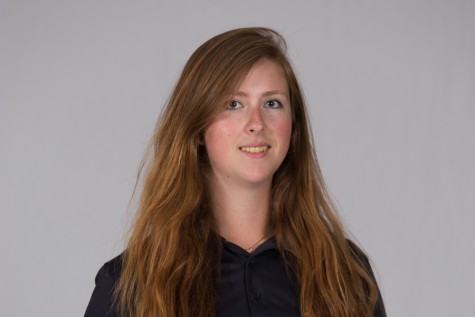 Amanda Livingston, Editor in Chief
Grade: 12th
Academy: New Tech
Year on Staff: 3 years
Why they are on staff: I joined the staff of the Eagle Eye two years ago originally because I wanted to take photos for the newspaper. However over time I wrote more than photographed and my reasons changed. I developed an interest in the journalism field after guest news anchors came and talked to our class, and now it's something I'm looking at doing as a career.
What do you do for fun: I like to watch roller derby and roller skate, and go to live concerts. Other than that I generally am I very calm person in regards to what I like to do. Just simply driving around with my friends or sitting around watching a movie and playing board games is just fine with me.
Plans for after high school: After high school I plan on attending college, hopefully at either the University of Texas or Texas State. I am planning on either majoring in photojournalism and minoring in music, or double majoring in photography and journalism separately and minoring in music. I know after college is done I want to do something involving photography because it's a passion of mine.
Twitter handle: @HeyNamesAmanda
Hidden Talent: I feel like if I have a hidden talent it's writing poetry. I don't do it often but when I do I feel like it turns out pretty well. I also love photography and music, and feel I have at least a slight talent in those areas.