New bus tracking app with easy, safe information
Hang on for a minute...we're trying to find some more stories you might like.
Austin ISD may have answered an age-old question for students this year: when is my bus going to get here?
With the addition of Austin ISD in the new app called "Wheres The Bus" students and parents can  track the location of their bus, gaining an accurate estimate of when their bus should be arriving.
Austin ISD buses have been equipped with GPS tracking devices since 2009, but they have never been used in this way. Now the district up-graded the system so it is compatible with the new app. upgrades cost the district $194,000 for the year and then $155,000 for each 12-month period thereafter, according to an article on KXAN.com.
AISD says that this new app should lighten the bus dispatchers' workload. They are the people who have to answer phone calls from parents on days when buses run late.
 Then, they will log on, search for the app, and request to access the arrival of the bus. As of right now, the app can only be access by a parent cloud.
"This will be shared with our General Council as it may need parental consent and other possible approvals. If all goes well, we may do this for next school year," assured Mr. Hafezizadeh, from the Pupil Transportation.
The app itself, can either be downloaded from the Apple Store (iOS/ Apple) or Google Play (Android). It is also available on a desktop computer. Once signed in through the Austin ISD cloud, the bus arrival information will be available.
If parents have multiple kids that go to multiple schools, they can track each of their routes separately with tabs at the bottom of the screen.
Also, it's convenient to be able to locate your bus. One day you might wake up late and you can check to see how much time you have before the bus actually arrives to the bus stop. Or in the afternoon, if you can't find your bus, you can easily find out if its coming.
" The success rate has been high over all, great and positive," director of pupil transportation Kris Hafezizadeh said.
I had some doubts about the security of the app as many people do, especially parents for they want their kids to be safe. I worry about hackers who can access sensitive private information that can lead to horrible situations.
Hafezizadeh said the app is designed with safety and privacy in mind. Only Austin ISD parents who have been signed up through the "parent cloud" with the school district can login to the app and get information for their children.
Also, for teenagers waiting at the bus stop it's too dangerous; anything could happen. Even waiting in the terrible heat, or bitter cold isn't safe for kids.
The bus tracking app is very useful not just by solving the waiting time for kids but also in keeping them safe and secured. Some think the idea of location tracking is creepy and I agree. e world is dangerous and the app can help save lives by providing up-to-date informa- tion to avoid creepy people attempting to misuse the information.
The app is overall easy to access, secured, and beneficial to anybody attending Austin ISD schools. It's a great app and easy to use.

About the Writer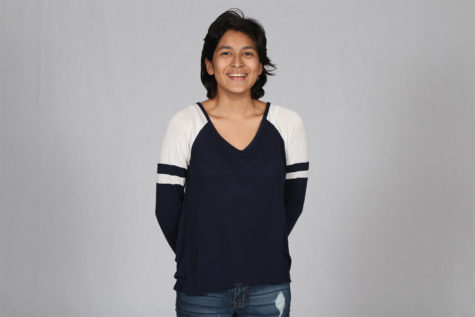 Jennifer Espinoza, Opinions Editor
Name: Jennifer Espinoza
Grade: 12th
Academy: New Tech
Year on Staff: 3rd
Title: Opinions editor
Why they are on staff?: I enjoy learning new things
What...