NFL viewership continues to decline for various reasons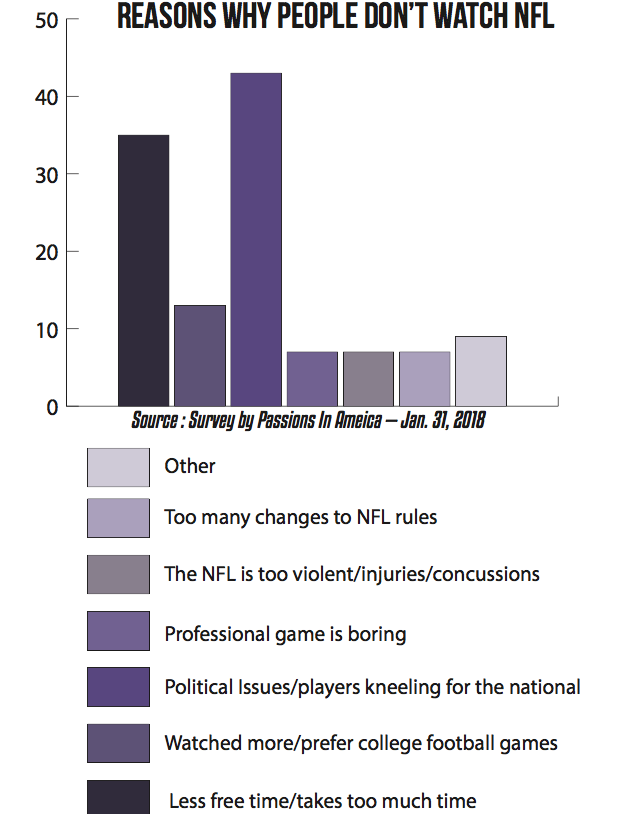 After a seemingly meteoric rise in popularity over its 96-year histo- ry, the National Football League may have hit its peak.
In 2016, the average viewership of NFL Sunday Night Football dropped to 20.323 million from 22.522 million in 2015, according to Sports Illustrated. And in 2017, the declines continued to fall to 18.175 million.
Sunday Night Football is still the most-watched show in primetime in viewership, but it just doesn't enjoy the same popularity as it used to. " e NFL's Red Zone cable channel, which takes viewers to di er- ent games whenever there is a scoring opportunity, is drawing about 1 million viewers on Sunday, pulling fans away from their regional games on CBS and Fox," according to an article in the Los Angeles
Times.
However, that doesn't take into account that there are things hap-
pening in the NFL that are turning fans o .
Player injuries and greater awareness of the damage football does to
players long-term health is one factor.
Just think about the injuries players had this season. Aaron Rodgers
QB,Green Bay Packers su ered a broken collarbone in the early sea-
son of this year. When Rodgers went down people didn't want to even 50 watch the Packers play.
JJ Watt, Defensive End of the Houston Texans, su ered a tibial 40 plateau fracture. is had huge e ect on his team and the viewership
because his star power wasn't being seen on the eld. 30
Odell Beckham, Jr WR,New York Giants,fractured his ankle this
season. this also a ected his team big because he was a leader. e 20 Giants had a horrible season without Beckham.
However, injuries turn out to be only a small part of the reason 10 viewership is down. According to a recent survey conducted by Pas-
sions in America and Research America Inc. 0
22 percent of the 1,003 nationwide respondents reported watching fewer NFL games this year. Only 7 percent said their lack of interest was because of concerns over violence and injuries.
Out of the survey results 43 percent of the respondents said they were turning out the NFL was because of political issues such as play- ers kneeling during the National Anthem.
Another interesting nding in the survey is that concerns about safety are not enough to make fans want to change the rules to elimi- nate the use of helmets to make players more careful on the eld. Only 15 percent of survey respondents said they favored that kind of change to the rules.
About the Writer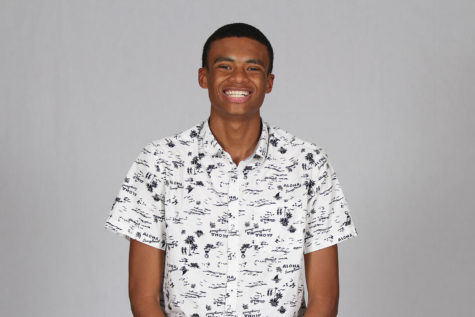 Jaden Garrion, Staff Writer
Name: Jaden Garrion
Grade: 12
Academy: New Tech
Year on Staff: 4th
Title: Staff writer
Why they are on staff?: I'm very good with technology
What...