While the Akins volleyball team has experienced its share of losses on the court this year, the team has found successes, as well. With a different team changing the dynamic, they have changed the way they play for the different crowds they receive.
The team, led by a dedicated group of captains and Head Coach Amanda Thomas, typically plays at least two games a week — sometimes more if they are in a multi-game tournament. They have learned many lessons on and off the court this year, including how to deal with ugly behavior and disrespect from their opponent teams' fans.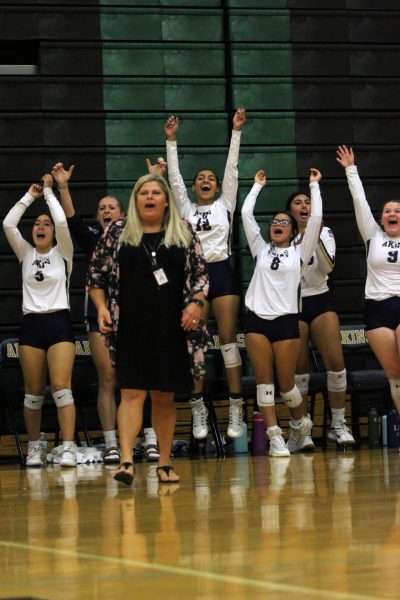 "It's a part of playing a sport, you're going to have student sections and they're going to try and put me off my game," senior Mallory Liu said. "I block them, and I know I'm good and they can't tell me otherwise, so I just laugh at them and prove them wrong."
The volleyball team had its first real match on Aug. 7, a full week before classes even started at Akins this year. Players began showing up for practice in July to train and prepare for the upcoming season. By the end of its season on Oct. 24, the team will play more than 25 games, including various multi-game tournaments.
With the team experiencing a major injury toward the beginning of the season. The team has adjusted well having to play new positions and new rotations.
"We had a major injury early on in the season, and lots of kids have shifted to different positions and have stepped up and played roles that they weren't expecting to play this year," Thomas said.
Adjusting to new positions, attendance also becomes an issue. Attendance  is typically only a fraction of what the football team receives at their games, making it difficult for volleyball players to maintain their team morale, especially when the team is dealing with disrespect from other schools.
"At the Akins vs. Johnson game their student section is always negative," senior librero Alexis Renteria said. "They came to our school with their own brooms so they can sweep the bench after the game."
While being one of the most disrespectful times they have played another team, this was not the only time they have been mistreated, this happens more commonly than not. At the same time, while enduring the disrespect they also have to deal with less support coming from our school.
"During most games, even home games, the away team will have a louder student section than we will, which can be really disheartening. Especially because I feel like in our district, there are many schools who I guess look down on us, so when their students come to our games, they're very derogatory, I guess, and we don't have that kind of support," senior M Pelt said.
The volleyball team has learned to ignore a lot of the disrespect coming from the stands during the games. While it can be discouraging and distracting at times, coaches have encouraged their players to focus on the game and act like they're not there.
"They block them out as they tell us to do, just don't pay attention to them because they are doing it on purpose, so just block them out and you'll be fine. Just keep your head up and don't let them get into your head," Liu said.
Despite the distractions that can occur at these games, Thomas takes pride in the fact that their team continues to play against some of the best schools in Texas.
"As long as they're competing, I feel like they've been successful," Thomas said. "We're in the toughest district in the state of Texas. We have three teams in the top 20 in the state. So as long as we're competing and playing at a higher level than what we do here at practice, then we do well."
Playing through the disrespect and lack of support, the volleyball team has learned to adjust as they try to ignore the distraction, although they do wish they would have more support at their games.
"When there is a crowd, it is a lot more encouraging and fun," Liu said. "I always play my best, whether a crowd or not, but it would be fun to have students cheering us on and supporting us."
The volleyball team continues to practice and play encouraging students to support them. Inviting more people to their games and hoping to fill up the stands, they continue to play with their full efforts.
"Some ways students can support me is by making the stands packed and being loud for me and my team to fight harder," Renteria said. "I feel I do better in the game when there's a loud crowd cheering me and my team on."
Aubrey Montoya contributed to this story